Nowadays, the majority of individuals either know what is an eCommerce platform or have heard of it once or twice in their lives. For many business owners, it's not only how they've kept their businesses going for the past two years but a key part of their future growth strategy.
According to news reports, the Philippines' retail landscape has since changed after the health measures and protocols implemented during the onslaught of the Covid-19 pandemic.
In this article, you'll learn exactly what an eCommerce platform is and the reasons why you need one for your online business.
What Exactly Is an E-Commerce Platform?
An end-to-end software solution that carries out essential business operations is what an eCommerce platform is. This includes customer service infrastructure, accounting, inventory management systems, and eCommerce website builders.
It is a new breed of business software that uses a software-as-a-service (SaaS) framework to combine all necessary business and commerce capabilities into a single eCommerce platform.
In other words, it makes buying and selling products and services online easier and faster.
6 Reasons You Need a Philippine E-Commerce Platform
Today, social media sites themselves can be used for online purchasing. But in this list, we'll focus on the prime reasons why your online business needs an eCommerce platform.
1. Undergo Digital Transformation
A recent Microsoft study cited that "86% of business leaders in the Philippines believe they need to be a digital business to succeed."
We've been relying on technology in many aspects of our lives, from using smartphones and home appliances to traveling and almost any activity that requires getting work done.
Just like how innovation replaces the old with the new, businesses that do not digitally transform will be replaced by tech-powered businesses.
There are so many innovation stories where even the biggest corporations met their end because they failed to transform and adapt.
An eCommerce sales platform brings that upgrade to the way you operate as a business by digitizing your manual processes and making them easy to handle with the help of technology.
Digital transformation increases your survivability, functionality, profitability, and, ultimately, your relevance as a business in the market.
2. Restructure Into a Contactless Business
Being "contactless" is becoming the minimum standard, along with digital transformation.
These two go hand-in-hand, as it has become the priority for customers to reduce human contact and increase convenience.
The best eCommerce platform will provide all of the qualities of a contactless business to meet the demands of both the customer and the company.
Use technology to meet customer expectations and accelerate your sales by selling remotely (contactless) and online.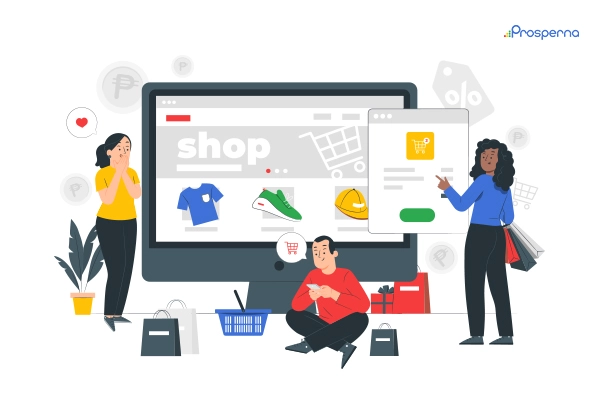 3. Traditional Selling Is Outdated
Google Trends cites that 86% of consumer purchases start with a Google search. Paper-based and by-hand systems no longer work in the "New Normal," as consumers make use of online shopping and services to complete their transactions.
People are going out less to do their shopping and groceries since they can just have everything delivered to their homes.
Having an eCommerce platform in the Philippines allows you to offer products and services to your customers online, as well as:
Present your brand and company to a wider market
Exclusive product listings, without competition
Post content to market and sell
Integrate your platform with other selling channels and social media
Receive payments and fulfill orders
The combination of digital transformation and demand for contactless business continues to push traditional selling further down the path of its demise, which is one of the reasons why eCommerce replaces traditional shopping in the country.
4. Put Your Health and Safety First
As the world slowly opens back up, people still continue to practice social distancing and put their health and safety first. This can be done by limiting their exposure to the outdoors and to other people.
An eCommerce sales platform promotes good hygiene and safe health practices and can reduce risks by simplifying and speeding up services for their customers' convenience.
Orders can be placed online and delivered without the need for a physical presence or contact.
Payments are done using third-party apps and digital wallets, without compromising security.
Even deliveries will be fulfilled by logistics providers, who are experts in fulfilling orders, so you don't have to expose yourself outside.
For businesses, employees can work from home or remotely since their tasks can be accessed easily and done on a WiFi-connected computer.
5. Spend Less, Earn More
Monthly rent for a decent retail location of a traditional retail kiosk costs an average of Php 16,000 per month in the Philippines. The lowest paid monthly subscription fee for a Prosperna online store costs is just Php 495 per month.
In this example, the cost of an online store is 32 times less expensive than a traditional retail location.
If it isn't already obvious, transitioning into eCommerce is perfect for new and growing entrepreneurs who want to boost their profits.
Bringing your operations and transactions online allows you to reach crowds within your target market without needing to establish a store in multiple locations.
In fact, with an eCommerce platform, you won't even need to set up a physical shop at all because you can sell from the comfort of your home.
You spend less on hiring too many people and renting/buying real estate for your store.
Instead, the money you spend on opening an online store increases sales, allowing you to run your company more profitably.
As a business, you can increase your cash flow because your online store offers the best payment types, and customers are empowered to purchase from your store anytime with their gadgets.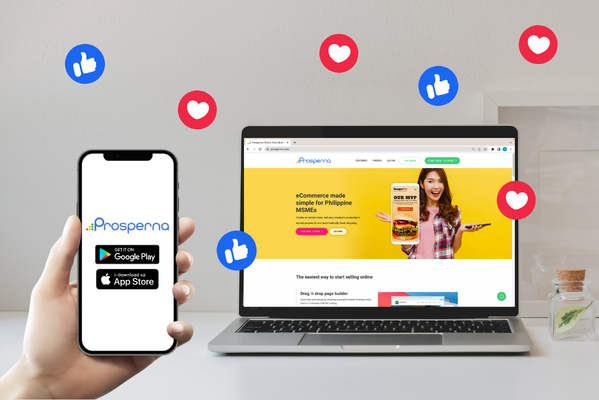 6. We'll Do All the Hard Work for You
You don't need to be a website developer to know what an eCommerce platform is and use it.
There is an abundance of online store builders available on the market, as well as various ways to start an online store in the Philippines.
There's even an All-In-One eCommerce platform in the Philippines that can offer the services of a top-tier eCommerce website builder for a fraction of the price, at PHP 1,245 per month!
You don't have to worry about manual labor, rent, or doing unnecessary administrative work on paper.
With Prosperna, you can improve your workflow and just focus on your online selling. We'll handle all of the hard coding work involved in building your online store with features that represent your business.
NO TRANSACTION FEES charged!
FAQs
Which is the best platform for eCommerce in the Philippines?
For your local business needs, Prosperna is the right eCommerce platform. It is an All-In-One eCommerce platform that enables you to create an online store, accept all types of local payments, and automatically book shipping with various local delivery couriers.
Is eCommerce good in the Philippines?
Philippine e-commerce continues to be one of the most potential worldwide industries due to its consumer-driven economy. The Philippines has the fastest-growing online retail sales growth rate, according to a recent eMarketer report.
Conclusion
Taking part in eCommerce today is no longer an option if you want your business to survive and thrive.
These days, consumers are looking for convenience and using eCommerce for their everyday needs, while brands and sellers are increasing their online presence. Consumers are also prioritizing their health and safety.
So, if you're still debating whether you need an eCommerce platform for your online store, this is your sign!
Further reading:
Prosperna, Your Partner to eCommerce Success
Prosperna is an all-in-one eCommerce platform for Philippine businesses. We are on a mission to empower 100,000 Philippine MSMEs with simple and affordable eCommerce solutions.
In fact, we are super passionate about helping Philippine MSMEs we're giving you a free account forever!
Want to utilize a Philippine eCommerce sales platform? Create your free-forever Prosperna account now.