As the world becomes increasingly digital, more and more businesses are turning to eCommerce to reach a wider audience and increase their sales.
Prosperna is the leading eCommerce software platform in the Philippines that helps micro, small and medium-sized businesses launch their online store, sell everywhere, accept payments and automatically book shipping and stay ahead of the curve.
That said, as our company has grown, so has the need for a new brand image that better reflects our mission, values and the future of where we're going.
Today, we're excited to introduce the New Prosperna brand—a fresh look that better represents our commitment to empowering Philippine MSMEs to level the playing field and succeed online.
We know phrases like "rebrand" can occasionally seem a little overwhelming so, I want to emphasize that our product and how you use them haven't changed from the outset.
What, then, has changed and why?
In this blog post, we'll explore the journey that led us to rebrand and the benefits that come with it.
Let's get started.
Why Did We Rebrand?
Rebranding is not something that is done on a casual whim. And, there is no ideal moment to begin, but the benefits keep growing until they begin to outweigh the drawbacks.
For us here at Prosperna, our primary reasons were:
We have grown significantly since we first established our brand.
We needed to reposition ourselves in the market as we continue to innovate and grow.
As we continue to innovate and strive for excellence, we needed a new brand that could support our future goals and vision.
Growth and Expansion
As we expanded our services, we realized that our old brand was limiting our potential to reach new customers and markets. It was too narrow in scope and does not anymore reflect the full breadth of what the New Prosperna has to offer.
We needed a brand that could grow with us and reflect our expanding offerings. This way we can communicate more clearly to our customers what we do and what we stand for.
Repositioning the Brand
As the number of Philippine MSMEs that trust Prosperna continues to grow (that is 7,600+ and counting), rebranding is the only way we see to refocus our brand's message. So we revisited our brand's logo, color palette, font choices, and overall visual identity.
By carefully crafting a new brand image, we can better create a stronger connection with our customers and build brand loyalty over time. This can also help us attract new customers who are looking for something different from what our competitors are offering.
Future Goals
A company's brand is more than just a logo or visual identity. It is a representation of the company's values, mission, and vision for the future. Our new brand represents our commitment to growth, innovation, and providing exceptional products and services to Philippine MSMEs.
We want to create a sense of trust, confidence and reliability in Prosperna's ability to meet the needs of local small and medium-sized businesses. The rebranding process is our way of telling our customers that we are always looking to improve and evolve and are willing to "go the extra mile" to better serve the Prospernation community.
The Rebranding Process
This entire rebranding process was both horrifying and thrilling for the team. You must be cautious when changing something that people are accustomed to, and you must ensure that any changes you make are made for the proper reasons.
The Old Prosperna Logo
Before we present our new logo, I'd like to look back on our old logo. The team had amazing moments under it. Its fun, simple, yet vibrant vibe has undoubtedly served us well and guided us through a beautiful phase of teamwork in serving our 7,600+ clients.
The colorful dots effectively portrayed Prosperna as a team, as a business, and as a platform to help businesses grow and embrace digitalization.
So, to our old brand…
…a huge THANK YOU!
Without you, what's ahead wouldn't be possible.
Introducing the New Prosperna Logo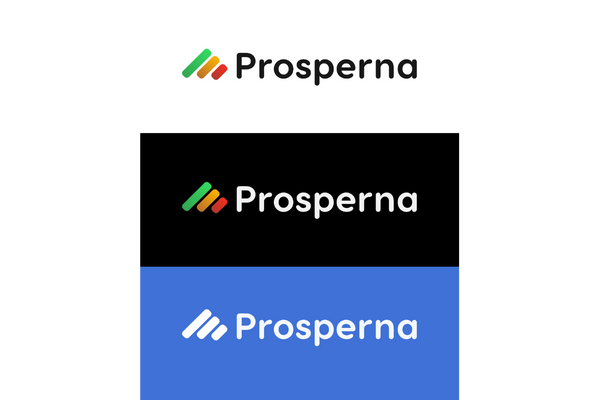 I'm delighted to present to you our new logo, and the entire Prosperna team is looking forward to creating even more memories with it.
Moving forward, we want to make the New Prosperna the only eCommerce platform that Philippine MSMEs need. Period.
With our new logo, we want to be seen as faster, easier, more flexible, and more business-focused.
To us, the three diagonal lines symbolized being at the "top of the mountain", reaching new heights, and approaching stability. It stands for the innovative spirit, concept, group of people, organization, and culture that distinguish Prosperna from other companies.
Our New Font
We want our font to be simple but still have a modern and friendly feel.
We think our new typography, Visby Round CF, exceptionally captures the focus on accessibility and simplicity of our new brand. And when people see this font, we expect them to remember one of our previous products, myChat.
Our secondary font, Roboto, remains the same because we're still that same team of friendly, kind, and fun-loving people that are easy to work with.
Our Color Palette
Our color palette remains largely the same as we chose to stick with the three primary colors (red, yellow, and blue) and secondary color (green). This decision was based on the colors' simplicity and vibrancy, which help to create a visually pleasing look that represents the growth stages of a business. Our aim is to ensure that every interaction with Prosperna is an enjoyable experience for our customers.
A Brand New Era for Prosperna
You'll notice the new changes in effect tomorrow, February 28. Our website is currently the most noticeable visual change.
The launch of our new brand is just getting started. We are thrilled to have it as a roadmap as we develop new products, hit new benchmarks, and expand.
To the entire Prospernation, thank you for being a part of our journey and allowing us to be a part of yours. We sincerely hope that you share our excitement for this change. Please share your thoughts in the comments section below.
Prosperna, Your Partner to eCommerce Success
Prosperna is an all-in-one eCommerce platform for Philippine businesses. We are on a mission to empower 100,000 Philippine MSMEs with simple and affordable eCommerce solutions.
In fact, we are super passionate about helping Philippine MSMEs we're giving you a free account forever!
Want to start selling online? Create your free-forever Prosperna account now.