Prosperna is an eCommerce platform that offers business owners the opportunity to launch their online store in just a few minutes, without requiring any coding skills.
Our goal is to empower 100,000 MSMEs in the Philippines with affordable and user-friendly eCommerce software that is specifically designed for the country.
The newest version of our platform is incredibly fast, easy and flexible and can be tailored to meet your specific business needs. Whether you want to create a simple online store or a unique shopping experience, Prosperna can be personalized alongside your business needs as they evolve.
We have recently undergone a significant transformation and if you're interested in learning more about the benefits of signing up for the New Prosperna, keep reading.
What is Prosperna's eCommerce Solution?
Prosperna's all-in-one eCommerce software and social commerce solution allows you to launch your online store without any coding skills, accept COD and online payments, and automatically book shipping.
You can also generate stunning digital product catalogs that you can then share with your customers via the internet, SMS, email, and various social networking platforms like Facebook, Viber, Instagram, Twitter, etc.
What can you get with the NEW Prosperna?
The New Prosperna offers everything you need to manage your business in one place, including a storefront, payment processing, a shipping partner, and marketing. All of which are the core functions of running a business.
In a nutshell, this is what you get when you sign up for the New Prosperna FREE plan:
Storefront: You have an instantly available web hosted online store catalog where you can upload and sell your products and services by sharing your store link. You can set up your store branding which can make a lasting impression on customers, thus promoting customer retention.
Marketing: With the help of the integrated bulk email sending tool, the Prosperna's new marketing platform enables you to reach out to more customers. You have complete control over your customer data and can monitor the performance of your campaigns across all channels in a single dashboard.
Payments: You can provide your customers with more convenience by offering and accepting all types of payments when you activate Prosperna Payments so you can manage customer orders and payments all in one place.
Shipping: With just one click, you may automatically book shipping for standard delivery, store pickup, or book your own. You can gain access to all local shipping companies offering the best prices on shipping in the Philippines.
Social Commerce: Personalized customer service is a must if you want to build your brand and consistent sales. You can integrate your Facebook Business Page to display your catalog, respond to queries, accept orders, offer online payments and auto-book shipping directly inside Facebook Messenger.
Support: Get all the help you need with our local customer support, comprehensive documentation, and educational resources on our blog.
How does the NEW Prosperna work?
The New Prosperna integrates all of your sales channels smoothly by centralizing your product data, clients, and administrative tasks on one platform.
Functions including inventory, marketing, payments, and delivery can be bridged together in one single platform.
What's so AWESOME about the NEW Prosperna is the in-app setup guide, that interactively walks you through the setup process. This is a game changer for MSMEs to make it SUPER easy for ANYONE to create an online store without any help or technical assistance!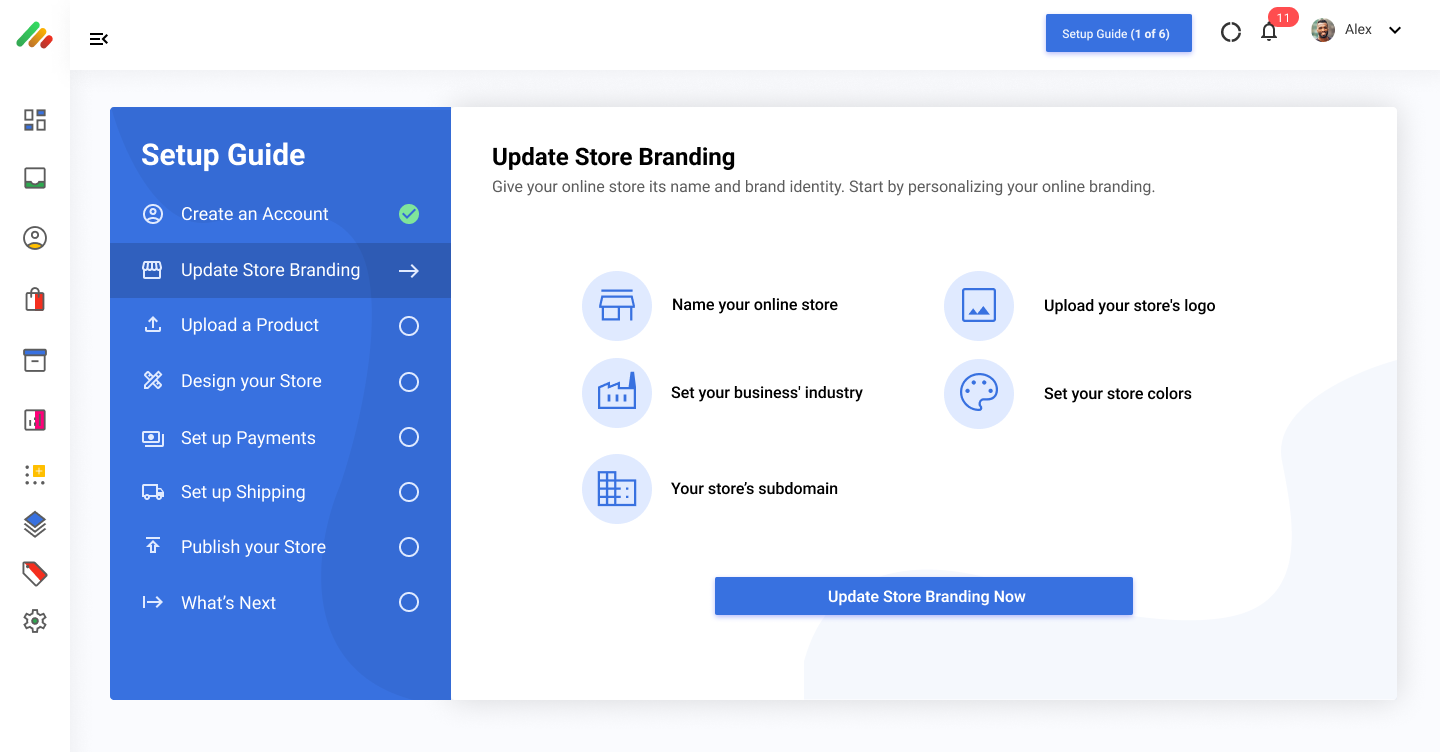 What is the NEW Prosperna's pricing?
Nothing much has changed in the pricing of New Prosperna's subscription plans. It continues to fulfill its commitment to give Philippine MSMEs access to an easy-to-use, budget-friendly eCommerce platform.
The New Prosperna offers better value for money in comparison to competitors that are more focused on larger, established businesses.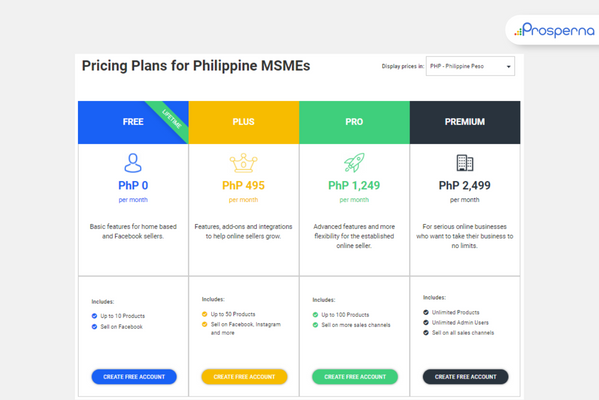 For the individual breakdown of each pricing plan, check out https://prosperna.com/pricing/
The New Prosperna also offers custom plans where merchants can have all the features of a Premium Plan with additional customization features.
You can contact our sales team to learn more about this.
What can you sell on the NEW Prosperna?
There are constantly fresh, in-demand items that you may sell on the New Prosperna. Fashion, cosmetic products, home and garden items – and NOW DIGITAL PRODUCTS are just a few of the things you can sell online.
Here are some small business ideas you might think about venturing into:
Grocery stores
Restaurants/Food & Beverage stores
Fruit & Vegetable stores
Electronic/Computer/Mobile & Gadget stores
Clothing, Accessory & Shoe stores
Health, Beauty & Cosmetics
Furniture & Home Decor stores
Jewelry stores
Real Estate Brokers
Automobile/Second-Hand Cars
Book & Stationery store
Pharmacy & Medical Device stores
Handicrafts or Homemade items
Construction & Building Materials
eBooks, Voucher Codes, Downloadable info, etc.
…and so much more!
Whether you're a wholesaler, retailer, small store owner, digital creator or home-based business, you can run your entire online business on Prosperna.
Where can I sell using the NEW Prosperna?
Using social media to market an online business through raising knowledge of the brand, interest in goods or services, and sales is known as social commerce.
Social media and eCommerce complement each other like peas in a pod. Businesses utilize social media channels to build brand recognition, interact with customers, and promote products through targeted ads and organic posts.
With the New Prosperna, you can utilize social media as another sales channel so you can increase brand awareness, advertise, and sell to a much wider audience.
You can connect your Facebook and Instagram accounts and be able to see messages in one inbox.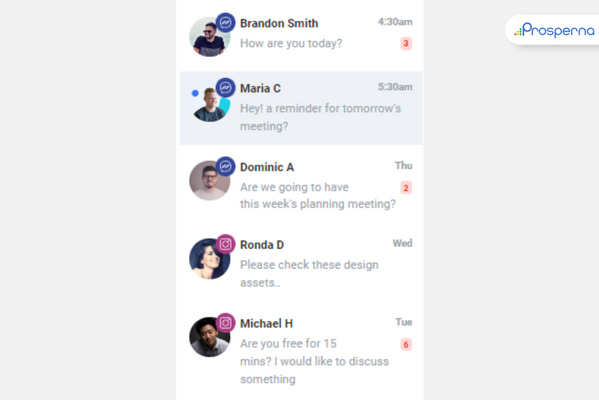 It's also easier to share your new business across multiple social media platforms.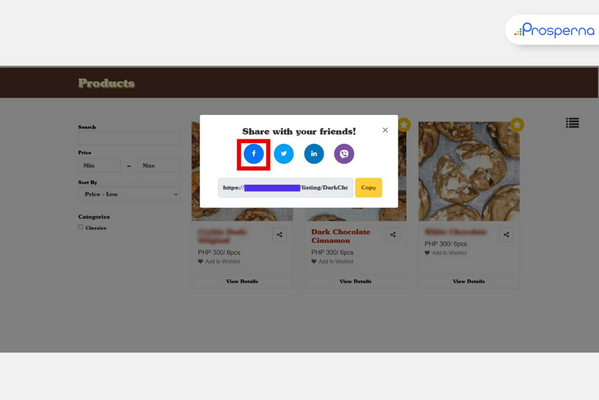 Get Started With the New Prosperna Today
We're constantly exploring new approaches to give small and medium-sized businesses a chance to beat the competition. Hence the rebranding process.
Giving you access to the same tools that well-known brands use at costs you can manage is what the New Prosperna is all about.
That's why, when you upgrade your Prosperna plan, you also gain access to strong features that Prosperna created just for Prosperna customers.
FAQs
Is the New Prosperna still free?
Yes, there are still no one-time setup fees and no monthly subscription fees when using the Free plan. The only fees merchants pay are any related payment gateway and shipping fees.

Can I use my own domain name?
You can either use your own domain name (mywebsitename.com) that you already own or purchase one from Prosperna and use it. Plus or Pro plan customers who select the annual subscription plan get a domain name for free (for the first 12 months).
Conclusion
From improved user experience to increased efficiency and productivity, the New Prosperna is making it easier than ever for Philippine MSMEs to reach their goals.
Additionally, the company's expansion into new markets and continuous enhancement of its platform capabilities will only serve to further solidify Prosperna's position as a leader in the industry.
Whether you're a passionate innovator finding your footing or an established brand connecting with your customers all over the Philippines, the New Prosperna has the tools and expertise to help you take your business to the next level.
Prosperna, Your Partner to eCommerce Success
Prosperna is an all-in-one eCommerce platform for Philippine businesses. We are on a mission to empower 100,000 Philippine MSMEs with simple and affordable eCommerce solutions.
In fact, we are super passionate about helping Philippine MSMEs we're giving you a free account forever!
Want to start selling online? Create your free-forever Prosperna account now.