If your physical store hasn't received much love, like, subscribe, and share lately—that's because you are not online. It's high time for you to make the shift from offline to online.
Here are some tips on how to make the transition from a physical store to eCommerce.
Key Takeaways
Finding the right online tools and platform can help you make a smooth transition from a physical store to eCommerce.
Creating an eCommerce store allows you to tap into the global market, thus reaching new customers which leads to increased sales.
It's important to have a good digital marketing and SEO strategy for your eCommerce so it can be easily found by potential customers and turn them into paying customers.
Build Your Social Media Presence
Social media is a great way to transition from a physical store to eCommerce. By creating engaging social media posts on popular platforms like Facebook, Twitter, and Instagram, you can reach a wider audience and start promoting your products or services. If you're only selling offline, you're likely missing out on a whole lot of potential customers from the internet. Plus, if customers see that other customers are talking about your brand in a positive way, they're more likely to do business with you.
Create an eCommerce Website
An e-commerce website allows you to tap into new markets—potentially global. You are no longer limited by location and can sell to people all over the world. An online store is also more convenient for customers as they can shop anytime, anywhere. And for businesses, an e-commerce website can be cheaper to set up and run than a physical store. Plus, it's easier to track data and analyze your marketing efforts when you're selling online.
Make Your Site User-Friendly
Having an online store doesn't stop with just creating an eCommerce website. You have to make sure that your website is user-friendly. This means taking into account things like navigation, design, and overall functionality. Use clear call-to-actions and avoid jargon words that could confuse customers. Even if your products are the best, customers will still leave your website if they find the navigation system too complicated to use.
Make It Mobile-Responsive
It's important to have not only a user-friendly website but also a mobile-responsive one. This is because more and more people are using mobile devices to shop online. In fact, studies show that over 60% of website traffic now comes from mobile devices. Furthermore, customers are more likely to abandon a purchase if they have a bad experience on a mobile site.
Manage Your Inventory
Your inventory should be strategically planned, especially when you're transitioning from offline to online. Take note of what stocks you have on hand. This will give you a good idea of what needs to be listed on your website and what needs to be restocked. Once your inventory is sorted out, decide how you want to list your products on your eCommerce website. Will they be organized by category, by price, or by some other criteria? Be sure to also include clear photos and accurate descriptions to help customers make informed purchase decisions.
Simplify Your Payment System
By simplifying your payment system, you'll decrease the cart abandonment rate and boost your online sales. Consider offering multiple payment methods on your eCommerce website. Giving your customers the option to pay by credit card, debit card, or PayPal will make it more likely that they'll be able to complete their purchases. If you offer discounts or promotional codes, make sure they're easy to find and use at checkout. Clear instructions on how to apply the code will help ensure that customers can take advantage of the discount.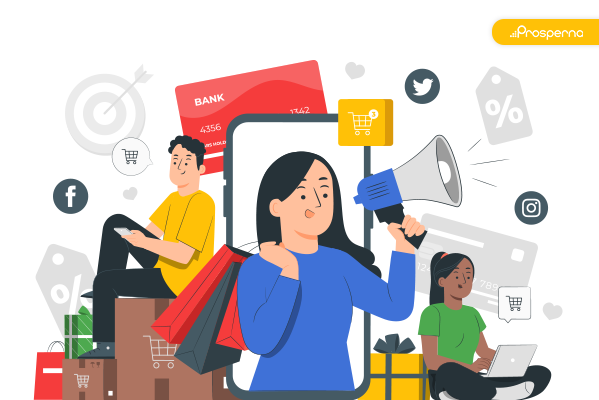 Promote Your Store First to Existing Customers
Let your existing customers know that they can now follow you online and shop with you 24/7 from the comfort of their own homes. Surely, you need new customers as well but your existing customers can help you make a smooth transition from offline to online. They are often loyal and trusting. Plus, they can help spread the word about your new e-commerce website to their friends and family.
Choose The Online Tools That Will Help You Grow Your Business
Transitioning from a physical store to eCommerce means finding the right online tools and platforms that will help grow your online business. You have a lot of factors to consider such as having the best payment types and shipping options, marketing strategy, as well as the platform on which you build your site.
Prosperna's All-In-One-Ecommerce platform allows you to do all this in one app—launch your online website, accept COD and online payments, promote and sell across social media platforms, and automatically book shipping—even without any coding skills. And if you upgrade to Prosperna Plus Plan, you can have your own free domain and upload up to 50 products on your eCommerce website.
Plan Your Marketing Efforts Online
Now that you're transitioning to eCommerce, your marketing efforts should be shifted online as well. Plan your online marketing campaigns by defining your target audience. The demographics might slightly differ since your store now is on the internet. Also, research and study your competitors to give you insights into what's selling and what's not and help you develop strategies to stand out from the crowd. Consider the channels you're going to use in order to grow your online presence. Will it be social media, email, or both?
Have Digital Marketing & SEO Plan
Studies have shown that 70% of small businesses don't have an SEO plan for their websites. And in a digital world, this could injure your business harder than you thought. You need to make sure that your website can be easily found by potential customers. This can be done by optimizing your website's title and meta tags, regularly creating fresh content, and building backlinks. Once visitors are on your site, you'll need to convert them into paying customers with a strong sales funnel and effective marketing messages.
Spend More Time on the Product Descriptions
There is nothing more effective marketing strategy than a good product description that captures the attention of the reader. A good product description can make the difference between a customer clicking "add to cart" or moving on to the next listing. Your customers can't inspect the product before they buy it, as opposed to buying in a physical store. So it should be informative and persuasive, without being too long or excessively technical. Include details about the materials, the construction, and the dimensions. Mentioning any unique features or selling points can also be helpful.
Physical Store to E-commerce FAQs
Why do modern consumers prefer eCommerce?
The ease of access through mobile apps, and fast delivery of products or services straight to the doorstep are just some of the reasons why modern consumers prefer eCommerce. It has simplified the whole shopping experience for them.
Will eCommerce dominate physical stores?
Ecommerce is growing much faster than physical stores in retail.
Conclusions
Making the switch from a physical storefront to an eCommerce website can be daunting, but with the right tools and advice, you can make it a successful transition. By following these tips, you'll be well on your way to building an online store that is user-friendly and mobile-responsive and has a strong social media presence.
And don't forget to take advantage of the many online tools, like Prosperna's All-In-One eCommerce platform, to help you grow your online business. So what are you waiting for? Make the switch from offline to online with Prosperna today!
Prosperna, Your Partner to eCommerce Success
Prosperna is an all-in-one eCommerce platform for Philippine businesses. We are on a mission to empower 100,000 Philippine MSMEs with simple and affordable eCommerce solutions.
In fact, we are super passionate about helping Philippine MSMEs we're giving you a free account forever!
Want to start selling online? Create your free-forever Prosperna account now.