The world of eCommerce has seen tremendous growth in recent years, and the pandemic has only accelerated this trend. As more and more businesses move online, it is essential to have a fully integrated eCommerce store that can cater to the demands of the customers.
The good news is that creating an eCommerce store is no longer a daunting task, thanks to platforms like Prosperna, which provide everything you need to create and manage your online store.
Whether you're an established business or just starting, the New Prosperna has everything you need to succeed in the eCommerce world. In this step-by-step guide, we will walk you through the process of setting up a fully integrated eCommerce store using the New Prosperna platform.
What Is a Fully Integrated E-Commerce Store?
A "fully integrated store" refers to an eCommerce website that is seamlessly connected to all the other systems and processes within a business.
This means that the online store is complete with the inventory management system, the order processing system, the payment gateway, the shipping system, and any other systems that are necessary for the smooth operation of an online business.
It also means that any changes made in one system automatically update all other systems.
For example, if a customer orders two Buttercake Biscochos, your inventory system will update and notify you of the order. After processing the order and making it ready for delivery, your shipping system will be notified to dispatch the item.
Benefits of Having a Fully Integrated E-Commerce Store
Starting an eCommerce store is a great way to establish a product or service within a niche market and get it noticed in today's market. If you want to start an eCommerce store, it is important to select a platform that provides a fully integrated eCommerce solution.
Increased Efficiency
One of the main advantages of having a fully integrated eCommerce store is reducing manual errors. When all the systems are fully integrated, it eliminates the need for manual data entry, which reduces the risk of human error. This can save time and resources that would have been spent rectifying the errors.
Improved Customer Experience
It provides a seamless order placement process. This allows your customers to easily add items to their cart, check out, and make payments in a few clicks. It reduces friction in the buyer's journey, leading to higher conversion rates.
Plus, with automated order tracking, your customers can receive real-time updates on the status of their orders. They can see when their order has been processed, shipped, and delivered.
Lower Operating Costs
By eliminating the need for manual data entry, a fully integrated eCommerce store significantly reduces the amount of manual labor required to manage the sales process. This can help you save time and money that would have been spent on manual processes, allocate your resources more efficiently, and focus on other areas of your operations, such as marketing and product development.
You can also eliminate the need for a physical storefront and the associated costs, such as rent, utilities, and maintenance.
6 Steps to Set Up a Fully Integrated E-commerce Store with Prosperna
Starting a fully integrated eCommerce store is easier than you think. With the New Prosperna, you can start running your online in six easy steps.
1. Create an Account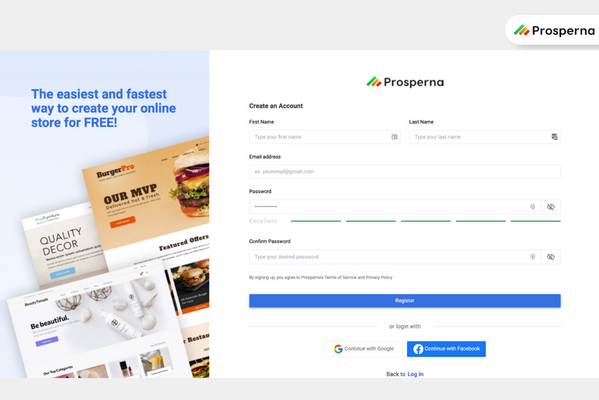 To register with the New Prosperna platform, visit the following link: https://p1.prosperna.ph/account/register. I recommend you use a desktop browser in order to easily follow the instructions. 
Once on the registration page, you will need to fill out the form with your first and last name, email address, and create password. The password strength meter is provided to help you ensure that your password is strong enough.
After filling out the form, click on the register button to complete the process. You can also choose to register via Google or Facebook.
Depending on what you used to register, you will be prompted to check your email inbox for confirmation.
2. Update Store Branding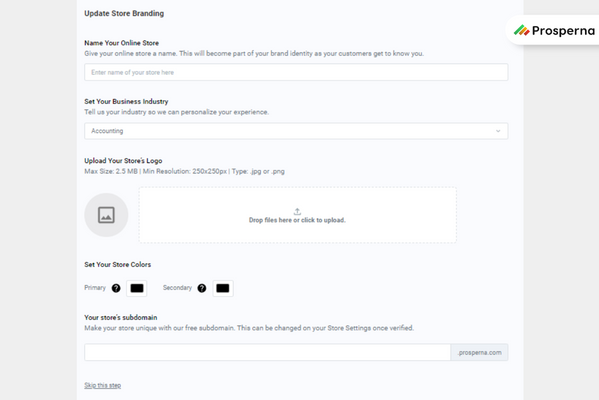 After creating and verifying your account, you can now start setting up your eCommerce store. The first important task is to update your store's branding, as it plays a crucial role in shaping your business identity and attracting customers.
To get started, go to Store Settings and fill in all the necessary information, such as your store name, the industry you operate in, and your store's slogan. You can also add your brand logo and choose appropriate colors that represent your business. Managing your domain can further enhance the uniqueness of your eCommerce store.
To unlock more advanced features, consider upgrading your plan, which will allow you to utilize features such as SEO and Google Analytics tracking code.
3. Update Store Location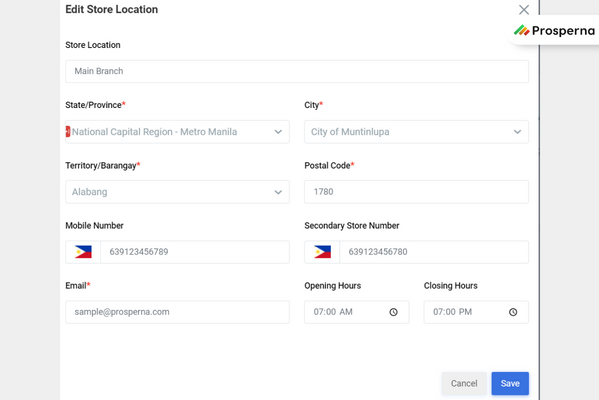 After finalizing the branding of your eCommerce store, the next important step is to update your store location. This is crucial for ensuring that couriers can easily locate you and for customers to have a better idea of where their packages are coming from.
To update your store location, simply go to the Setup Guide and select the "Update Store Location" option. A pop-up will appear, where you will need to fill out the necessary fields. This includes your store's address, mobile number, email address, as well as your opening and closing hours.
4. Upload a Product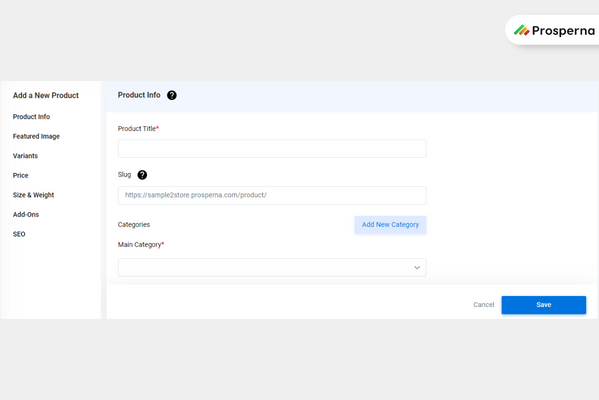 Once your storefront is set up, the next step is to start stocking up on inventory.
To add a new product, go to the Product Inventory tab and select "Create New Product." From there, you can choose whether you are selling a physical or digital product. It is important to upload a sample photo of your product and include detailed descriptions so that customers can understand what they are buying.
Furthermore, you will need to complete all other necessary information, such as the product slug, category, price, quantity, and variants. Being as detailed as possible will enhance the customer experience and make it easier for them to find what they are looking for.
5. Setup Payment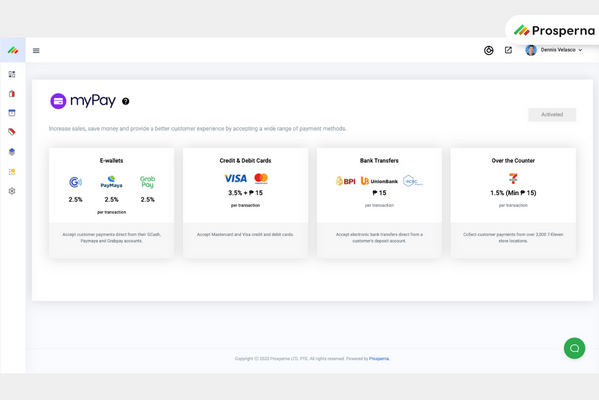 To enhance customer convenience and generate more revenue, it is recommended to activate your myPay account by submitting the relevant KYB documents. By doing so, you will be able to unlock all available payment options.
To do this, go to the Settings tab and select Payments. From there, click on the "Activate Payments Now" button. You will then need to verify your mobile number before filling out all the necessary information to activate your myPay account.
After submission, you will receive an email notification regarding the status of your account verification, which typically takes 1–3 business days. Once approved, you will be able to take advantage of all our available payment options to enhance the overall customer experience.
6. Setup Shipping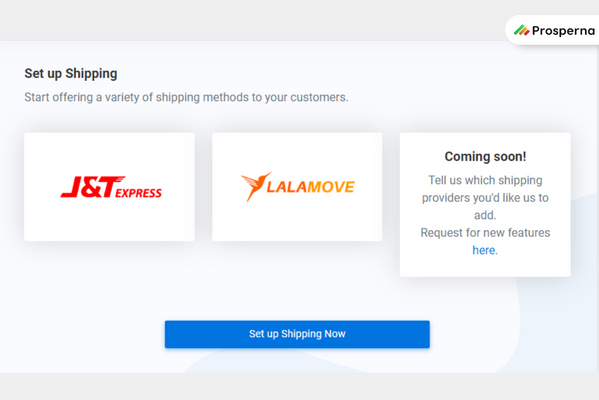 When it comes to running a fully integrated eCommerce store, logistics and fulfillment play a crucial role. With Prosperna Shipping, you have the flexibility to choose how your products will be delivered to your customers.
Just go to Settings and select Shipping. From there, you can set up the shipping method that you want to offer your customers. Prosperna Shipping offers four types of order fulfillment: Standard Delivery, Same Day/Scheduled Delivery, Book My Own, and Store Pickup.
By providing various delivery options in your eCommerce store, you can improve the customer experience and increase the chances of customer satisfaction, which in turn can lead to increased sales and revenue.
Final Thoughts
Starting a fully integrated eCommerce store with the New Prosperna can help small businesses improve their efficiency and customer experience while lowering their operating costs.
The New Prosperna provides Philippine MSMEs with the tools they need to succeed in the competitive world of eCommerce, and by leveraging these tools, businesses can improve their profitability and continue to grow their online presence.
So what are you waiting for? Try the New Prosperna today and let me know what you think in the comments section below.
Prosperna, Your Partner to eCommerce Success
Prosperna is an all-in-one eCommerce platform for Philippine businesses. We are on a mission to empower 100,000 Philippine MSMEs with simple and affordable eCommerce solutions.
In fact, we are super passionate about helping Philippine MSMEs we're giving you a free account forever!
Want to start a fully integrated eCommerce store? Create your free-forever Prosperna account now.