What's the buzz about? If you're wondering whether to go with Prosperna as your eCommerce platform for your online business in the Philippines, here are some reviews from clients who have used it.
What Our Clients Love About Prosperna
Prosperna is an All-In-One eCommerce software that helps small business owners launch their very own online store, accept online and offline payments, and automatically book shipping even if they don't have any coding skills.
We're all about making the transition from a physical store to eCommerce as smooth and easy for them as possible. This is what our clients love about our software because it integrates all aspects of the online selling process.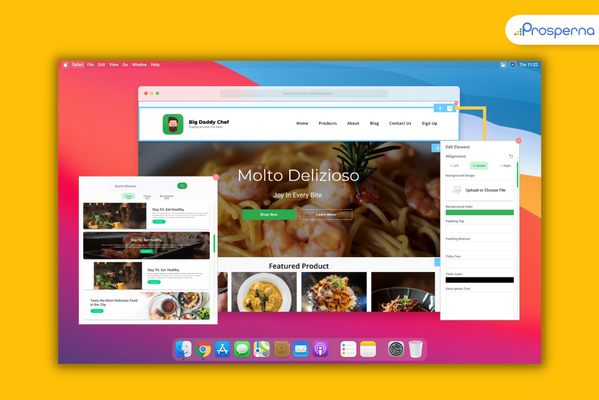 It is the easiest way to start an online store in the Philippines with our drag n' drop page builder which helps small business owners save time and money by creating a fully-functional and responsive website.
Marketing is made easy with built-in marketing tools that allow them to promote and share their online store with anyone across multiple platforms such as Facebook, Instagram, Viber, Whatsapp, Lazada, etc.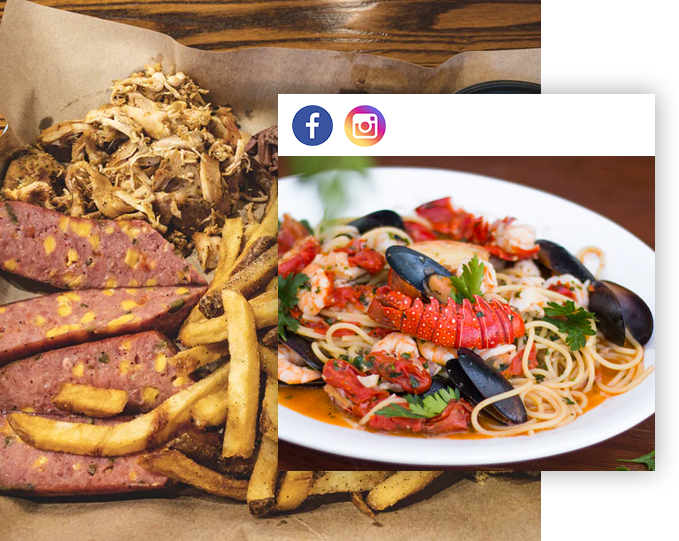 Another thing they love most about Prosperna is that they can send bulk SMS and email messages to their customers so they won't miss out on their promotions and events.
Managing orders and reviewing their store performance has never been easier with the advanced dashboard reporting that allows them to view sales reports and product inventory in real-time.
And if you think going digital is only for small and light goods like selling ukay-ukay or online food business, then think again because Prosperna made it possible for a hardware & construction company, like LVMCC, to make the shift from offline to online.
Prosperna's eCommerce software is for ANY type of business including food & beverage businesses (e.g. James & Daughters and Buku Buku Cafe), fashion & apparel (e.g. The Boot Artillery and Baby Grey Kids Collection), and pharmacy & medical devices stores (e.g. Mimmo Health and Trace Biomedical Corporation).
In addition, Prosperna's local team of experts is ready to help them when they need it. Our live chat support is open and ready to answer their questions from Monday to Friday from 7 AM-8 PM.
How Prosperna Compares to Shopify
When it comes to eCommerce platforms, Shopify is one of the most popular options out there. However, Prosperna offers a number of advantages that make it a better choice for businesses of all sizes—especially in the Philippines.
For starters, Prosperna is more affordable with plans starting at $9 USD (Php495) per month. We charge based on features so no matter how much your store makes per month, our monthly basic fee will remain the same until you decide to add some more customizations.
Our wide range of features is specifically designed to help Philippine MSMEs grow.
Let's take for example our payment solutions. At Prosperna, our goal is to offer easy, one-click integrations to the most convenient local mobile payments app such as GCash, PayMaya, GrabPay, Paymongo, PayPal, Dragonpay, etc.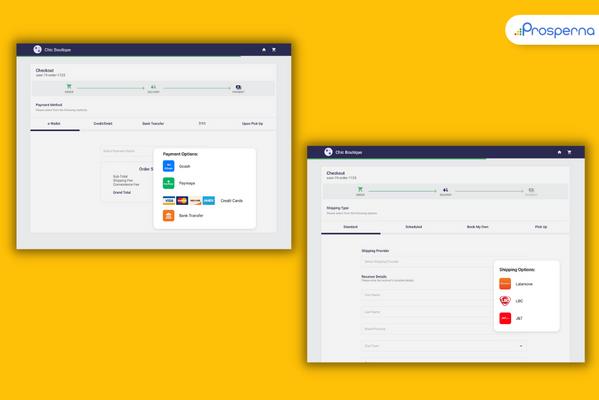 We also partnered with multiple Philippine logistics companies and shipping providers such as Lalamove, GoGo Xpress, LBC, Mr. Speedy, NinjaVan, Black Arrow Express, Lite Xpress, and many more.
There's no excuse to not go digital in the Philippine market, especially for business owners who call themselves "not techie" because, with Prosperna, you can create a website of your own even if you have no coding knowledge.
Prosperna Reviews from Our Clients
"We choose to work with Propserna because of their effort in focusing Philippines small businesses with their simple [and] yet super affordable eCommerce software. We want to work with them because of their excellent customer support, their true dedication, and of course, their real expertise in this field."
–Sandy Valeriano, Baby Grey Kids Collection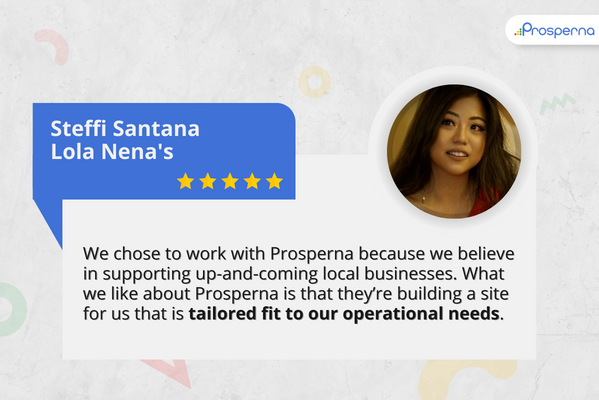 "That's why we like to work with Prosperna because they gave us the opportunity to put our business online. They guided us to effectively manage our social media accounts and of course, to integrate these accounts [into] our website. Through the website, our customers are able to conveniently make purchases which in turn improved our sales."
–Luigi Salibay, Makata Shirts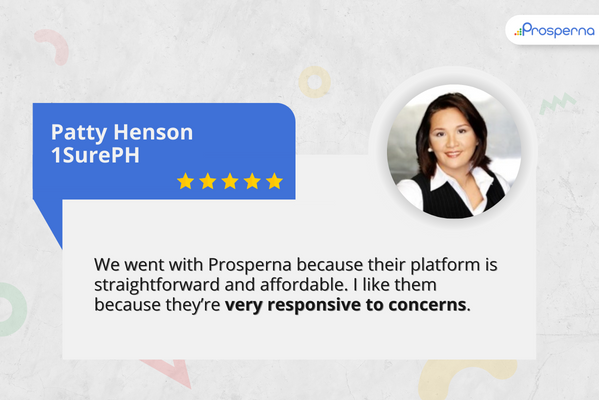 "I chose to work with Prosperna because they have this package for our website which is at a reasonable cost and very affordable but not compromising its quality. Same with our projects in SMDC. And what I like [about] its services is that you can feel that they are very organized as a whole. Different personnel in the departments coordinate properly to address your concerns. They do constant reminders on what's next and they assign somebody to take good care of your account."
–Marlon Climaco, SMDC
Prosperna is Not Perfect
Customer feedback is essential for any business that wants to stay ahead of the competition. It helps develop a deeper understanding of its customer's needs and wants by constantly asking for feedback and reviews and taking it to heart.
At Prosperna, we're always finding ways to improve our product. Every day we ask and get feedback from our customers so that we can continually develop and innovate new features and enhancements.
So, we'd love to hear from you…
…just let us know.
Further Reading:
Start Your Online Store Today with Prosperna
Prosperna is an all-in-one eCommerce platform for Philippine businesses. We are on a mission to empower 100,000 Philippine MSMEs with simple and affordable eCommerce solutions.
In fact, we are super passionate about helping Philippine MSMEs we're giving you a free account forever!
Looking for an eCommerce platform in the Philippines? Create your free-forever Prosperna account now.