Are you looking for a way to streamline your business operations and get more organized?
If so, Prosperna may be the right solution for you. With its many features and benefits, Prosperna can help you manage your business more effectively and efficiently.
Here are eight key benefits of using Prosperna for your business.
Benefits of Prosperna to Your Business
Prosperna is one of the easiest ways to set up an eCommerce business in the Philippines, with the capacity for growth and expansion. This is why over 5,000 Philippine MSMEs have chosen to embrace digital transformation with Prosperna.
1. Widen Your Business Reach
Regardless of the type of small business you have—be it a clothing store like the Baby Grey Kids Collection, a handicraft shop like Maria Crafts MNL, or an F&B store like James and Daughters—Prosperna bypasses the limitations of a traditional brick-and-mortar store.
As a result, you can connect with a wider audience and close deals with clients that reside far away from your location, even those who are on the other side of the globe.
This provides your small business with a new sales channel.
"When we had a website, we had another stream of getting clients."
– Bernadette Filarmeo, owner of The Healthy Fruit Basket
It also allows your business to be accessible 24/7 without taking breaks for weekends and holidays.
2. Business Decisions, Operations, Goods, and Services Are Optimized
Once it is set up, running your online business shouldn't take too much effort.
This is because one of the benefits of Prosperna's eCommerce software is that it initiates the entire ordering and payment procedure for your customers.
This will give you more time to plan new things to sell, create special promotions, and monitor the performance of your sales.
Furthermore, you'll be able to identify the types of products and services that are most successfully selling.
Here are some ways you can optimize your business operation with Prosperna:
All of your product orders will be automatically gathered, stored, and managed on the store dashboard.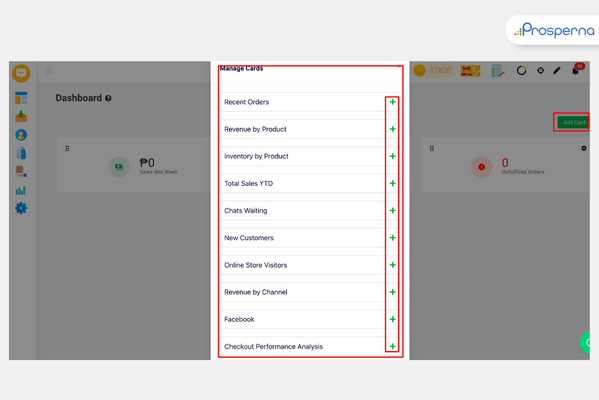 Send your customers' automated order completion emails.
Manage your invoices and keep tabs on your sales performance.
3. Complete Business Autonomy (You Set the Rules)
Prosperna makes it easy to get started and grow your business on your own terms.
You can update your business information, post pictures and videos, and track your analytics all in one place.
After generating your product listings, you can personalize them to fit your preferences.
Most importantly, it gives you the autonomy to run your business the way you want to. It gives you the benefit of not being tied down to set hours or days, and you can take a vacation whenever you want without having to worry about losing customers.
4. Direct and Personalized Client Retention
A website provides a direct and personalized way to interact with clients by showcasing your work, services, and products. Prosperna is an extremely flexible platform that allows you to do just that.
Our eCommerce integrations and features allow sellers to collect important information from potential clients. We provide you with a valuable database that you can use to market your business.
Once you have this information, you can use it to provide your customers with customized coupons, sale alerts, shipping choices, payment options, and other marketing promotions.
5. Improved Client Retention and Loyalty
Prosperna helps businesses retain clients and improve loyalty.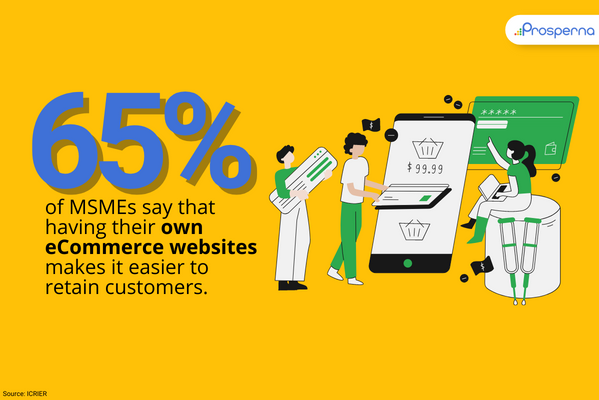 You can keep track of your clients and follow up with them by sending out surveys to get feedback on your products and services.
By using Prosperna, you can build stronger relationships with your clients and make sure to meet their needs so they keep coming back for more.
Here are some Prosperna features that allow you to retain clients and increase customer loyalty:
Send bulk emails to your subscribers when a new product is out or a sale is going on.
Give discounts to previous clients to entice them to return to your store.
Offer helpful and prompt customer service in your store. With Prosperna you can easily get a chatbot that makes it easy to get in touch with customers and give them the proper kind of support.
6. Growth and Scaling Drivers for Businesses
Prosperna is a scalable eCommerce solution, regardless of whether you are selling a few goods to a dozen consumers or hundreds of products to millions of customers.
There won't be any problems with customer traffic, inventory management, or marketing initiatives because of these Prosperna benefits:
Up to 2 TB of bandwidth
Advanced dashboard reporting that allows you to view sales and product inventory reports in real-time
Marketing automation tools so you can easily sell and promote your products across multiple social media channels.
7. Full Access to Customer Information (Email, Browsing/Purchase History)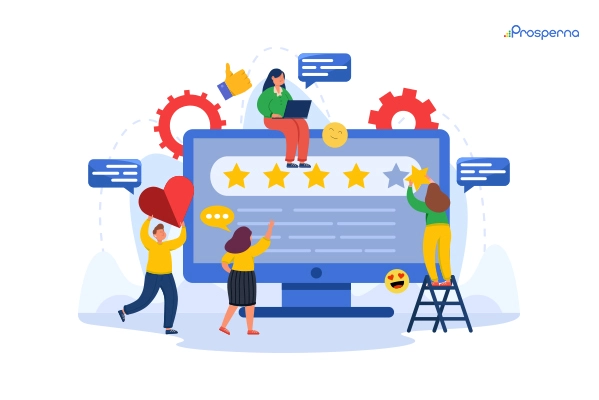 With its built-in analytics tools, you have full access to your customer's information, including what they like and dislike about your product or service, where they often come from, and what devices they use.
You can then increase your sales and grow your business by using such data.
You may convince potential customers to join your email list. Once you've established a following, you're free to email your subscribers as frequently and in as many emails as you choose.
8. You Can Start for Free
One of the most important benefits of Prosperna is that you can start for free—literally. There are no one-time setup fees and no monthly subscription fees when you use our Free Plan.
You can enjoy our basic features, such as creating an online store, accepting all types of payment, and automatically book shipping.
If you're just starting in the eCommerce scene and have little capital and minimal products, Prosperna is the right fit for your online business needs.
Further Reading:
FAQs
Can I download the Prosperna Website/Online Store Builder?
No. Prosperna is a fully-managed website/online store that offers customers subscription access to our technology and managed services as a complete solution so they can concentrate on their business.
Can I use my own domain?
You can either utilize a domain name that you already own, or you can buy one from Prosperna and use it. Customers of the Plus or Pro plan who choose the yearly subscription plan receive a domain name FREE of charge (for the first 12 months).
Conclusion
First-time online sellers would love Prosperna, which also includes more advanced features and services (the Plus, Pro, and Premium Plans) for those who need more.
With Prosperna, you can open an online store and start selling right away in a matter of seconds. Benefits like client retention, a streamlined business operation, increased sales, and the growth of your business are possible.
Start Your Business with Prosperna Today
Prosperna is an all-in-one eCommerce platform for Philippine businesses. We are on a mission to empower 100,000 Philippine MSMEs with simple and affordable eCommerce software.
In fact, we are super passionate about helping Philippine MSMEs we're giving you a free account forever!

Want to reap the benefits of a Filipino eCommerce software? Create your free-forever Prosperna account now.