If you're looking for an eCommerce software, here are seven advantages of Prosperna that perfectly fit the goals of a Filipino business owner. Read on and see why it is loved by over 5000 Philippine MSMEs.
1. Prosperna is Proudly Pinoy
The demand for local goods and services has dramatically increased since the COVID-19 outbreak. Prosperna had an advantage due to this. Being established in the Philippines, it was specifically created with Filipino MSMEs in mind.
It is also easier to recognize, establish, and ensure local products' quality and guarantee. This means, as we are familiar with the demands of a local business, business owners can contact and connect with our team with ease.
2. Prosperna Plans & Pricing
Another reason why our clients chose Prosperna as their eCommerce software is because of its affordability. "Prosperna is perfect; it integrates everything for us and it's cost-affordable," says Phillip Ruby of The Lazy Gentleman.
In fact, you don't have to pay a single centavo if you want to start selling online. With our free-forever account, you can enjoy the basic features of Prosperna, like creating an online store, accepting all types of payment, and automatically book shipping.
Of course, a free account has its own limits, too. If you want to make the most out of online selling, then you can always upgrade your Prosperna Plan.
There are three options you can choose to upgrade to: Plus Plan (P495/month), Pro Plan (P1249/month), and Premium Plan (P2,499/month).
Now, you might be wondering how each plan differs. Why should I choose one over the other? Let's look at this table so it'll be easier for you to compare.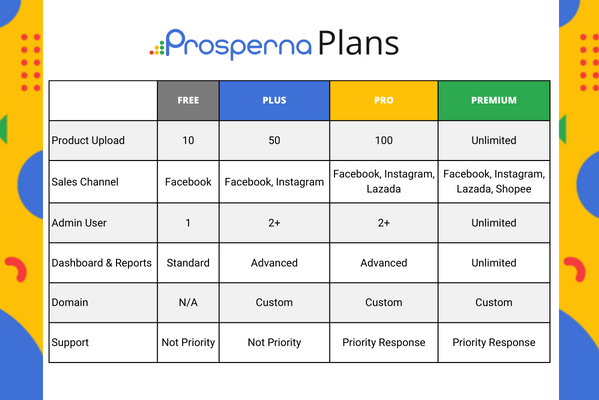 Or you can always visit our website to check out our pricing plans.
3. Prosperna Payment Gateways
Accepting payments from your customers is a crucial aspect of establishing an online business. They should be able to keep their eCommerce transaction safe and secure through your payment service.
That's another advantage of Prosperna. We have our own payment gateway called myPay, where sellers can accept major payment types such as credit/debit cards, bank transfers, eWallets, etc.
Plus, we offer e-payment methods that are used by most Filipinos, such as GCash, Paymaya, and GrabPay.
Learn more: Payment Gateway 101
4. Excellent Customer Support
Even for established business owners, operating an online business can be challenging. That's why at Prosperna, we are all about making the eCommerce experience as seamless and easy-going for Filipino MSMEs as possible.
If you have any tech questions or are wondering how to run your online store, our local team of experts is here to help and assist you with your needs. "They have an amazing team who [were] very hands-on in our training and extremely helpful in terms of marketing assistance," says Martin Jordana, co-founder of Cookie Dude.
You'll be able to reach out and speak with a representative from our customer support team via email, phone, or live chat from Monday-Friday, 8 am-8 pm.
Or drop a message to support@prosperna.com and someone from our team will get back to you within 24 hours.
Other helpful documents are also available through the Prosperna Knowledge Base if you want a detailed guide on how to use Prosperna's All-In-One eCommerce software.
5. Drag-and-Drop Feature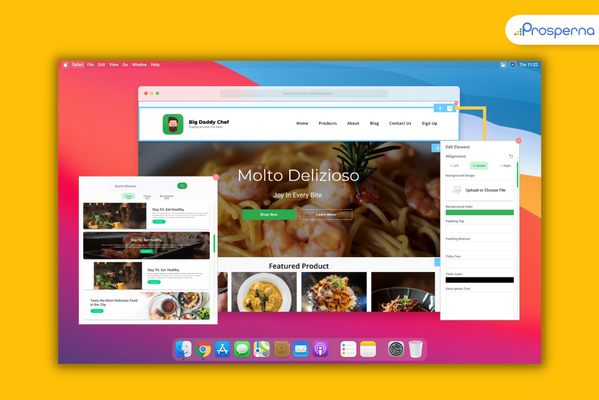 One of the reasons Filipino MSMEs love Prosperna, and what makes it really advantageous, especially for those "non-techie" business owners, is its drag-and-drop feature.
Without any prior web development skills, business owners can set up their online store using Prosperna's ready-to-use templates and customize them to suit their business needs.
There is no need to build and design a website from scratch.
To get started, all you need is a business idea, and the rest is handled for you by Prosperna.
6. Extensive List of Local Delivery Providers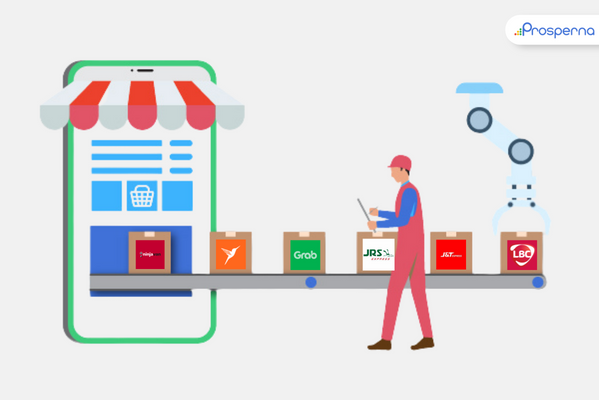 Another advantage of Prosperna's eCommerce software is our extensive list of local delivery providers. We are affiliated with LBC, the largest logistics company in the Philippines, which makes it easier for businesses to expand nationwide.
"Since we're based in Metro Manila, we can expand nationwide since you're also affiliated with LBC. So if we can deliver nationwide, there's an opportunity for us to expand our business," says Martina Javellana, owner of Vargas Kitchen.
Prosperna Shipping makes it convenient for merchants and customers to process orders and automatically book shipping. Customers have the choice of having your products delivered right to their doorstep or picking them up personally from your physical store—if you have one.
Or if they are in a rush, they can also book for same-day delivery.
Some of the delivery couriers Prosperna offers are Lalamove, J&T, Grab, and LBC.
7. Ease-of-Use
If your goal is to launch an online store quickly and easily, then Prosperna is really at an advantage. It enables you to build an online store without worrying about hosting, servers, or development costs.
Because all the elements are clearly organized, the user interface is simple, approachable, and quite intuitive. Processing orders and adding products and discounts are both simple. In fact, you can start selling 30 seconds after creating your online store.
Additionally, Prosperna knows the importance of having a responsive web design. This means that no matter what device you and your customers use—be it a laptop, smartphone, or tablet—your online store will still look great.
Conclusion
Now that you've read the many advantages of Prosperna and why over 5000 Filipino MSMEs love it, you can decide if it is the best eCommerce software for you. With so many options available, it's vital to be sure the one you select has the capabilities you need to achieve your business goals.
Already using Prosperna? What other features do you love the most? Let us know in the comments below.
Further Reading:
FAQs
Is Prosperna free?
When using the Prosperna FREE plan, there are no upfront setup costs and no ongoing subscription costs. The only costs incurred by sellers are any payment gateway and shipping fees.
Can I see a live demo or speak to a representative?
Yes. To give you a "hands-on" understanding of the complete system and to address all of your questions, Prosperna offers 1-on-1 personalized demos.
Register today for a FREE demo. Or if you want to speak to a sales representative, just send an email to sales@prosperna.com, or message us on any of our social media channels.
Start Your Online Business with Prosperna
Prosperna is an all-in-one eCommerce platform for Philippine businesses. We are on a mission to empower 100,000 Philippine MSMEs with simple and affordable eCommerce software.
In fact, we are super passionate about helping Philippine MSMEs we're giving you a free account forever!
Want to experience the advantages of Filipino eCommerce software? Create your free-forever Prosperna account now.