"The greatest failure is when you give up."
These are the words of Marilyn Ceredon, owner of LVMCC Hardware Trading & Services, and Tiles Center, when asked how she managed business continuity despite the challenges of the past years.
LVMCC is a retail hardware shop that specializes in tile setting with in-house professional engineering services. This small business started in 2019, just one year before the pandemic hit, and immobilized most brick-and-mortar stores.
From Zero to Hero
Marilyn was then an OFW when her husband, a civil engineer for 29 years, suggested they start a business—something that's related to the construction industry.
Marilyn has never had experience or any background in running a business but still decided to follow her husband's advice. She quit her job, went back to the Philippines, and started a small business from scratch.
Running a business is hard, especially when you have no knowledge about what you're doing. But what motivated Marilyn to thrive and not give up was knowing she had all the resources needed to succeed—from public and private institutions—and all she had to do is move and work for it herself.
She enrolled in various DTI training programs just to educate herself on all things business. During one of her training sessions at Thames International School, she was introduced to Prosperna. But she didn't take it to heart since digitalization or eCommerce wasn't a thing at that time yet.
Not until the pandemic.
Going Offline to Online
When the lockdown was implemented and physical stores were forced to close, Marilyn found herself in a delicate situation. LVMCC hardware was only one year old at that time and hasn't established a name in the construction supply industry yet.
"Naging struggle ko yung sa marketing. Paano ko maipapakilala yung business? Paano magkakaroon ng maraming customers? Yung sales paano tataas?" Marilyn shared. [English translation: I struggled a lot with marketing. How can I introduce the business? How can I attract customers? How can I increase our sales?]
The Covid-19 pandemic has had a devastating impact on businesses—especially small businesses—in the Philippines and across the globe. And it has forced businesses of all types to adapt in order to stay afloat.
This meant taking their operations online and starting an eCommerce business.
Good thing for those who are already experts with computers and the internet. But for those who are not tech-savvy, like Marilyn, putting up an online store seems like a difficult task. Not only do they have to learn how to build a website and set up an e-commerce platform, but they also need to acquire the necessary skills to attain business continuity.
That's when Prosperna's All-In-One eCommerce platform came in handy for LVMCC Hardware.
Prosperna's eCommerce solution enables small to medium-sized businesses, like LVMCC, to launch their very own online store and design their website however they like. With its drag n' drop page builder, it's easier to create beautiful digital product catalogs even with no coding skills.
"I'm very grateful kasi yung technical support niyo ay talagang hands-on. Kami yung sa details nung product then the rest kayo na," Marilyn shared. [English translation: I'm very grateful because your technical support is really hands-on. We only give the details of the product then the rest is all up to you.]
Prosperna's team of experts helped her business shift from offline to online and thrive with Prosperna.
With Prosperna's easy-to-use interface and seamless payment integrations, LVMCC achieved business continuity, provided more convenience to its customers, and increased their sales by offering all types of payment from COD to eWallets to bank transfers and many more.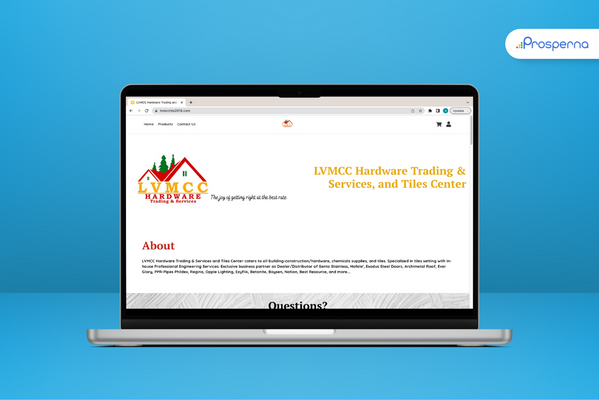 Thriving in the Online World
Hardware stores have a hard time going online because they're limited by what they can ship. The heavy items make it difficult for them to operate an eCommerce business. It would take too long and cost a lot of money just for shipping. Plus, you'll also have to consider manpower.
"I tried Lazada and Shopee pero wala silang contingency plan o program para sa mabibigat na item at that time na nag-apply ako. Imagine granite slab, 60×240, apat hanggang limang tao pwedeng bumuhat sa isa pa lang," said Marilyn. [English translation: I tried Lazada and Shopee but at the time I applied, they don't have a contingency plan for heavy items. Imagine a 60×240 granite slab, it takes 4-5 people to lift with just one of that.]
Most businesses selling heavy items, like construction materials, find it hard to transition online because of the problems with logistics. That's why it's rare for hardware items to be seen on online platforms.
But with the help of Prosperna Shipping, LVMMC Hardware found it easier for their customers to book shipping with their preferred delivery courier. "Even logistics kasama na kasi, so pipiliin na lang ng customer," said Marilyn. [English translation: Even logistics is included, all the customer has to do is choose their preferred courier.]
It's convenient for the customers of LVMCC to order hardware supplies straight from the platform and even choose a specific date or time on when they want their orders to be delivered. They can also opt for "store pickup" and get their orders from the store themselves.
LVMCC was able to thrive with Prosperna during the pandemic as the platform made it possible for them to reach old and new customers online. Plus, they had added exposure and received multiple bulk orders through the platform.
The Ultimate All-In-One Ecommerce Platform
Marilyn is not only the manager of LVMCC hardware but also acts as the accountant, bookkeeper, human resources, etc. It can be really hard but she was able to thrive with the help of Prosperna.
Prosperna's eCommerce solution makes it easier for her to run a one-man show by accepting and fulfilling orders, viewing sales reports and product inventory, marketing, and promoting through different social media channels—all that in one app.
Are you interested in taking your business from offline to online, just like LVMCC Hardware? Prosperna is here to help!
Related stories:
Prosperna, Your Partner to eCommerce Success
Prosperna is an all-in-one eCommerce platform for Philippine businesses. We are on a mission to empower 100,000 Philippine MSMEs with simple and affordable eCommerce solutions.
In fact, we are super passionate about helping Philippine MSMEs we're giving you a free account forever!
Want to start selling online? Create your free-forever Prosperna account now.