Facebook is one of the most popular social networking platforms worldwide, particularly in the Philippines. The question is, are you reaping its benefits?
For example, Facebook Messenger can be a great way to send out special promotions and drive sales to your online store.
Here are some of the benefits of using Messenger for your online store in the Philippines.
What is Facebook Messenger?
Facebook Messenger is a service that allows you to send text, audio, video, or even make calls to your friends and family.
It's also used by businesses to send targeted messages to their customers. You can share your products or services to targeted groups of people with little effort.
You can also send recurring notifications that are triggered by certain events or actions.
Messenger is currently used by over a billion people worldwide and has become a powerful tool for businesses to reach out to their target audience.
Why Facebook Messenger Is the Best Social Media?
Adding social media to your website can be a great way to not only build your brand, but to also get more visitors to your site.
And if you add Facebook Messenger, you can also improve the user experience of your site and increase the number of subscribers and leads that you're getting.
It is the most convenient way to connect with your customers.
Facebook Messenger is a popular choice for social commerce solutions, which means that your customers are likely to be already using the platform.
This makes it easy for them to communicate with you and makes it more likely that they'll stay engaged with your business.
10 Benefits of Using Facebook Messenger for Your Online Business
Here are the ten benefits of using Facebook Messenger for your online business.
1. It Is Completely Free
This means that you won't have to worry about paying any fees to sell and promote your products online. Plus, Facebook Messenger is very user-friendly. This makes it a good choice for first-time business owners who want to communicate with their customers in a simple and effective way.
2. Chat Blasts
Businesses that use Facebook Messenger can take advantage of chat blasts to reach a large number of people at once.
Chat blasts are essentially mass messages that can be sent to all of your Messenger contacts at once. This is a great way to promote new products, announce sales or discounts, or just keep your customers or clients up-to-date on what's going on with your business.
Plus, since Messenger is already a popular messaging platform, there's a good chance your customers or clients will already be using it, which makes it an ideal way to reach them.
3. Personalized Customer Service
When you use Facebook Messenger for your business, you can provide your customers with more personalized service.
This is because you can use Messenger to communicate with your customers one-on-one.
This means that you can get to know your customers better and understand their individual needs.
As a result, you can provide them with a more tailored service that meets their specific needs.
4. Consistent Feedback and Reviews
When you use Facebook Messenger for your business, you can count on consistent feedback and reviews from your customers.
This is because Messenger allows customers to rate and review your business directly within the app.
This makes it easy for you to track your customer satisfaction levels and make improvements where necessary.
Additionally, customers can leave comments on your business page that can give you valuable insights into their experience.
5. Changing the Channel of Communication To Private
There are many benefits to using Facebook Messenger for your business, one of which is the ability to change the channel of communication to private.
This can be especially helpful if you need to discuss sensitive information with your customer or if you simply want to keep your conversations more private.
By keeping the conversation between you and your customer private, you can ensure that sensitive information is not shared with anyone else. This can help build trust between you and your customer and keep their information safe.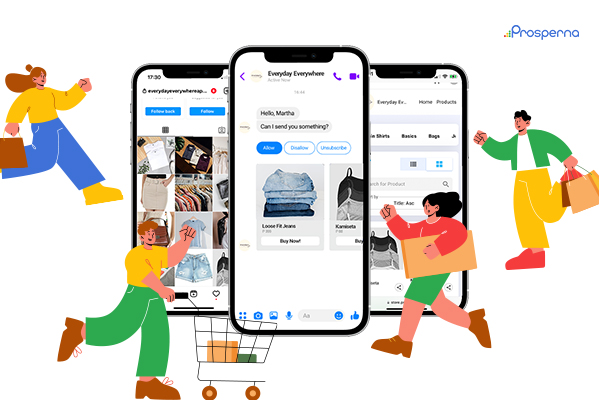 6. Chatbot
A chatbot is a computer program that interacts with people over a chat interface. It is much like Siri, Alexa, and Cortana.
One of the reasons why you need a chatbot is because it's a great way to boost your business. By providing an automated way for customers to interact with your business, you can take care of the small things so you can focus on the bigger picture.
Chatbots can answer common questions, promote your products and services, and even take care of customer service inquiries.
All of this leads to a better overall experience for your customers, which can lead to more business down the line—a huge benefit of using Facebook Messenger for your eCommerce business.
7. Increased Purchase Intent
When customers are able to message you directly through Messenger, they are more likely to convert into paying customers.
This is because they are able to get their questions answered quickly and easily without having to search for your contact information or wait for a response through other channels.
Additionally, customers who message you through Messenger are more likely to be satisfied with their experience and are more likely to recommend your business to others.
8. No Coding Is Needed
Facebook Messenger is a great way to communicate with your customers and clients without needing to code anything.
It's fast, efficient, and easy to use. You can easily send messages, files, and even make video calls.
Plus, there are no limits to how many people you can message. This makes it perfect for businesses of all sizes.
9. Produce Top-Notch Leads
When you use Facebook Messenger to communicate with potential customers, you're building a relationship with them that can lead to trust and respect. This is essential for generating quality leads.
You can also quickly and easily answer any questions potential customers might have, which further builds trust.
Plus, it offers a number of features that can help you nurture your leads, such as automated messages and chatbot support.
All of these make Facebook Messenger an essential tool for businesses that want to produce top-notch leads.
10. Boost Client Satisfaction
Facebook Messenger is a great way to boost client satisfaction for your business. It allows customers to communicate with you directly and gives them a sense of connection to your business.
Additionally, it allows you to quickly and easily resolve any customer service issues they may have, which leads to happy customers.
It also allows you to build better relationships with your customers which can lead to repeat business and referrals.
This is because you can use Messenger to keep in touch with your customers and offer them support and assistance when they need it.
As a result, your customers will feel more valued and appreciated, and they will be more likely to continue doing business with you in the future.
FAQs
Why is Messenger popular in the Philippines?
Ultimately, it is the Philippines' local telcos, Globe and Smart, that are responsible for Messenger's immense popularity. Facebook and Facebook Messenger are offered at a very low price point by these telcos.
Why is Messenger important for business?
Facebook Messenger can help you build profitable, long-term relationships with customers on the platform. It can also help you reduce friction and drive more sales, deliver exceptional customer experiences, generate leads, and more.
Final Thoughts
Facebook Messenger has become a great tool for businesses of all kinds, and it is especially beneficial to those in the Philippine eCommerce industry.
With easy and personalized customer service, you can please your customers, provide them with information and assistance faster than ever before, build a strong relationship with them, and give them the best experience when shopping from your online store.
Prosperna makes it easy to link your Facebook account to your online store, allowing you to view all of your social media messages, including those from Messenger, in one location.
Further reading:
Prosperna, Your Partner to eCommerce Success
Prosperna is an all-in-one eCommerce platform for Philippine businesses. We are on a mission to empower 100,000 Philippine MSMEs with simple and affordable eCommerce software.
In fact, we are super passionate about helping Philippine MSMEs we're giving you a free account forever!
Want to use Facebook Messenger on your website? Create your free-forever Prosperna account now.