Consumers today not only want personalized customer service from businesses—they expect it.
Studies have shown that customers are more likely to make larger purchases from businesses that can provide the personalized service they desire.
Fortunately, when it comes to giving personalized customer service, small businesses mostly excel in that department.
In this article, you'll learn what personalized customer service really means and seven ways your business can provide it.
What Is Personalized Customer Service?
Personalized customer service is a process that involves getting to know your customers and their needs. It is the art of making your customers feel as though they are more than just a number.
The process involves creating a relationship with your customers so that your business is more than just a transaction. It's about giving them the personalized attention they're craving.
Personalized customer service can help you stand out from your competitors. It will ultimately make your customers happier and more likely to return to you in the future.
What Are the Advantages of Personalized Customer Service?
According to the Harvard Business Review, personalized customer service can provide a number of benefits, including giving the customer a more positive experience.
Additionally, customers are more likely to feel engaged and connected to a business when they receive personalized service. They would be proud to be associated with that business and would spread the word about their positive experiences, which would reduce the likelihood of conflict and customer turnover.
Personalized customer service allows your customers to feel more valued. This can lead to customer loyalty, which is especially important for businesses that don't face much competition or have a wide enough product line to allow for switching.
What Are the Challenges of Offering Personalized Customer Service?
Marketing and sales teams often focus on the benefits of personalized customer service, but there are a few challenges that need to be considered before you implement a strategy.
For example, personalized customer service might be great for one-on-one interactions, but it is not the most efficient way to serve a lot of customers—since it is impossible to remember every single one when there are too many.
A business might not be able to scale its data management systems quickly enough to handle all the increased client data, which could cause confusion and impersonal service.
Another challenge of personalized customer service is that it can be costly. You will need to spend extra money to hire customer service representatives that are well-trained and knowledgeable about your product or service if you want to offer individualized customer support.
7 Ways to Provide Personalized Customer Service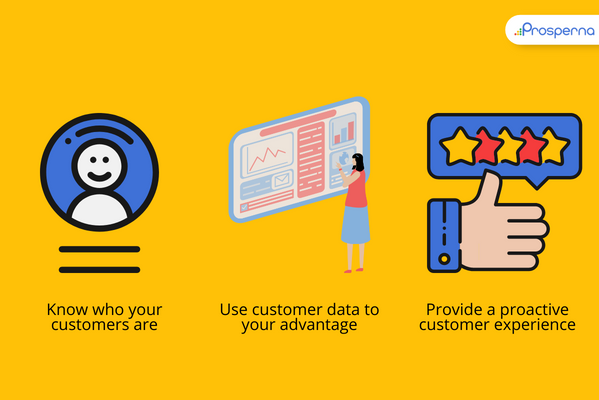 1. Develop Customer Profiles
Simply knowing the name of your customer is not enough. You should be fully aware of their history with your business.
Knowing precise information about your customers can help you deliver a personalized service that makes them feel valued, whether it's about a problem they reported or their order history.
This includes their purchasing history, preferences, and any problems they've had in the past.
Develop your customers' profiles and keep a detailed record of all their transactions.
With Prosperna's integrated CRM solution, you can accomplish this more easily. Manage and keep track of your customers' data and order histories directly on the app—no need to download another software or open another app.
You may utilize this information to boost productivity, increase online sales, and enhance your customer service.
2. Boost Your Level of Proactive Customer Service
There are a few key things you can do to boost your level of proactive customer service. First, make sure you are responsive to customer inquiries and complaints. This means addressing them in a timely manner and taking action to resolve the issue.
Second, go above and beyond to meet customer needs. This could involve going out of your way to finding the right product or service, providing extra assistance, or going the extra mile to ensure customer satisfaction.
Finally, make sure you are continuously improving your customer service skills and knowledge. This means keeping up with industry trends, learning from customer feedback, and constantly striving to improve the quality of your service.
3. Employ an Omnichannel Approach
In order to be successful in today's competitive marketplace, businesses need to employ an omnichannel approach. This means providing customers with a seamless experience regardless of how they choose to interact with your business.
Whether they visit your website, walk into your store, or call your customer service line, they should receive the same high level of service. All touchpoints must work together to provide a consistent, seamless experience for the customer.
An omnichannel approach allows businesses to meet customers where they are and provide them with the personalized customer service they crave.
By doing this, your business can build loyalty, increase satisfaction, and drive sales.
4. Leverage the Power of AI and VR
In recent years, there has been a surge in the use of artificial intelligence (AI) and virtual reality (VR) technologies across a variety of industries.
These technologies have the potential to revolutionize the way businesses connect with their customers, providing a more personalized and immersive experience.
For example, you can use AI to analyze customer data and preferences so you can provide them with tailored recommendations and offers. VR can be used to transport your customers into your business' world, giving them a unique and memorable experience.
This can create a customer experience that is truly unique and tailored to their individual needs which results in a deeper level of engagement and loyalty.
5. Create Special Campaigns Based on User Behavior
Utilize the customer data you are already gathering to your advantage. Customize campaigns based on your customers' behavior and needs.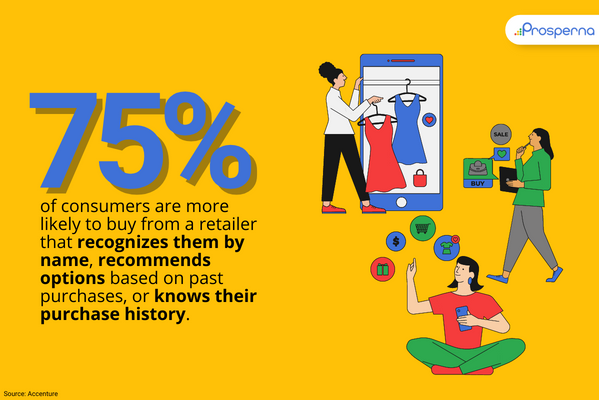 This can include creating special quotes that are tailored to the needs of your customer or creating one-of-a-kind products that correspond to your given customer's desire.
6. Improved Customer Engagement
By definition, customer engagement is the process of interacting with and attracting customers. It is critical to the success of any business.
When customers are engaged, they are more likely to make purchases and recommend your products or services to others.
They are also more likely to remain loyal to your brand, even when faced with competition.
7. Make Low-Effort Experiences
This means creating experiences that require minimal effort on the part of your customers.
For example, you can create self-service options such as online customer service portals or automated phone systems.
Additionally, you can make it easy for your customers to provide feedback by offering multiple channels, such as social media customer service, email, or the traditional phone call.
By making low-effort experiences, your business can provide personalized customer service without putting undue burden on the customer.
FAQs
Why should customer service be personalized?
Personalization aids in meeting customer expectations and encourages almost 93% of customers to make repeat purchases. This can have a significant business impact in building trust, loyalty, and brand recall.
Final Thoughts
You can develop closer connections with your customer base by personalizing the customer experience. Personalizing customer service with a human touch is crucial, but you can scale it by using AI and VR to improve their highly tailored experience.
Understanding how to engage customers with your business will become easier as you learn more about them. Starting with these seven ways, you can surely provide personalized customer service that will keep your customers coming back.
Further reading:
Prosperna, Your Partner to eCommerce Success
Prosperna is an all-in-one eCommerce platform for Philippine businesses. We are on a mission to empower 100,000 Philippine MSMEs with simple and affordable eCommerce software.
In fact, we are super passionate about helping Philippine MSMEs we're giving you a free account forever!
Want to personalized your customer service and boost sales? Create your free-forever Prosperna account now.