Finding their soulmate is what Phillip "Flip" Andrew Ruby, owner of The Lazy Gentleman, felt when they found a complete and affordable online store builder in the Philippines with Prosperna.
"You're like an overprotective girlfriend to me, always taken cared of," he said.
The Lazy Gentleman is a one-stop shop for all your man needs—from hair and body care to teeth hygiene to condoms and lubricants, they've got you covered. This online store caters exclusively to men and offers an opportunity for every gentleman out there to be confident when buying their essentials.
Filling the Gap in the Market
The lack of an online store for men is a huge missed opportunity in the Philippine market. Research shows that 38% of men are likely to spend more on goods from online marketplaces. And yet, there are no absolute dedicated online stores for Filipino men.
Flip found a way to fill this huge gap in the market and founded The Lazy Gentleman. "We see that there's an opportunity for us to be able to help our fellow men [to have] much more time for the essential things he needs."
They solve the problem of the basic "laziness" of a guy by shipping all their purchases straight to their home. This is possible through Prosperna Shipping.
"Normally, guys don't shop for themselves. [They] don't wanna go out to 7/11 in the middle of the night to buy [their] essentials," Flip said.
Their target customers, which is the Filipino male population, can now buy their essentials even without getting off their couch.
Prosperna simplified eCommerce delivery by having an integrated shipping service like LBC, J&T, and Lalamove. Customers can easily book shipping with their preferred delivery courier and deliver their orders within an hour or so.
All they have to do is just sit and wait.
Flip first heard of Prosperna in 2021, when Dennis Velasco, CEO and Founder of Prosperna, pitched in the venture capital firm he is working for.
He got fascinated by the concept—the completeness and affordability of the software. Prosperna's All-In-One eCommerce software allows you to launch your online business, accept offline and online payments and automatically book shipping.
All this in one app and even without any coding skills.
So when Flip decided to start his own business, he immediately contacted Dennis not as an investor, but as a client now.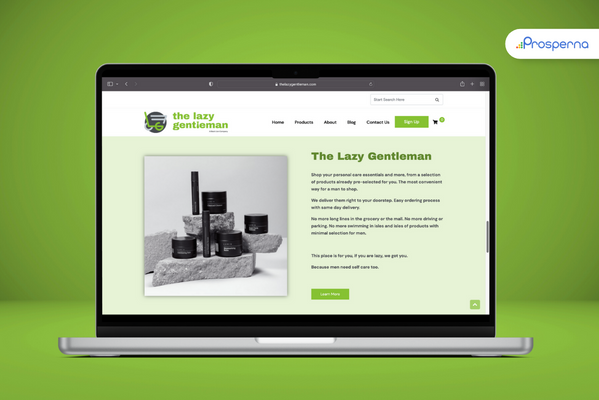 A Hardworking Software for the Bustling Man
Building a website and having a constant online presence is usually what hinders most offline businesses to switch online. There are just too many processes, too costly, and not enough technical support.
Most small business owners don't work full-time, especially for those still starting, and only consider their business as a side hustle. And for a busy man like Flip, Prosperna's All-In-One eCommerce software is the perfect solution for his online business needs.
"If I could pay someone to actually build [a website] for me, and it's gonna be cheaper then why not," Flip said. With the help of Prosperna, he was able to build a website and launch The Lazy Gentleman.
The Prosperna Plus Plan is an excellent option for those who want to start their own online store like Flip. You can have your very own domain and upload up to 50 products, for as low as P495/month.
It comes with more features and integrations (that you can get in the 14-day free trial) like advanced dashboard reporting that will help you manage your products in the best way possible while also providing some insights into how successful (or not) your promotions are across different platforms, such as Facebook & Lazada.
The simplified digital payment process is something your online business can take advantage of by accepting all types of payments. Whether that's through COD, GCash, Grabpay, Paymaya, 7-Eleven, debit/credit card, and bank transfers.
Prosperna is all about making the eCommerce experience seamless and easy-going for Filipino small business owners. So the experts from our support team are always ready to assist and guide you in every step of your eCommerce journey with our 24/7 email and chat support.
"If you'd go to expensive platforms, they wouldn't care the same way. You would pay millions but the care is very different. When they seal the deal that's it their gone."
Finding the Complete Online Store Builder
Flip and his partners in The Lazy Gentleman found the perfect partner with Prosperna's complete and affordable online store builder. It understands their needs as starting Filipino small business owners. It fits their goals as a rising Philippine MSME.
"We couldn't launch without Prosperna. We might still be in the development stage at this point [if it weren't for them]."
Prosperna's All-In-One eCommerce software is enabling ideas to be out in the market, allowing Filipino entrepreneurs to take the leap.
Related stories:
Prosperna, Your Partner to eCommerce Success
Prosperna is an all-in-one eCommerce platform for Philippine businesses. We are on a mission to empower 100,000 Philippine MSMEs with simple and affordable eCommerce software.
You can launch your very own online store even without coding skills and start selling in 30 seconds!
Want to have a complete and affordable online store builder like The Lazy Gentlemen? Register today and create your FREE FOREVER ACCOUNT with Prosperna.