In today's fast-paced world, convenience is everything. And when it comes to shopping, more and more people are finding convenience in ordering online. At first, it was just small dried goods like clothes and accessories. Now, even grocery and fresh produce can be bought online and delivered right to your door.
This is the goal of The Healthy Fruit Basket, an online fruit and vegetable store that offers a wide variety of fresh, organic produce. With just a few clicks, they made shopping for healthy gift sets easier by delivering orders straight to their customer's doorstep.
Jumping Into the Social Commerce Trend
For Bernadette Filarmeo, owner of The Healthy Fruit Basket, the idea of starting an online food delivery store is something personal. Giving fruit baskets to her grandmother on special occasions gave rise to this business venture.
She then jump into the social shopping trends and started selling fruit baskets through Instagram and Facebook Marketplace in 2020. Facebook Marketplace is a popular site so, in just a matter of months, she was able to reach a large audience and received lots of orders from customers around Metro Manila and in nearby areas.
When she realized that her small business is booming, the idea of launching an official website crossed her mind. She had always been interested in building credibility and establishing her brand but never got around to doing so due to limited resources available.
Hearing about how one simple website can help grow a business, the thought of subscribing to Shopify crossed her mind but it didn't fit her goals as a small business in the Philippines.
Then in 2021, she came across Prosperna's All-In-One eCommerce software and it won over her heart immediately. It's Philippine-based and has been designed with local MSMEs in mind so it understands her business goals as a local entrepreneur.
With the help of Prosperna and our local team of experts, Bernadette was able to successfully launch an official website for her small business, The Healthy Fruit Basket.
The Website Builder for the Filipino Entrepreneur
"When we had a website, we had another stream of getting clients."
After launching a website, Bernadette found herself in the middle of an online gold rush. A well-designed website can be a great way to get your brand out there and expand your reach by connecting with old and new customers.
And with Prosperna's built-in marketing tools, it's now easier than ever to market, sell, and promote her fruit basket store online.
One of Prosperna's eCommerce software features that our customers really love is the ability to send bulk email and SMS messages. There's no need to manually type in and send out a word or two about your online business promos, special offers, events, etc. In just a few clicks, you can send this information to thousands of customers in your contact list.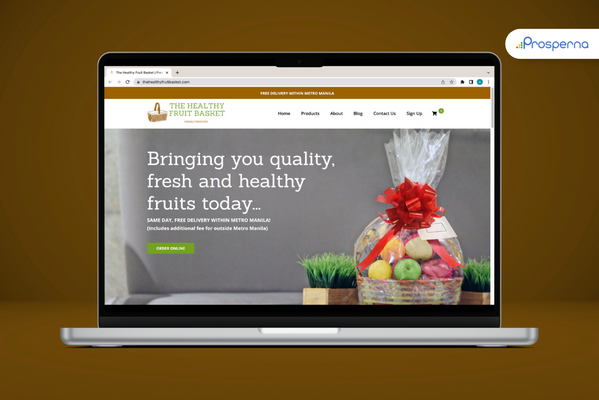 Having a website for your small business brings a lot of benefits such as having a platform to showcase your products or services.
With Prosperna, you can easily create beautiful product catalogs—add, edit or delete product images, descriptions, pricing, etc. You can easily turn on or off the product availability option and update your inventory so your customers will know if that specific product or service is available or not.
Plus, if you subscribe to the Prosperna Plus Plan, you can easily share your website or specific products with anyone, not just on Facebook but also on Instagram, Viber, Whatsapp, Lazada, Shopee, etc.
The Best Integrated Software for Online Businesses
With the new features on her website, Bernadette found that it is easier than ever to do business. All of their product details are present which means she and her team can accept and fulfill orders more easily now.
"The problem with just Facebook and Instagram is that we have to quote [the delivery fee] one by one but with Prosperna, it's automated for us," Bernadette explained when asked what Prosperna feature she loved the most.
They didn't need to worry about pricing as Prosperna has integrated everything for them including delivery fees into one platform—no more quoting prices or different costs each time an order comes in.
Furthermore, there's no need to worry about bugs or any technical issues you might encounter because our support team is always ready to help you.
"[The] support team is really prompt and efficient in solving the problems," Bernadette confirmed.
Related stories:
Prosperna, Your Partner to eCommerce Success
Prosperna is an all-in-one eCommerce platform for Philippine businesses. We are on a mission to empower 100,000 Philippine MSMEs with simple and affordable eCommerce software.
In fact, we are super passionate about helping Philippine MSMEs we're giving you a free account forever!
Want to gain new customers online like The Healthy Fruit Basket? Create your free-forever Prosperna account now.