When you simplify digital payments for your customers in the Philippines, you provide them with a good shopping experience—improving sales and customer satisfaction. Not only is it the last step before they make a purchase, but the checkout page can decide whether customers will proceed or abandon the cart.
If you're wondering how to simplify digital payments for your eCommerce business, you've come to the right place!
Here are six actionable tips to get you started and help your business succeed in Philippine eCommerce.
1. Give Them a Selection to Choose From
More and more consumers are now choosing the convenience of cashless transactions to avoid physical contact or the need to line up and withdraw money.
The top digital payment providers here in the Philippines include mobile wallets like GCash, Maya (previously PayMaya), and Dragonpay. 
Some pay using their cards with Stripe or via online bank transfer.
Due to the "New Normal" standards, prioritizing fully contactless transactions is now expected.
By simplifying your payment methods with digital payments, your business becomes more accessible to customers who prefer to pay with their preferred method.
2. Have "Guest Checkout" Available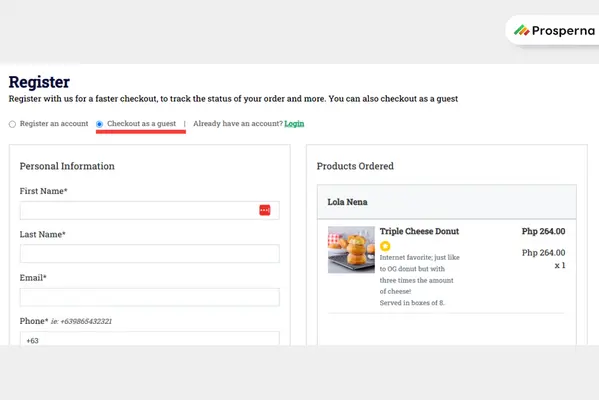 Put yourself in your customer's shoes—what would you do when asked to sign up or log in before you can make a purchase? Chances are you'd probably lose motivation to buy and abandon your cart.
One study found that 3 out of 10 people shared the same sentiment. They cited that requiring account creation is the second highest reason online shoppers abandon their carts.
The last thing you want to do is create barriers that prevent you from making a sale.
So, simplify digital payments for your customers in the Philippines by allowing them to checkout without creating an account.
Your customers will feel more comfortable buying from you. And if your customers had a good experience with your online store, they are more likely to create an account for future transactions.
3. Only Ask for Essential Information
Besides having guest checkout available, customers who decide to purchase and make an account in your store still prefer things to be fast and simple.
Complicated forms asking for too much information that has nothing to do with the sale can also lead them to abandon their cart.
For a basic form, ask for their name, phone number, email, and delivery address so you can deliver their orders and communicate with them about their purchases.
If you want to provide more personalized customer service, you may also add the following as optional fields:
| | |
| --- | --- |
| Birthday | Celebrate your customers' birthdays by giving them a voucher or discount code that they can use during their birth month. |
| Interests | If you sell various items, like home essentials, asking what they are interested in can help you tailor-fit your marketing to each customer. |
4. Use the Same Website Design on Your Checkout Page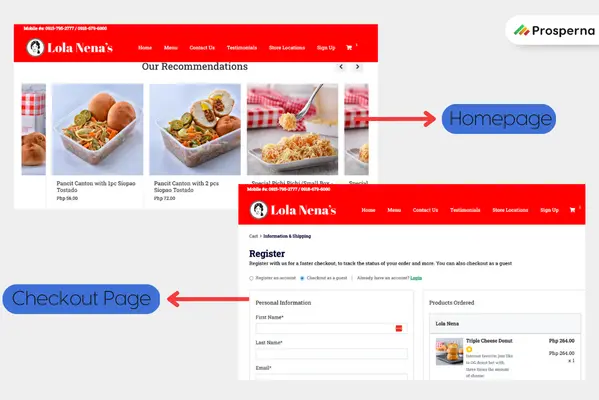 In one study, 42% of Filipino respondents encountered digital fraud using phishing assaults, and 38% of respondents were victims of money or gift card fraud.
Don't give your customers any reason to doubt you or feel skeptical. Creating a checkout page consistent with your branding will help ease your customers' minds. Otherwise, they may think something smells like "phishing".
In addition, consider partnering with a trusted all-in-one eCommerce solution provider instead of hiring a temporary freelancer to build your site.
A dedicated and reliable eCommerce solutions partner, like Prosperna, ensures your website is properly maintained and secured.
5. Reassure Your Customer's Security and Privacy
Part of your responsibility as a legit business is to assure your online store visitors that your website is safe and secure to make online payments.
Have an SSL certificate or an HTTPS extension to prove that the customer's connection is secure and their information remains private. And avoid any "spammy" pop-ups on your eCommerce website.
Lastly, test your links. Ensure your customers are directed to the official website or mobile application for each payment method when they confirm their purchase.
Bottom line: Security is not optional and should be a non-negotiable in digital transactions. When money and personal information are involved, customers need to trust your business before transacting with you.
6. Have Clear Call-to-Actions (CTA) 
As mentioned at the beginning of this blog, the checkout page is the last step between making a sale and having an abandoned cart.
It's only necessary that this page focuses on completing the transaction and is free from any form of distraction that will make them abandon their cart.
Simplify digital payments with clear call-to-action prompts so your customers won't feel lost while navigating your site.
Guide them to complete their purchases. You can either redirect them to the checkout page when they click to view their shopping cart or have them click on buttons like "Buy Now" or "Confirm Order" to complete their transactions.
Pro Tip: A/B test cart button. Believe it or not, minor tweaks to the "Buy" and "Add to Cart" buttons can help boost conversions. If your website has high abandoned cart rates, experiment with the cart button colors, designs, and call-to-action to see what will encourage purchases.
With these steps to simplify digital payments, you've greatly improved your standing in Philippine eCommerce. These tips are not only for you to increase sales but also to provide a good shopping experience that promotes customer retention and loyalty.
As an all-in-one eCommerce platform, Prosperna offers a pre-integrated payment solution to simplify digital payments for your online business in the Philippines.
Simplify Digital Payments Philippines FAQs
What are digital payment methods?
Digital payments refer to transferring money or digital currency using digital payment technology like mobile wallets, electronic bank transfers (EFT), and credit or debit cards.
What are the benefits of digital payments?
The top benefits of digital payments include contactless and instant payments, more convenience and accessibility for customers, and cost-effectiveness. 
What are the risks of digital payments?
Digital payments come with a risk of digital fraud, like identity theft and hacking, so investing in cyber security is vital for all eCommerce businesses.
Final Thoughts
Digital payments have become an essential part of the eCommerce landscape in the Philippines. As a business owner, it is crucial to offer a variety of payment options to cater to the diverse needs of your customers. By simplifying the digital payment process on your eCommerce store, you can enhance the customer experience, increase sales, and gain a competitive advantage. So take the necessary steps to simplify digital payments for your eCommerce store in the Philippines and enjoy the benefits that come with it.
Prosperna, Your Partner to eCommerce Success
Prosperna is an all-in-one eCommerce platform for Philippine businesses and digital creators. We are on a mission to empower 1 million Filipinos with simple and affordable eCommerce solutions.
In fact, we are super passionate about helping Philippine businesses and digital creators we're giving you a free account forever! 
Want to start selling online? Create your free-forever Prosperna account now.