Prosperna is proud to welcome MyTODA as their new partner!
Their mobile app can ALLEVIATE THE INEFFICIENT COMMUNITY TRANSPORTATION
PROVIDE JOBS TO UNEMPLOYED TRICYCLE DRIVERS during the pandemic
MEET THE E-COMMERCE CONSUMER DEMAND by supplying the need for on-demand delivery and grocery services.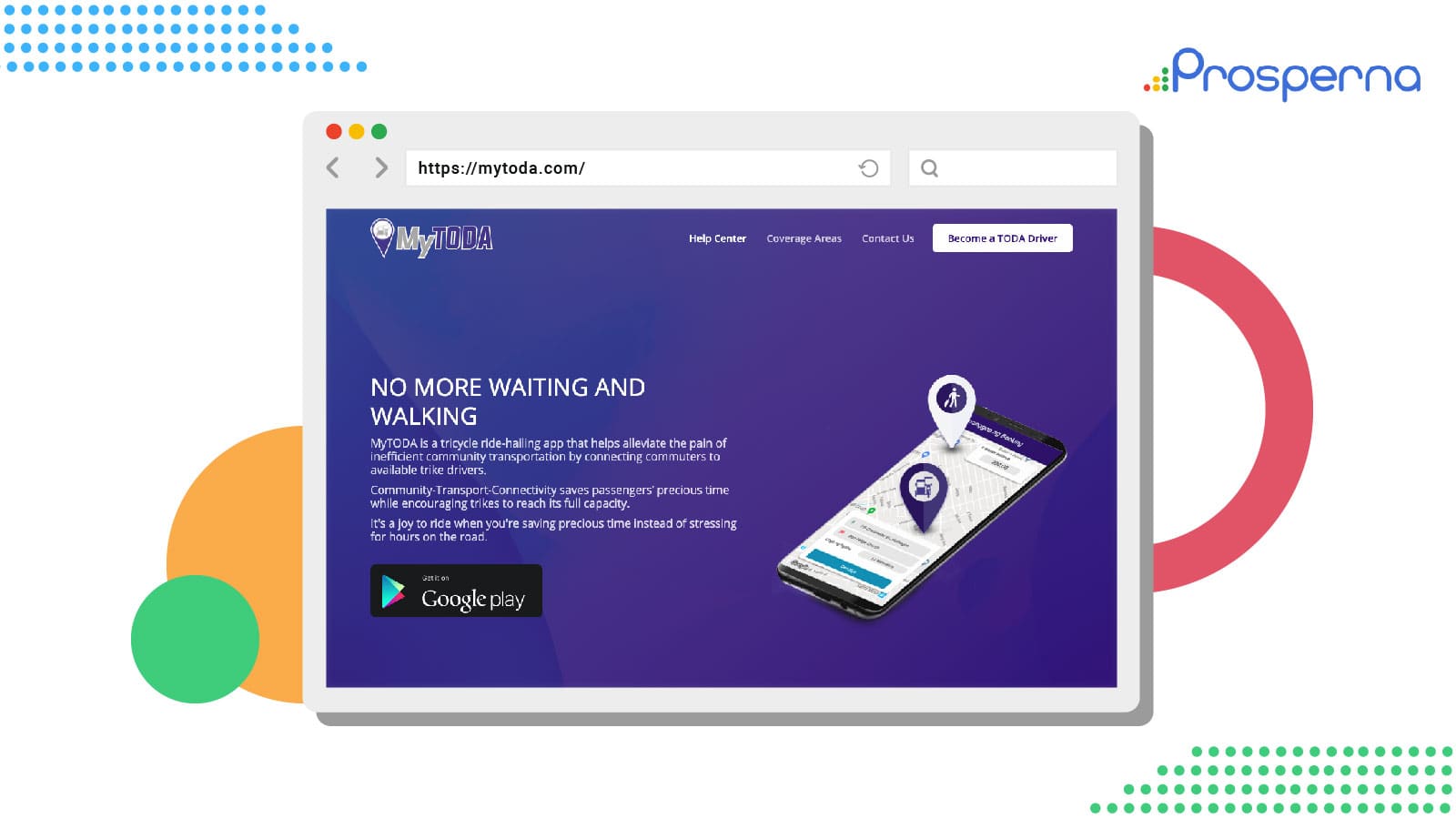 ABOUT MYTODAPH
MyTODA is a tricycle ride-hailing app that helps alleviate the pain of inefficient community transportation by connecting commuters to available trike drivers. Community-Transport-Connectivity saves passengers' precious time while encouraging trikes to reach their full capacity.
They aim to transform every community in the Philippines to have highly efficient Short-Distance-Transport-System (SDTS), ranging from the passenger, delivery, tourism, etc. that will improve lives of their TODA Partners, save time and money for the users and be a relevant partner of the Government in innovating our transport services.
PARTNERSHIP BETWEEN MYTODAPH AND PROSPERNA
Prosperna partnered up with MyTODAph during their launch last Wednesday, October 27, 2020, at SM City East Ortigas Transport Terminal.
The event started at 3 PM with the theme: Helping Tricycle Driver Rise From Covid19 Pandemic through Tech
This was attended by tricycle drivers from different communities, and you can check out the event highlights on MyTODAph's Official Facebook Page.
You can now Book a Ride going to SM City East Ortigas and avail of their Delivery Services or Pabili (Grocery) Services after you download their free mobile app on Google Play Store.
LET'S WORK TOGETHER
Related stories:
Join companies like MyTODAph and empower your business with technology.
Get ALL these features by MyTODAph by setting up a beautiful online store with Prosperna, specially catered for companies in the Philippines. We're not just your technology partner, our team is here to help you with strategies to scale your business.
Create your Prosperna Online Store now and let's digitally transform your business!
ABOUT PROSPERNA
Prosperna is on a mission to empower 100,000 SMEs, Startups, eCommerce, and Real Estate companies in the Philippines, and around the world, with the tools they need to create a Customer First Marketing & Sales engine. For more information, visit their website at www.prosperna.com.