Most first-time business owners panic as they wonder if they will be able to find an innovative business idea that has a solid foundation.
But that shouldn't be a problem at all. There are plenty of business ideas today that can work for any entrepreneur.
It's just a matter of identifying them and knowing how to make them work. Here are fifteen business innovation ideas that we believe first-time entrepreneurs might want to consider in 2023.
15 Innovative Business Ideas in 2023 That You Might Want to Consider Having
Are you wondering what business to start in 2023? Explore the following business innovation ideas to start making money next year:
1. Crafts and DIY Supplies
The DIY market is expected to grow to $12 billion by 2023. If you're crafty and have an eye for design, opening an innovative business that sells crafts and DIY supplies is a great way to tap into this growing market.
You'll need to find a niche and build a strong brand to be successful. But with the right products and marketing strategy, you can create a thriving business in this growing industry.
Take Maria Craft's MNL for example. They sell personalized wooden decor and keepsakes online via their website and social commerce apps.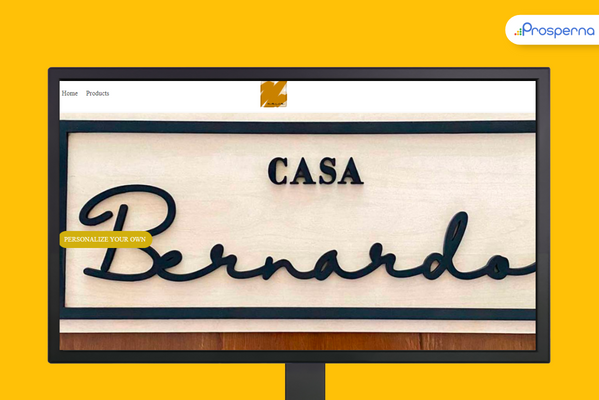 2. Meals-To-Go Business
If you are thinking about starting an innovative business in 2023, meals-to-go is definitely an option to consider.
As the world becomes increasingly busy, more and more people are looking for quick and convenient meal options. This has created a large market for meals-to-go, and it is only expected to grow in the coming years.
You may offer a variety of meal options to appeal to a wide range of customers. It's also important that the meals you offer are of high quality and reasonably priced.
3. Subscription Boxes
If you're looking for a unique and innovative business idea, subscription boxes may be worth considering.
With this business model, you provide customers with a monthly or quarterly subscription to receive a box of goodies, which can include anything from clothes and accessories to food and beauty products.
To get started, determine what types of products you want to include in your boxes and source them from reliable suppliers. Then build up a subscriber base by marketing your boxes to potential customers.
Also, make sure you have a simplified delivery system so the subscription boxes are shipped out on time and in good condition, which makes customers happy and loyal.
4. Cleaning Services
This is a great innovative business idea for 2023 for a number of reasons.
For instance, the demand for cleaning services is high—especially after the pandemic. No matter what the economy is doing, people always need their homes and businesses cleaned.
This means that there will be a consistent demand for this business in the coming years.
You can specialize your cleaning services business idea and focus on pest control management like what Pest Pro PH did.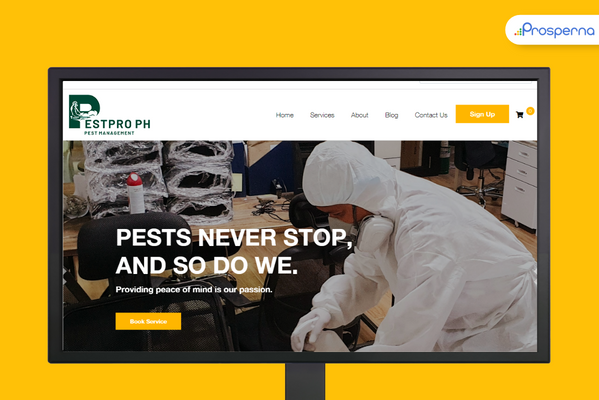 It can be a very rewarding business to operate. You'll be able to help people keep their homes and businesses clean, and you'll be able to make a good income doing so.
5. Virtual Reality
Virtual reality is an innovative business idea you might want to consider.
It allows businesses to create a simulated environment for their customers to interact with. This can be used for training, marketing, or even customer service.
There are many different applications for virtual reality, and it is a growing industry. According to Statista, the VR industry is growing at a fast pace and is expected to reach more than 22 billion USD by 2025.
Businesses that adopt virtual reality early will have a competitive advantage.
6. Alcohol and Liquor Online Store
If you love to drink or just have a passion for selling alcohol, then this could be an innovative business idea you might consider starting in 2023.
There are a few online alcohol and liquor stores already in operation, so you'll need to make sure that your store offers something unique and competitive.
Take for example, Thirst PH. Along with their website, they also have an app that offers door-to-door, same-day delivery service.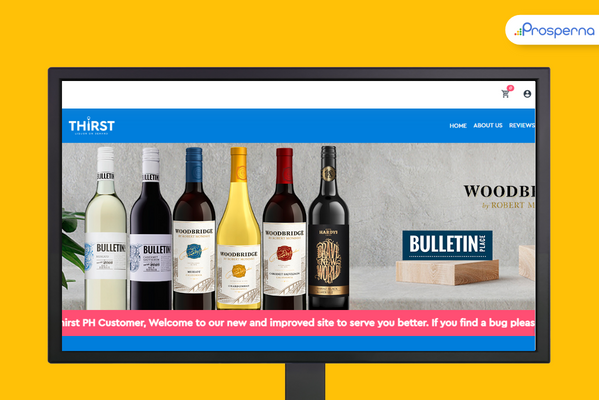 One of the things you'll need to consider before starting an alcohol and liquor online business is obtaining the appropriate licenses and permits. You'll also need to have a solid marketing and advertising plan to get the word out about your business.
7. Pet Supplies Store
With more and more people in the Philippines owning pets, there's a growing demand for pet products and services.
Starting a pet supplies store can be a great way to tap into this growing industry. You can offer a wide range of products and services, from pet food and toys to grooming and boarding.
And with the right marketing and business strategy, you can build a successful and innovative business that will continue to grow in the years to come.
8. Male-Exclusive Shop
This innovative business idea would cater specifically to the needs and wants of men and would likely be a hit with the growing population of online male shoppers.
Some of the things that could be offered at a male-exclusive store include hair and body care, shaving supplies, sexual wellness products, and accessories.
This type of store would be a great way to tap into the male market and provide them with a one-stop shop—just like what The Lazy Gentleman did—for all of their needs.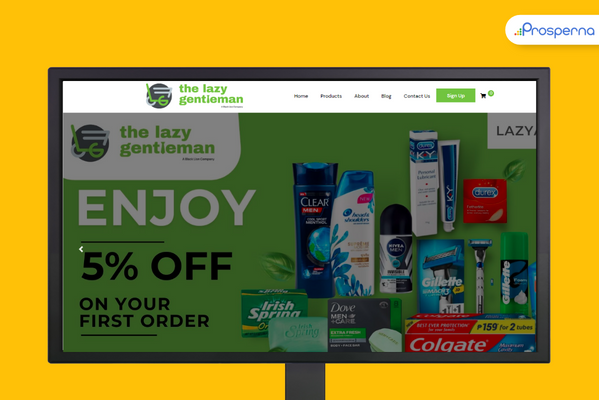 9. Educational Technology
If you are looking for innovation ideas for business, you might want to consider educational technology.
This industry is growing rapidly as more and more businesses and organizations are looking for ways to incorporate technology into their educational programs.
One of the great things about educational technology is that it can be used to reach a wide variety of learners. Whether you are looking to develop educational programs for children or adults, there is a market for your product or service.
Additionally, educational technology can be used in a variety of settings, including schools, universities, businesses, and government agencies.
10. Online Medical Supply Business
With the increasing popularity of telemedicine and the growing trend of people shopping online for medical supplies, an online medical supply store could be a great innovative business idea for 2023.
This type of store would offer a convenient way for customers to shop for medical supplies from the comfort of their own homes.
All you have to do is find a reputable supplier of medical supplies. Then create a responsive website and develop a good marketing strategy. Ensure that your store offers competitive prices and provides excellent customer service.
Or if you already have a physical store, make the transition to eCommerce, like what BotiCARD did to strengthen their mission of providing more communities with affordable and quality medicines.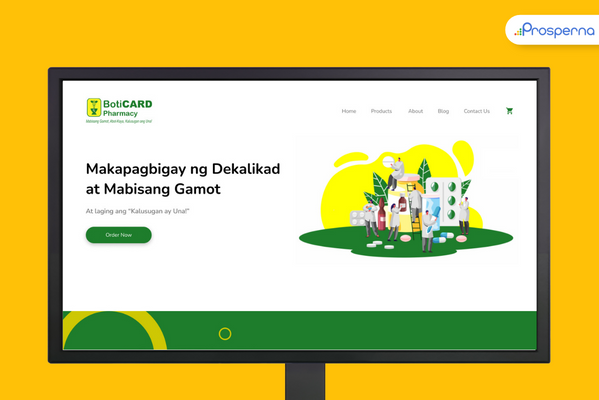 11. Website Design
Website design is one of the innovation ideas for businesses you might want to consider.
With more and more businesses transitioning to eCommerce, having a well-designed website is becoming increasingly important.
If you have a knack for design and a passion for technology, website design could be the perfect innovative business for you.
You'll have the opportunity to use your creativity to help businesses achieve their online goals. And you'll be able to work from anywhere in the world, which is a huge plus if you're looking for flexibility and freedom in your career.
12. Mobile App Development
Mobile app development is a rapidly growing industry. According to Straits Research, it is expected to reach around 583 billion USD around 2022-2030. This is one innovative business idea you might want to consider in the next year.
Here are a few tips to get started:
Have a clear idea of what your app will do and what problem it will solve for your customers. You need to make sure your app is something people will actually use and need.
Plan how you're going to finance your business. Mobile app development can be expensive, so you need to make sure you have the funds in place to get started. You can try crowdfunding in the Philippines.
13. Recycling Business
With the ever-growing population and the amount of waste that is produced on a daily basis, recycling is becoming increasingly important.
It is a great way to reduce the amount of waste that is sent to landfill sites, and it can also be a very profitable business idea in 2023.
Dwellbeing did a good job not just in the recycling department but also in giving back to the community by donating a percentage of their sales to Project Pearls Hunger Relief Program.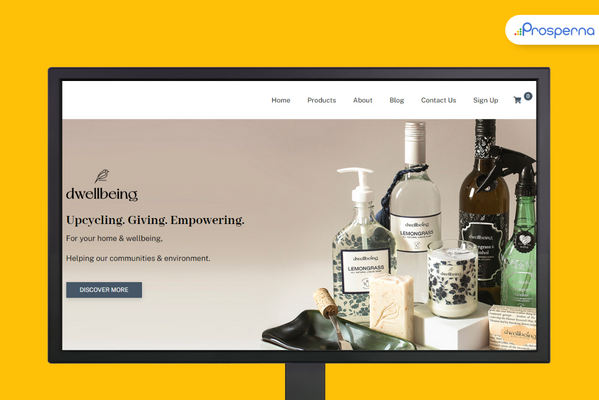 14. Online Grocery Store
Another innovative business idea that you might want to consider in 2023 is an online grocery store. It offers a convenient way for customers to shop for groceries from the comfort of their own homes.
All you have to do is determine what type of products you will sell. Will you sell fresh produce, dry goods, or a combination of both?
Once you have determined what products you will sell, you will need to find a reliable supplier.
Then choose a good website builder—one that helps you build an online store without coding skills and is already integrated with local payments and delivery options.
15. Organic Food Store
There's no doubt that the organic food movement is here to stay.
The demand for these items is rapidly rising as more people become aware of the advantages of consuming organic foods.
If you're passionate about healthy eating or just looking for an innovative business idea that has the potential to be very successful in the coming years, then you might consider starting an organic food store.
Or you might prefer external products over internal ones. For example, Nature2Nurture sells personal care products, like haircare mist, sourced from organic and natural materials.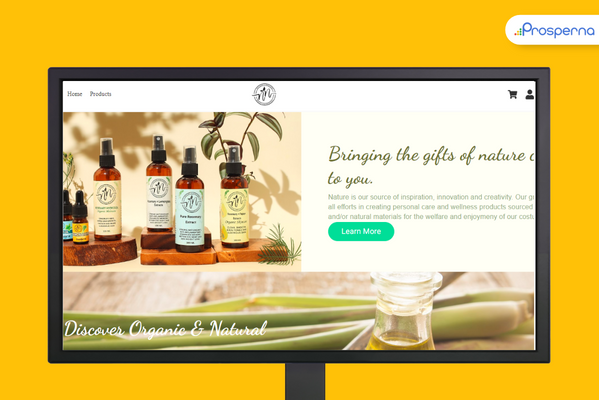 Final Thoughts
It can be a really thrilling experience to launch your first business, but there are obstacles to overcome. While having business innovation ideas is crucial, always keep in mind that your success will depend on how you put them into action.
Maybe you're more creative than you realize, and another innovation idea for business just popped into your head. Whatever the case, I hope these ideas give you some inspiration on your journey to becoming a successful entrepreneur.
Further reading:
Prosperna, Your Partner to eCommerce Success
Prosperna is an all-in-one eCommerce platform for Philippine businesses. We are on a mission to empower 100,000 Philippine MSMEs with simple and affordable eCommerce software.
In fact, we are super passionate about helping Philippine MSMEs we're giving you a free account forever!
Have an innovative business idea? Create your free-forever Prosperna account now.