As a small business owner, you may be wondering how to take advantage of the growth of online shoppers in the Philippines. Here are some tips to help you get started.
Why Is E-commerce Booming in the Philippines?
E-commerce is the process of buying and selling products or services via the internet. It is one of the most practical ways to tick off your shopping list without leaving your house. All you need is an internet connection and a computer or smartphone.
The eCommerce industry in the Philippines has seen massive growth over the years, with a particularly sharp increase since 2020. This came about due to Covid-19 when people were afraid of going out so they instead shopped exclusively through digital means.
The Philippine government has also been supportive of the eCommerce sector, investing in infrastructure and initiatives, such as the Philippine E-Commerce Roadmap, to promote online shopping.


7 Ways Entrepreneurs Can Leverage the Growing Online Shoppers in the Philippines
1. Start an Online Store
These days, more and more Filipinos are doing their shopping online. It's convenient, easy, and often cheaper than traditional brick-and-mortar stores.
If you want to grow your business in the Philippines, tap into this growing market of online shoppers and start an online store. It helps add credibility to your brand and build trust with your customers.
In order to be successful in setting up an eCommerce business, you'll need to invest in a good eCommerce platform and make sure your website is optimized for search engine ranking.
Prosperna's All-In-One eCommerce software can help you create a fully-functional online store without any coding knowledge. With our drag-and-drop page builder, you can easily create beautiful digital product catalogs and tailor them to your brand's unique needs.
When it comes to an online store, the checkout process is crucial. Integrated with the best payment types and delivery options, Prosperna makes the checkout process smooth and user-friendly for your customers.
And the best of all is that our software is Philippine-based so you can be sure that it's designed for small business owners and online shoppers in the Philippines.
2. Create Relevant Content That Buyers Search For
With so many businesses making their online presence known, it can be difficult to get the attention of several online shoppers.
One way to stand out is by creating relevant content.
By creating helpful and informative content that answers frequently asked questions and addresses common pain points, you'll be able to position yourself as a trusted source that online shoppers can turn to.
This helps attract customers to your online store and persuade them to make a purchase.
Additionally, by leveraging popular keywords and phrases in the Philippines, you'll be able to ensure that your content is being seen by potential customers, who are most likely to be interested in what you have to offer.
3. Optimize Your Website for Search Engine
When your site is optimized, it will appear higher in search results, making it more likely that online shoppers will find and visit your site.
There are several things you can do to optimize your website. For starters, you have to use relevant or Filipino-specific keywords. Include these in your titles, descriptions, and product pages to attract shoppers who are specifically searching for products available in the Philippines.
Also, ensure that your website is mobile-friendly. A large portion of online shoppers in the Philippines access the internet via mobile devices, so it's important that your site has a responsive web design and is easy to navigate on smaller screens.
Furthermore, your website's loading speed is important for user experience. Potential customers will click away if the site takes too long to load or has errors, so make sure this doesn't happen.
4. Run Ads Based on Your Budget
Advertising is a great way to reach your desired audience and share the message you want. And with so many online shoppers in the Philippines, it's a great strategy to run your ads online.
There are a number of online platforms that offer ad space, so you can choose one that fits your budget and business needs.
You can even tailor your ads to target specific demographics, so you're sure to reach your target customer base.
5. Use Influencer Marketing
It involves working with people who have a large online following to promote your products or services. In many ways, it's like the traditional celebrity endorsement, but with social media being the main platform.
And given that more than half of all Filipinos are active social media users, influencer marketing is an ideal way to reach potential online shoppers.
When you're looking to hire an influencer for your online business, one thing that should be considered is the right partner. You need someone who aligns with your brand and who has a genuine interest in your products or services.
Once you've found a good match, work with them to create engaging content that will resonate with both of your audiences.
For instance, Prosperna teamed up with Yo Mama Betchay—a famous online seller who shares tips, best practices, and tutorials on Youtube—to further promote eCommerce in the Philippines.
If done correctly, influencer marketing—even on a tight budget—can be an invaluable tool for reaching online shoppers in the Philippines.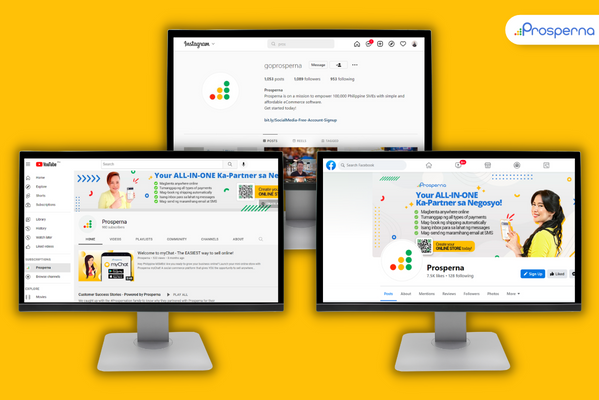 6. Use the Power of Social Media
Social media is one of the most effective marketing tools available today, as Filipinos ranked second among the most active social media users globally.
In fact, social media is the second most important factor in influencing online purchases in the Philippines—after online search engines.
Additionally, social media platforms allow businesses to target specific groups of people based on their interests and location. This can lead to increased sales and gain more loyal customers.
You can easily connect to different types of online shoppers and build relationships with them. And when you subscribe to Prosperna Plus Plan, not only can you sell and share on Facebook but across multiple online platforms like Instagram, Viber, Whatsapp Lazada, etc.
By creating engaging social media posts, you can reach a large number of potential customers and tap into the growing market of online shoppers in the Philippines.
7. Listen to What Your Customers Are Saying Over the Internet
If you're a business owner, then you know that one of the most important things you can do is listen to your customers. What are they saying? What do they want? What do they need?
When you take the time to listen to your customers, you'll be able to serve them better and keep them coming back. It also helps you to quickly get an idea of what products or services are in demand in the Philippines.
Online shoppers frequently take to online forums to voice their opinions about products and services. This is where product reviews and ratings come in handy.
By monitoring these conversations, you can gauge customer satisfaction levels, get a better understanding of what your customers want, and adjust your offerings accordingly.
Additionally, online shoppers are often more willing to spend money on products that they feel are tailored to their needs. As such, businesses that take the time to listen to their online customers can reap significant rewards in terms of increased sales and market share.
FAQs
When did online shopping start in the Philippines?
Online shopping in the Philippines started in 2012 after the entry of the company named Lazada.
Who uses online shopping the most?
Employees, self-employed, as well as students, shop online far more than the unemployed, retired, or not in the labor force people.
Conclusions
The Philippines is a great place to do business—especially online. By following these methods, you can tap into this growing market of online shoppers and see tremendous growth for your small business.
What other ways have you tried to help grow your small business? Let us know in the comment section below.
Related articles:
Prosperna, Your Partner to eCommerce Success
Prosperna is an all-in-one eCommerce platform for Philippine businesses. We are on a mission to empower 100,000 Philippine MSMEs with simple and affordable eCommerce solutions.
In fact, we are super passionate about helping Philippine MSMEs we're giving you a free account forever!
Are you ready to take advantage of the growing number of online shoppers in the Philippines? Create your free-forever Prosperna account now.