Want to reach your customers? Strike up a conversation. However, there is no simple method for sending clients regular messages about topics they wish to hear from brands.
So what's the best way to overcome this challenge? With Facebook's recurring notifications.
Luckily, Prosperna users can now send instant and recurring messages to their customers on Messenger. Read on to find out how you can set up Facebook recurring notifications on your website so you can send messages outside the 24-hour window.
Key Takeaways
Facebook recurring notifications allow businesses to send alerts and promos to their customers in Messenger beyond the initial 24-hour window.
Alerts and messages can be sent on daily, weekly, or monthly frequencies.
Customers have to opt in first before you can start sending them messages.
What is Facebook Recurring Notification?
Recurring Notifications are ongoing messages that your customers have opted-in to via straightforward prompts that outline the expected frequency of messages they'll receive if they choose to receive them.
It facilitates high-quality communications that deepen your connection with customers and provides customized and timely messages that motivate action.
The previous version of this feature could only support the manual and instant sending of marketing messages. Now, you can automatically set them to be sent either daily, weekly, or monthly.
How Recurring Notifications Work
There are a few things you need to keep in mind before you start sending recurring notifications. The customer must first get in touch with your business.
This could be through a direct message, a click-to-chat action, or a response to a message.
Once they've contacted you, you have to reply within 24 hours. Then, invite the customer to get a regular newsletter by sending them a request to opt-in.
Important note: Your customers have to opt-in, or else, you won't be able to send them recurring notifications.
Customers can choose whether to get your alerts daily, weekly, or monthly when they accept your request.
However, the opt-in is only available for a limited time and needs to be renewed:
For daily messages – valid for 6 months
For weekly messages – valid for 9 months
For monthly messages – valid for 12 months
Your customer receives an automated request to opt in once more in order to maintain their subscription when their opt-in is about to expire.
As a Meta partner, we're excited to share that Prosperna's All-In-One eCommerce software now supports recurring notifications, allowing our customers to convert one-time customers into repeat customers.
Steps to Setup Facebook Recurring Notifications
Follow these steps to set up recurring notifications in your Prosperna online store.
Step 1
Open your myChat account and go to "Settings." Select and click on 'Sales Channel'.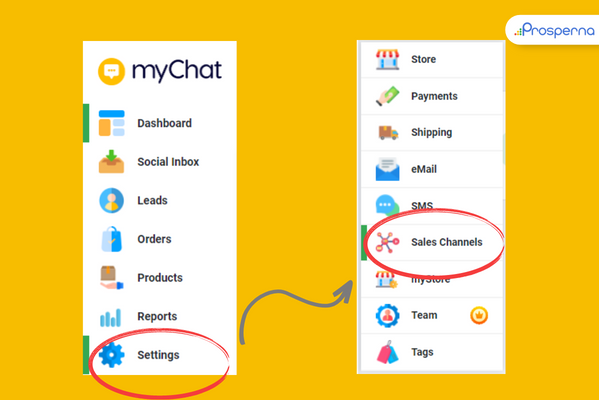 Step 2
Hover over Facebook Messenger and click 'Customize'.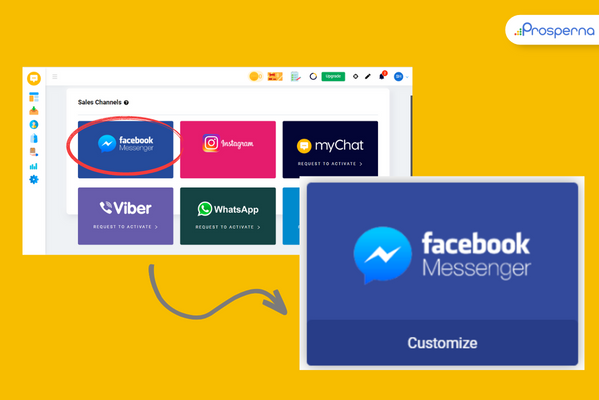 Take note that before you can customize, you must be able to set up and connect your Facebook shop first. If you don't have a Facebook shop yet, create one via Facebook's Commerce Manager.
Step 3
A dropdown list will appear after you click 'Customize'. Connect your Facebook Page by selecting the right page name. You can connect as many Facebook pages as you want and receive all your messages in one inbox.
Click 'Continue' to proceed to edit and activate marketing messages.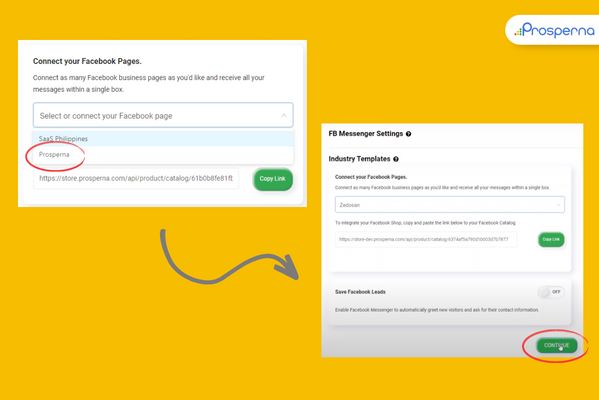 Step 4
Toggle the button to activate marketing messages. Then click on 'Marketing Messages' to edit and complete the opt-in setup.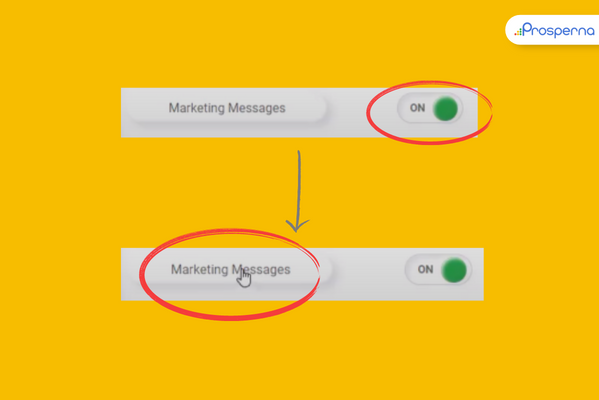 Step 5
At the 'Opt-In' tab, upload an image to visualize your message. It could be your business logo or an image of one of your products. Include a topic for notifications, the button name, and a thank you message for your customers.
Then click 'Save'.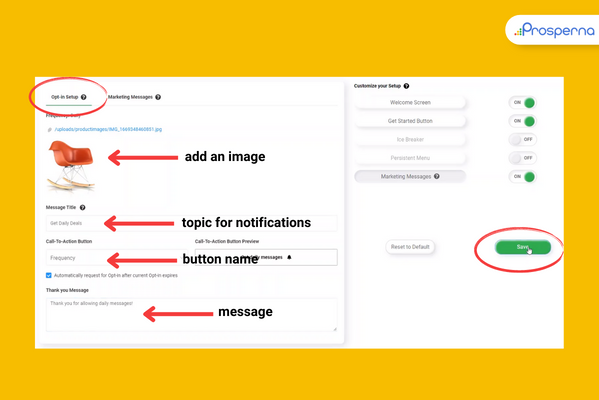 Step 6
Go to the 'Marketing Messages' tab and see the list of notifications you are currently sending to your customers.
Click the 'Create Message' button and compose a message that will be automatically distributed to your customers who opted-in.
Then click 'Send'.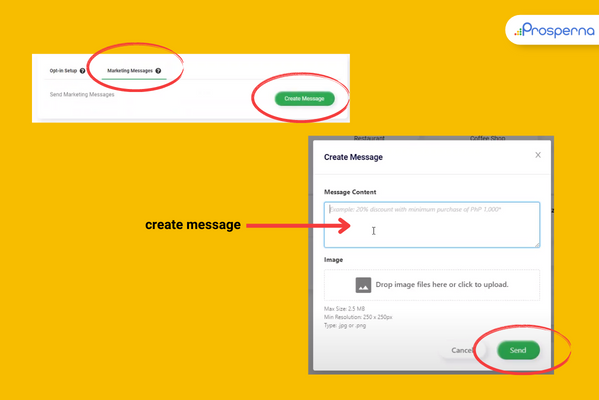 When a new customer or existing Facebook user messages your business, they'll receive a prompt to accept permission to receive notifications or marketing messages about your online store.
Customers who click on a shared link will either be taken to your Prosperna store or the specific product page.
FAQs
How do users opt in for Facebook recurring notifications?
Users must choose to accept the notification topic you send them in order to actively opt-in to recurring notifications.
Is it hard to set up Facebook recurring notifications in my online store?
No. You can easily set up Facebook recurring notifications by activating marketing messages in your Prosperna dashboard.
Conclusions
And that's how you can set up Facebook recurring notifications in your Prosperna online store. Because of this new feature's interactive nature and powerful segmentation features, you can now generate results more quickly by reducing the path to conversion.
Plus, it's a safer and more effective way to re-engage your customers on Messenger.
How are you going to utilize this new feature in your online business? Let me know in the comments section below.
Further reading:
Prosperna, Your Partner to eCommerce Success
Prosperna is an all-in-one eCommerce platform for Philippine businesses. We are on a mission to empower 100,000 Philippine MSMEs with simple and affordable eCommerce software.
In fact, we are super passionate about helping Philippine MSMEs we're giving you a free account forever!
Want to use Facebook recurring notifications for your online business? Create your free-forever Prosperna account now.