To answer your question directly, it can take between 2-2000 HOURS to build an online store.
I found this interesting article by IMPACT, where they shared every technical detail that goes into developing websites.
There's a lot of factors affecting time, that can either speed up or slow down the completion.
To make it more easy-to-digest, these factors include:
Website Type – build and framework
Design & Features – themes, personalization, navigation, and functionality
Project Scopes – number of web pages and amount of content migration
Responsiveness & Fixes – browser and device optimization, loading speeds, security, bug control, maintenance, and client requests
Customer Relationship – clear communication, fast exchange of information, constant customer support
Developer Experience – DIY online stores, hiring a freelancer or partnering up with a "WE-DO-IT-FOR-YOU" platform like Prosperna
In this article, we'll share how we build Online Stores for YOU at Prosperna in just 7 steps: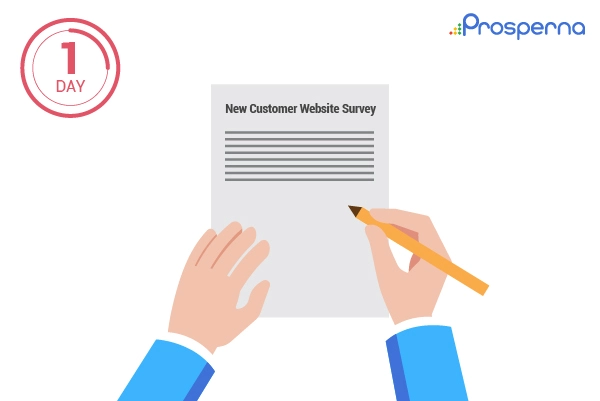 STEP 1 – NEW CUSTOMER WEBSITE SURVEY
Time Taken: One (1) Day
Once you decided that you want to build an online store with Prosperna, your Customer Success Manager will provide you with the "New Customer Website Survey" where you give us all the information we need to build your website, such as:
Name
Company Name
What your company does
How and why you started
Long-term goals
Describing your brand
Unique Selling Proposition
Target Audience
This step probably only takes you 10 minutes to complete, but we give you an entire business day to really think about what you want to include in your survey. Depending on how long it will take for you to submit the survey, that can help speed up the process.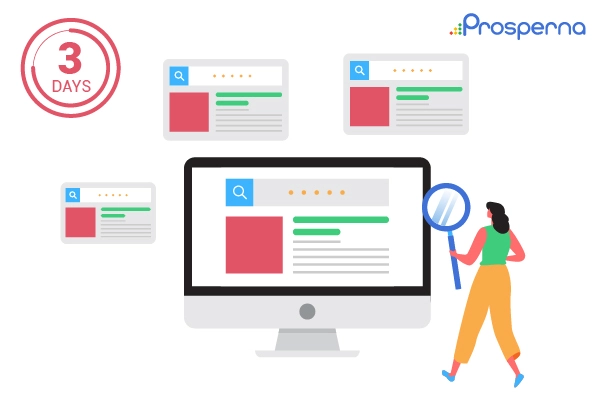 STEP 2 – RESEARCH AND REVIEW
Time Taken: Three (3) Days
During this period Prosperna will use the information you provided on the New Customer Website Survey, to come up with different website layouts and content approaches.
Together with the Website Development and Marketing teams, your Customer Success Manager creates a mockup website and presentation on what your Online Store can look like.
This process can go a lot faster if you provide all the specifics on your survey and stay in constant communication with us, but will NEVER exceed the 3-day window frame.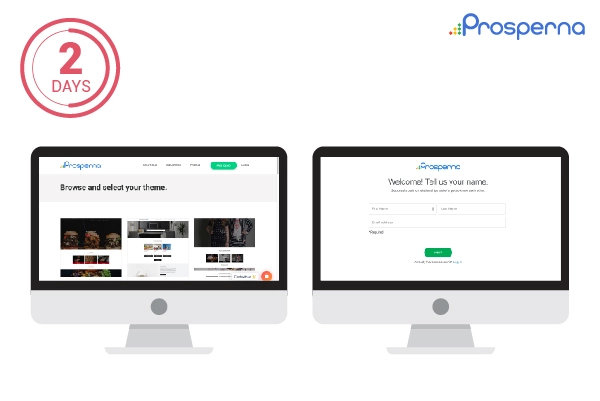 STEP 3 – ACCOUNT CREATION
Time Taken: Two (2) Days
After our team finishes with the research, you will be presented with different templates and themes you can choose from for your Online Store.
You can then go ahead and create an account on the Prosperna Marketplace to complete your eCommerce website purchase, and we will handle the rest.
Just like we mentioned on the other steps, you can make this process go a lot faster, but we also want to give you ample time to make the right decisions for your business.
Slow and deliberate is better than being fast and furious (pun intended) in business after all.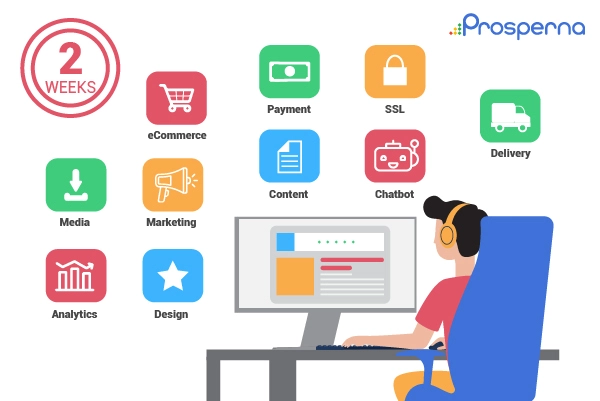 STEP 4 – INITIAL DESIGN AND DEVELOPMENT
Time Taken: Two (2) Weeks
Upon receipt of your Prosperna Marketplace account creation, we will go ahead and complete the initial design and development of your online store within 14 days.
From there, we will complete the personalization process of the website theme you have chosen by uploading all of the content provided by you, including blogs, products, photos, and other media. Even after your online store is completed, you can still upload as much media as you like.
This is also the period where we fully activate the features of your online store such as:
Your Main Menu and its categories and subcategories
Changing into your custom domain
Adding Secure Socket Layer (SSL) encryption
Connecting payment and delivery methods
The workflow from here can vary depending on how big or small the project is, but it's ALWAYS our priority to complete early or on-time, to avoid delays and meet your expectations as our valued customer.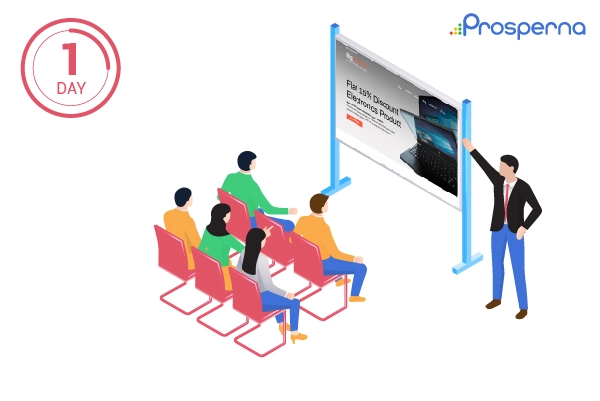 STEP 5 – FINAL DEMONSTRATION
Time Taken: One (1) Day
After we build your eCommerce website, we want to know your feedback.
So we schedule a web conference call with you, at the most convenient time, to demonstrate the final website pages to you.
If all goes well, we're one step closer to completion. Otherwise, this is where we will take note of any revisions you may have for us to make sure that your online store is PERFECT.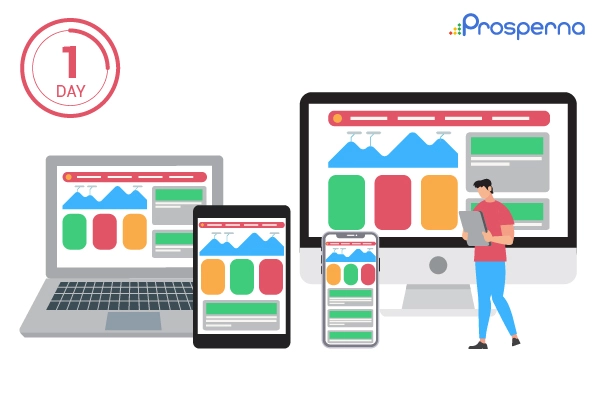 STEP 6 – BUFFER & TESTING
Time Taken: One (1) Day
Once the presentation is over, we will proceed to complete any revisions and test the online store for mobile responsiveness on all browsers and devices.
This is the last phase before going live, or being officially open for business online.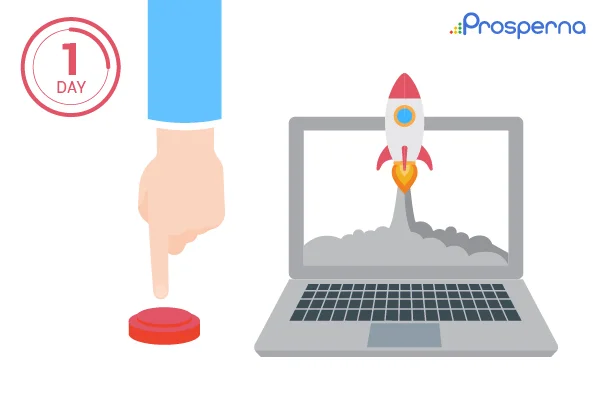 STEP 7 – GO-LIVE!
Time Taken: One (1) Day
We've finally reached the end of the project and all you have to do now is have one last look.
When you're happy with everything, just sign the completion on the project memo and voila!
You've successfully built an Online Store for your business.
CONCLUSION
At the end of the day, it's about looking for an online store builder that gives you value for your time and money.
With Prosperna, you can build an online store in LESS THAN 23 Days or around 500 hours. That's a good rate compared to other services that may take shorter but with limited features, or have all the features you may not even need, at a premium cost.
Prosperna is passionate about empowering 100,000 SMEs in the Philippines to kickstart their growth and become highly competitive in the eCommerce market.
Not to toot our own horn, but Prosperna's Online Store Builder is fast and easy-to-build and use, without breaking the bank. You NEVER have to worry about technical issues because our customer support is here for you 24/7.