Your customers are the lifeblood of your business, so it's critical to establish more meaningful connections and interactions with them.
But in today's fast-paced world and with so many tools and resources available, it can also become overwhelming to have those personal interactions.
Read on to find out how to connect with customers on a deeper level and win their steadfast loyalty to your business.
14 Effective Ways to Connect with Customers
It's been said that a business's reputation depends entirely on the quality of its customer service. Here are fourteen effective ways to create meaningful customer connections.
1. Engage in Authentic Conversations
In today's world of social media and online reviews, customers are looking for brands and businesses that they can connect with on a human level. They want to know that there's a real person behind the brand, someone who cares about their needs and their experience.
That's where authentic conversations come in.
When you take the time to have a real conversation with your customers, you're showing them that you value their opinion and developing a bond based on respect and trust.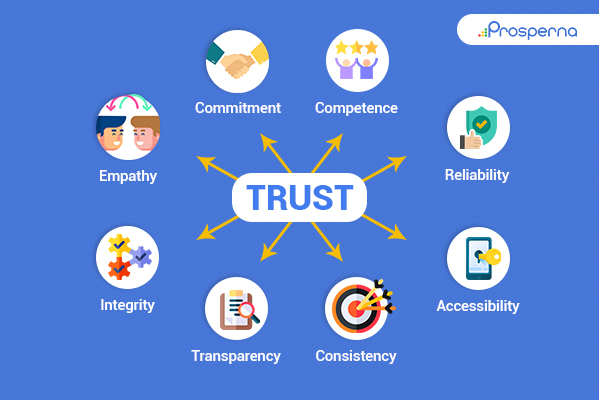 2. Establish An Emotional Connection
Hold off on making your sales pitch, especially when you are just getting to know your client. Instead, have empathy and establish an emotional connection first.
It enables you to gain a deeper understanding of your target market, including what they value, how they wish to interact, and what influences their loyalty to your brand.
Try to encourage the members of your customer service staff to go above and beyond when approaching customers.
Create memorable interactions with customers so that your business has the chance to develop a strong emotional bond with them.
3. Discover Something New About Your Customer
Your potential for approaching customers and winning their loyalty depends entirely on your ability to gain new insight.
Here are some methods for updating your knowledge of your customers:
Know what psychological, societal, and personal characteristics surround your customer.
Find out what drives or worries your customers, as well as how they live and work.
Ask questions you've never asked before. This will help you learn more about your customers and connect with them on a whole new level.
With today's technology, getting information on a customer is simpler than ever. All it takes is a text message, a pop-up chat window, or a phone call.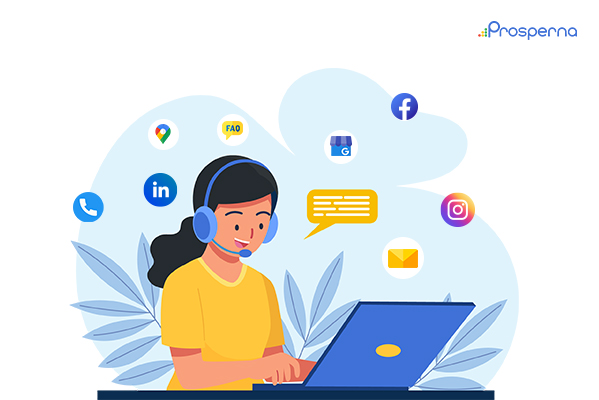 4. Innovate With Your Customers
One way to connect with customers is by innovating with them. This means involving them in the process of developing new products or services.
For example, you could hold a focus group and get feedback from customers about what they'd like to see from your business. Or you could survey your customers to find out what their unmet needs are.
Involving customers in the innovation process shows that you value their opinion and that you're dedicated to giving them the best possible experience.
5. Learn From Brands Who Spoil Your Customers
Comparing themselves to competitors in the same industry is a common error made by most business owners.
The key question your business needs to address as it attempts to reinvent its ways of connecting with customers is not "what is your competitor doing," but rather "who is spoiling your customers."
Look for brands exceeding your customers' expectations—regardless of industry—rather than concentrating on how your rival satisfies customer wants.
6. Utilize Social Media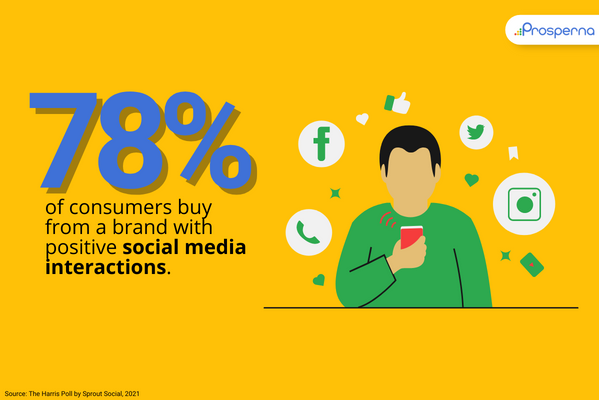 Most consumers anticipate significant interactions between businesses and their customers on social media.
Customer happiness and retention are significantly impacted by how you engage with your followers on social media, whether it's liking a post that has been tagged or responding to a critical review.
Offering social media customer service can also help resolve customer complaints quickly and effectively, which strengthens customer connections.
7. Place a Priority on In-Person Communication
In-person communication can boost the likelihood of meaningful customer connections and decrease the chances of miscommunication.
An article in the Harvard Business Review claims that in-person requests are 34 times more successful than emails.
But in a not-so-perfect world, sometimes we have to be resilient. The ideal substitute for in-person meetings is a webinar.
This is why Prosperna offers training webinars and a free demo so we can still connect and interact with our customers, even if it's just in a virtual space.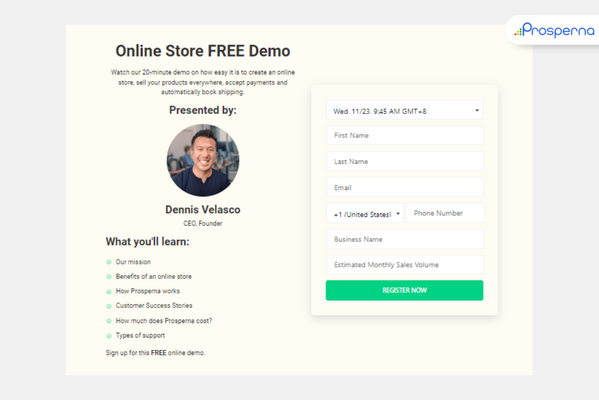 Plus, everyone benefits, making it a win-win situation. Without the bother—and expense—of flying, hotel accommodations, or being late for work, our customers receive the same benefits as in-person communications.
8. Express Your Appreciation
A customer will be happier and more likely to patronize your business if you show your appreciation.
You can express your appreciation to your customers, by:
Interacting with your customers regularly
Highlighting their achievements on social media
Personalizing messages to make them feel valued
9. Address Customer Concerns
Do you remember the expression, "Customers are always right"? Well, it still holds true in today's world.
We live in a market where the buyer sets the terms and conditions of a transaction. Always keep in mind that the client—not you—is what matters most.
Another Harvard Business Review article states that if you don't reply to the client within just five minutes, your chances of acquiring a new lead drop by 400%.
Take note of what they are saying. Depending on what your business can give them exclusively, answer appropriately with relevant information.
Addressing customer concerns or issues will not only demonstrate your efficiency, but it will also help build trust and deepen your relationship with your customers.
10. Follow Up
Follow-ups are the clearest indication that you don't take your customers for granted. To feel appreciated is a universal human desire.
This is why, whenever a user signs up for a Prosperna account, we automatically send them a thank-you email for choosing our services.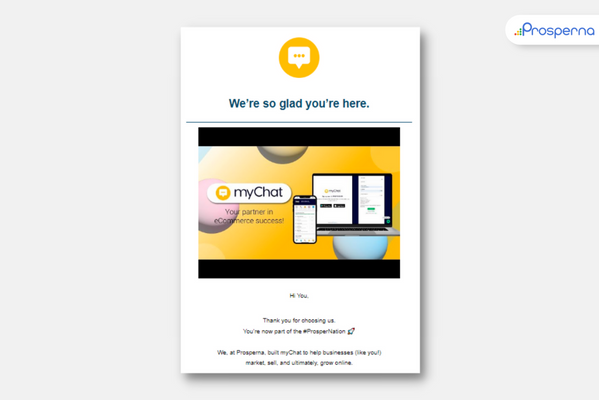 Or a note hoping to make sure they enjoy every penny they spent.
Follow-up is also a terrific approach to finding dissatisfied clients before they post negative reviews online about their unpleasant experiences.
11. Keep It Personal and Not Transactional
Customer relationships are strengthened when you become more personal with them.
When selling, strive to be more consultative and conversational as opposed to forceful so that clients may see that your intentions are sincere.
12. As You Expand, Keep In Mind Your Existing Clients
As your business expands, it can be easy to forget about the clients who were there from the very beginning.
However, it's important to keep these old clients in mind. After all, they are the ones who have seen your business grow and change over time.
When you take the time to connect with old customers, you not only show that you value their loyalty but also gain valuable insights into how your business has evolved.
In short, by keeping your old clients close, you can create a stronger bond with all of your custom.
13. Make Customer Engagement a Top Priority
This means creating opportunities for customers to interact with the company and providing them with convenient, personalized experiences.
One of the most important ways is to establish regular two-way communication. This can be done through surveys, customer service interactions, and even social media.
Here's a sample email survey we send out to our customers to gain some insight into their Prosperna experience.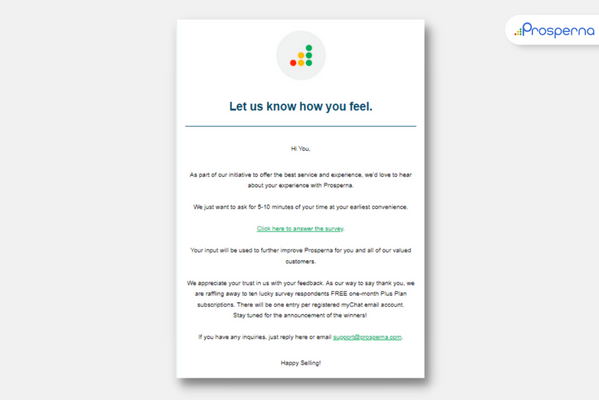 By regularly reaching out to customers and soliciting their feedback, businesses can gain valuable insights into their needs and expectations. This helps you connect with customers on a much deeper level.
14. Avoid Applying a One-Size-Fits-All Strategy
Businesses must customize their marketing strategies to appeal to various demographics since customers buy products for different reasons.
Prosperna comes with a built-in CRM tool that enables you to manage and track your customer information and order history in one place.
This way, you can easily segment your customers into specific groups and tailor your marketing efforts to each group.
FAQs
What is a successful customer interaction?
Good customer interaction skills involve controlling expectations, being reasonable, and being open and honest with customers so they may respond or behave accordingly.
Why is connecting with customers important in business?
Connecting with customers is important because information can be shared more quickly, ideas can be understood more readily, and there is more trust.
Final Thoughts
Businesses that connect with customers on a deeper level can stand out in a competitive business environment and take the lead in their respective sectors.
Customers want to feel confident that the people behind the brand have their best interests at heart. Just saying you care is not enough, though. You have to show them.
Start by following these fourteen strategies, and let me know in the comments section below how it went.
Prosperna, Your Partner to eCommerce Success
Prosperna is an all-in-one eCommerce platform for Philippine businesses. We are on a mission to empower 100,000 Philippine MSMEs with simple and affordable eCommerce software.
In fact, we are super passionate about helping Philippine MSMEs we're giving you a free account forever!
Want to connect with your online customers? Create your free-forever Prosperna account now.