Vargas Kitchen (VK) started as a home-based bakery business known for its Buttercake and Brazo de Mercedes.
Since it started in 2008, Vargas Kitchen has become a specialty kitchen that serves Spanish-Ilonggo dishes and other delectable desserts.
And now, it has expanded online with the help of Prosperna to be the neighborhood's grab-and-go specialty kitchen for ready-to-eat frozen food and freshly baked-out-of-the-oven cakes.
In this article, we asked one of Vargas Kitchen's co-owners, Martina, to share their experience with how Prosperna is helping them streamline their business.
The Search for an Easy-to-Use Integrated Platform
"As an MSME owner, we are looking for a developer that could integrate all our needs," Martina, one of Vargas Kitchen, shared.
When Prosperna first came onto the scene, its easy-to-use interface and seamless payment integrations caught Vargas Kitchen's attention.
Additionally, Prosperna's affiliation with LBC makes it easy for businesses to expand nationwide, just as Martina shared:
"Since we're based in Metro Manila, we can expand nationwide since you're also affiliated with LBC. So if we can deliver nationwide, there's an opportunity for us to expand our business."
Prosperna has become the go-to platform for food and beverage businesses looking for a one-stop solution for their eCommerce needs.
"The integration was so seamless and easy for us that there was no hassle. If there's another developer onboard, we have to keep on asking them to integrate. At least, with Prosperna, it's all in one, " said Martina.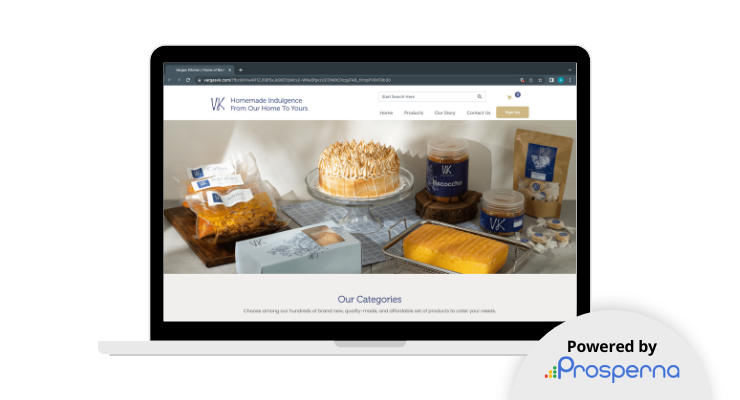 From Manual to Automatic Ordering System
When you have multiple stores, it can be challenging to keep track of orders and inventory.
Established food and beverage businesses with multiple branches, like Vargas Kitchen, can significantly reduce time and money costs by eliminating the need for manual orders between stores and commissary processing.
"So Prosperna was also able to help us in our order system," said Martina. "The platform was able to reduce the manual processes involved in our ordering system. This is an add–on that we availed because we have multiple stores, and we want all stores to have a digital system already."
Aside from streamlining operations and making things more efficient, Prosperna also makes things more convenient for store managers and customers.
Local Solution for Local MSMEs
"I was considering Shopify from abroad before. But I prefer to have someone to talk to and interact with face-to-face online rather than just customer support," shared Martina.
"For me, I'd rather have someone I know I can reach at any point in time and in the time zone. If there's anything wrong, at least they can address it right away."
Prosperna was created with Philippine MSMEs in mind. It's easy to integrate, and there's no need to worry about anything else – you can start slowly and add features as you get more comfortable with eCommerce.
Moreover, Prosperna's local team of experts is ready to help and support customers' needs.
"The team at Prosperna was able to meet our requests for website design. We're happy with the outcome and think it really captures our brand well," Martina affirmed.
Are you looking for an easy way to start selling online, just like Vargas Kitchen? Prosperna is here to help!
Related stories:
Prosperna, Your Partner to eCommerce Success
Prosperna is an all-in-one eCommerce platform for Philippine businesses. We are on a mission to empower 100,000 Philippine MSMEs with simple and affordable eCommerce solutions.
In fact, we are super passionate about helping Philippine MSMEs we're giving you a free account forever!
Want to start selling online? Create your free-forever Prosperna account now.
Blog Thumbnail's Photos: Credit to Vargas Kitchen's Facebook Page