In today's digital age, it's important to meet your customers where they are—on different social commerce apps.
Studies show that 96.5% of Filipinos access the internet using their mobile devices. It's no surprise that the mobile social commerce trend is now gaining popularity.
In this blog, we'll be exploring the best mobile social commerce apps that can help boost your online sales, grow your brand, and connect with your customers.
What Is Mobile Social Commerce
Simply put, this refers to promoting and selling products or services directly inside social networking sites using mobile devices.
Mobile Commerce + Social Commerce = Mobile Social Commerce
It allows consumers to browse and purchase products directly from social media platforms, such as Instagram, Facebook, and TikTok.
The main goal of mobile social commerce is to create a seamless and convenient shopping experience for consumers while also providing businesses with a new channel to reach and engage with their audience.
With the increasing use of smartphones and the popularity of social media, mobile social commerce has become a crucial marketing strategy for social eCommerce businesses to boost sales and grow their brand.
5 Best Mobile Social Commerce Apps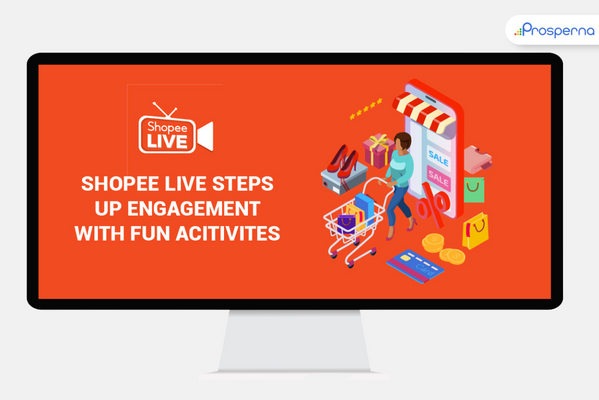 1. Live Stream Selling on Shopee
By making the buying experience more immersive, personalized, and social in their eCommerce platform, Shopee has made it to our list as a mobile social commerce app.
This mobile-first app is the most downloaded shopping app in the country.
Their focus on creating a mobile-friendly platform and improving in-app engagement features are important factors in Shopee's success.
One of their engaging features is Shopee LIVE, which allows sellers to broadcast live streams of their shop and products to customers.
Shoppers today are looking for a more relevant and enjoyable online shopping experience.
With Shopee LIVE, you could:
Up your game and put your personal touch on how to present your products
Interact with your customers and answer their questions in real-time
Give recommendations, upsell, and cross-sell in a more engaging and fun way
All these boils down to using this platform and feature to understand your customers' needs and wants…
…so you could create a better online shopping experience for your customers, driving more sales and increased customer retention.
2. Sell and Go Viral on TikTok
TikTok is a popular short-video sharing social media platform where users can create and share 15 to 60-second videos set to music, special effects, and filters.
It was launched in 2016 and quickly gained massive popularity among young people, especially Gen Z.
Since then, it has dominated the digital sphere, and now nearly 85 million people utilize the platform, spending an average of 45 minutes each day and $50.4 million annually.
So how can you utilize Tiktok for your business?
Create short, attention-grabbing videos that showcase your products or services, and reach a large, active audience.
Hire influencers and collaborate with them to help you reach a new audience and drive sales.
Encourage your TikTok followers to create and share content featuring your products or services.
Create and participate in challenges related to your products or services, and use popular hashtags to increase visibility and reach. The popular hashtag #TikTokMadeMeBuyIt has over 18 billion views.
3. Social Selling on Facebook
With Facebook Shop and its ability to be integrated with a business' eCommerce platform, such as Prosperna, businesses and brands can easily sell on their Facebook and Instagram pages.
This mobile social commerce app allows for a frictionless, end-to-end purchasing journey.
When users discover your business, through paid ads or organic reach, they can easily check your business page and shop to browse your products.
They can also read feedback and reviews from other consumers and directly connect with you if they have any inquiries.
After purchasing, they can easily share their experience with your product and service by writing a post on their timeline or leaving a review on your page.
Facebook remains to be one of the most-used social media platforms in the Philippines.
What's more, 84% of Filipinos who engage in eCommerce via social or messaging platforms do so on Facebook.
You can integrate your Facebook Shop with 3rd party software to process payments and automatically book shipping, allowing you to promote, sell, and fulfill orders directly inside Facebook.
That said, transactions become trust-based and prone to security concerns.
Your opportunity here is to build trust by being consistent with giving valuable information, providing personalized customer service, and ensuring secured transactions via your trusted ecosystem.
When done right—with the right technology and trusted service providers—you'll be making your customers' lives easier with a seamless online buying experience without them ever leaving the app.
4. Community Selling on Viber
Viber Community provides a chat space for up to 1 billion users to exchange messages and engage with one another.
Because these communities are centered around common interests…
…there is a greater possibility that people in a specific community would be interested in what you're selling.
Aside from joining already established communities, you can also create your own, so you are more in control of how you nurture your community and market your products.
Viber users have shared that they preferred this mobile social commerce platform (over Facebook) to avoid trolls, spammy messages, and unnecessary noise.
The bottom line is to tailor-fit your messages based on the community you're a part of.
Be intentional with what and how you send your business communications.
It's all about building trust by being involved in your community.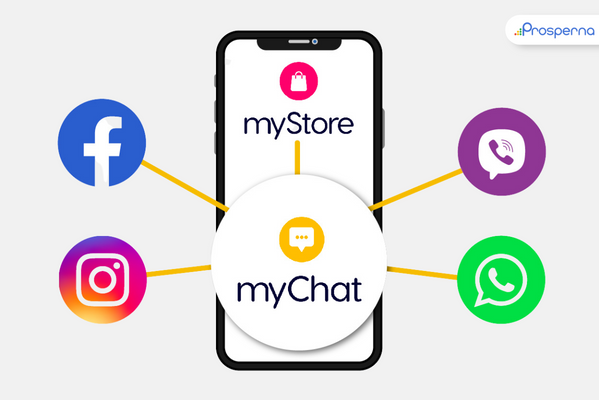 5. Using a Centralized Mobile Social Commerce App: myChat
To be successful in your social commerce business, you need to use different channels to market and sell your products.
One of the challenges of having an online presence on more than one mobile social commerce platform is how to effectively manage all communications coming from these platforms.
This is where Prosperna myChat comes in…
Prosperna specifically created this mobile social commerce solution to help Philippine MSMEs:
Funnel messages from Facebook (Instagram, WhatsApp, and Viber) into 1 inbox.
Have a mini online store where you can upload your products, so you can easily share and sell wherever you have an online presence.
Offer multiple online and offline payment options with affordable payment gateway fees.
Offer same-day, scheduled, or standard delivery by automatically booking shipping.
It's all about making online selling incredibly easy, convenient, and affordable!
Conclusion
For any online business trying to expand and engage with its customers, mobile social commerce apps are essential. These apps offer a range of powerful tools and features that can help your business drive sales, increase customer engagement, and build its brand. Use mobile social commerce apps as tools to enhance your customer-first way of doing business.
To get more insights about how you could use mobile social commerce in your business, check out this episode of our Digital Happy Hour series.
Prosperna, Your Partner to eCommerce Success
Prosperna is an all-in-one eCommerce platform for Philippine businesses. We are on a mission to empower 100,000 Philippine MSMEs with simple and affordable eCommerce solutions.
In fact, we are super passionate about helping Philippine MSMEs we're giving you a free account forever!
Want to easily sell on various social commerce apps? Create your free-forever Prosperna account now.