As a small business owner, you're always looking for new and innovative ways to market your business. And with the rise of social media and eCommerce, there are more opportunities than ever before to reach new customers and grow your business.
Here are five marketing strategies that any business can use to market their social eCommerce business.
Try to put one of these strategies into practice every day and note which marketing initiatives were most successful in generating new sales.
Key Takeaways
Audiences can experience a brand through different devices, platforms, and media channels.
Data security is a must as businesses collect personal data and information.
Having an integrated and holistic approach to marketing technology can transform a customer's digital experience.
1. Engage Using Content To Become A Trusted Social Media Advisor
Anyone can be an influencer nowadays, but not everyone can claim to be a trusted social media advisor.
Trust is the most precious commodity, and once you've earned your customer's trust, they are more likely to do business with you than your competitors.
So how do you gain and build trust as a social media advisor?
The key is to have a customer-centric business. Getting to know your customers is a must so you can give them a personalized experience throughout their online buyer journey.
According to an Accenture survey, 91% of consumers said that they are more likely to shop with brands that recognize, remember, and provide relevant offers and recommendations.
Here in the Philippines, Gen-Z consumers are becoming aware of how their actions are impacting the environment.
They believe that social responsibility is shared.
More and more Filipinos want to go digital and do paperless transactions, use reusable bags and containers when they go shopping, and bring their own utensils and cups when eating out.
Going green is definitely the new black!
Here are three action items for you to consider in your marketing:
Demonstrate that your company genuinely cares about the problems that your target audience is facing. Share relevant content in your blogs, social media, and email newsletters.
Personalize your interactions as much as you can. Reply to those who like, share, and comment on your posts. Give your chatbots a personality that communicates warmth and curiosity.
Be present on the social media platforms and social networks that your target audience is most active on. Join online groups and communities, and engage them in conversations. For example, the Prospernation FB community is a place for business owners and aspiring entrepreneurs to share their ideas and experiences about starting, running, and growing a business.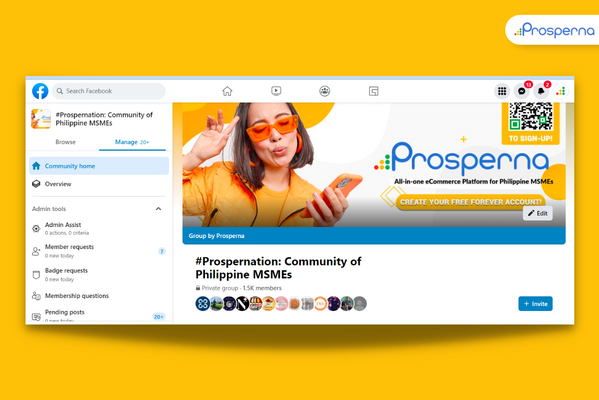 2. Leverage Social Commerce Apps On Your Smartphone
Consumers have their preferred go-to social commerce app where they do most of their online shopping.
This means that having an online presence is not enough.
Brand awareness and product discovery are just the first steps in your customer's journey.
What comes next is focusing on onboarding and re-engagement in order to give customers a quality experience.
When customers are happy and satisfied, they could potentially turn into your biggest fans and advocates…
…which can help increase sales and grow your online business.
Here are three action items for you to consider in your marketing:
Be updated on the latest eCommerce trends and consumer behavior shifts so you can adjust your digital marketing efforts with speed and agility.
Communicate trust by being transparent with how your business is using your customers' information and keeping these secured.
Use content formats that are easy to consume and optimized for mobile viewing.
3. Automate Your Marketing Processes Using A Content Planner And Scheduler
Marketing automation entails making use of digital tools and software to help automate your digital marketing processes, such as posting on social media, scheduling email marketing campaigns, segmenting audiences, and analyzing marketing performance.
Automating helps eliminate repetitive activities, decrease human errors, maximize productivity, manage complexities, track performance, and improve operations.
In short, you're saving tons of time, energy, and money!
If you're managing multiple social media channels for your social eCommerce business, using a content planner and scheduler is a game changer!
Social platforms, such as Facebook and YouTube, have built-in planners and schedulers that you can use.
Or, you could also invest in third-party automation tools such as Hootsuite or Buffer to go beyond posting and scheduling. These tools could provide insights and information to help optimize your social commerce marketing strategy.
Here are three action items for you to consider in your marketing:
Identify the bottlenecks and repetitive activities in your marketing process. Explore how you could improve or completely eliminate these.
Choose the best marketing automation tool and software that your business needs at this time to improve workflow. Prosperna has built-in marketing automation tools that allow you to promote and sell across multiple channels in one place.
Don't forget personalization! While automation streamlines your process — nothing beats a human touch when it comes to marketing.
4. Invest In Paid Ads And Partner Up With Niche Influencers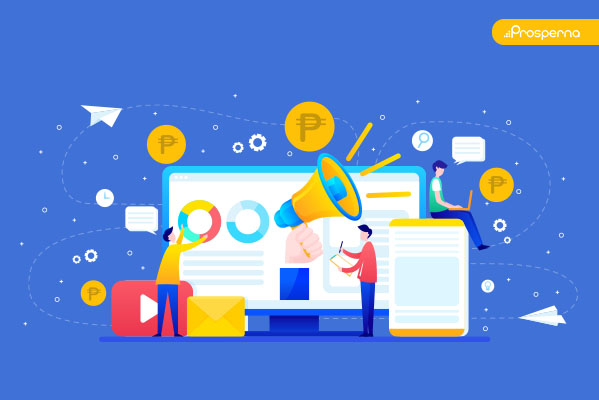 Social media algorithms keep changing.
But what's stayed true is their objective to keep users engaged on their platform.
What appears on a user's newsfeed depends on what posts they liked, shared, and commented on.
And while social commerce is gaining popularity, only businesses and brands with established authority and large followings get the advantage of newsfeed visibility.
To increase the chances of your business cutting through the social media jungle, it helps to invest in paid ads and partner with influencers.
In fact, a recent study by Google found that 54% of respondents discovered new products through online ads, 40% through family and friends' recommendations, and 32% through marketplaces.
And when it comes to hiring influencers for your online business, you get to expand your reach at a faster rate.
You don't even need to shell out lots of cash to go for the big guns!
In fact, partnering with micro or niche influencers that align with your brand and industry is the better choice because they have a more engaged following.
Because they have built trust and credibility with their community, there's a greater chance that their followers will buy.
Here are three action items for you to consider in your marketing:
Get to know your customers so you can determine the right channels, the right messaging, and the right timing for your social media ads.
Leverage retargeting to re-engage with customers who have shown initial interest in your brand, as well as those who have abandoned their carts.
Partner with influencers to promote relevant products and brand content. Make sure that you partner with those whose values are aligned with your business.
5. Measure Your Results And Learn How To Analyze Your Data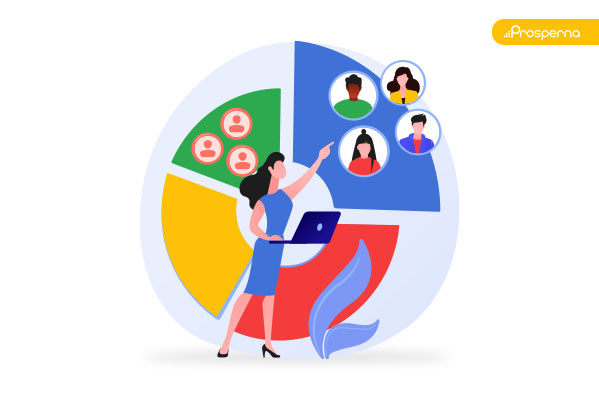 Having a clear goal and key metrics is a must for implementing any marketing strategy.
These ensure that you can measure how successful a campaign is, how effectively your strategy is performing, and how your efforts are contributing to overall success.
What's more, understanding data metrics can help you spot emerging trends so you can stay ahead of your competitors when it comes to addressing your customers' needs and optimizing your strategies to support the growth of your business.
For your social eCommerce business, it is critical to pay attention to your social media metrics:
Engagements – track how active your customers are in engaging with your content by the numbers of likes, comments, shares, post-engagement rate, and organic @mentions and tags.
Awareness – track impressions and reach to get a sense of your current and potential audience.
Share of Voice – track your brand's online presence by keeping tabs on the keywords people identify the most with your brand.
Return on Investment – track how users are landing on your website, how many of these visitors turn into conversion, and how many ends up buying from you.
Customer Care – measure how well your team is taking care of your customers to ensure a consistent quality customer experience with your brand by tracking response rate and time.
Here are three action items for you to consider in your marketing:
Identify the key metrics that you need to gather and analyze for your business. Include here what you see as a successful conversion.
Use social listening to gain insights on (1) what your customers need and want; (2) what they like and don't like, and; (3) how they perceive your business and brand.
Test things out and experiment with different types of campaigns. Set a time range to implement and gather enough data.
Conclusion
Social commerce combines content, community, and commerce. The pandemic has definitely led to a lot of changes, but one thing that hasn't changed is the importance of marketing.
In fact, it may be even more important now than ever before to make sure your social eCommerce business is thriving.
The 5 marketing strategies we've outlined can help you do just that, regardless of whether you're in lockdown or not. So which hack are you going to try first? Let me know in the comments below!
Related articles:
Prosperna, Your Partner to eCommerce Success
Prosperna is an all-in-one eCommerce platform for Philippine businesses. We are on a mission to empower 100,000 Philippine MSMEs with simple and affordable eCommerce solutions.
In fact, we are super passionate about helping Philippine MSMEs we're giving you a free account forever!
Want to start strategizing for your social eCommerce business? Create your free-forever Prosperna account now.