For this battle of online store builders we have Shopify VS Prosperna, contesting for which platform offers more local payment and delivery providers.
We've already given you the numbers just how successful eCommerce has been this year…
…and in the Philippines alone, statistics show that revenue from eCommerce will peak at USD3.5 billion by the end of 2020 (PHP 168 trillion!).
Order fulfillment (payments and deliveries) play a MAJOR role in completing eCommerce transactions, so keep on reading to find out what your online business is going to need.
ABOUT THE CONTENDERS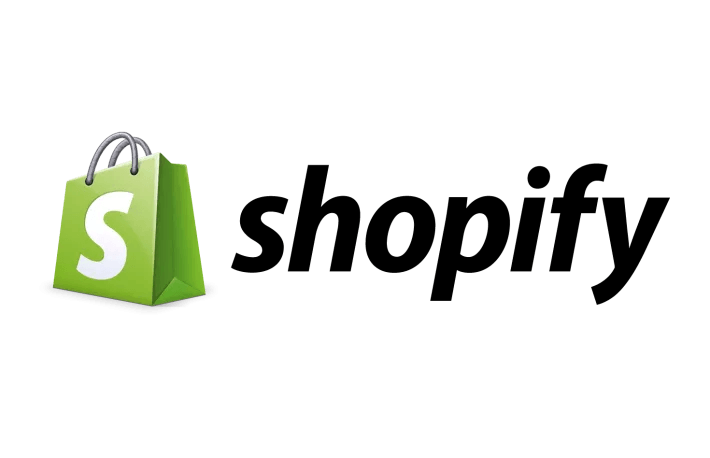 Shopify Inc. is a Canadian multinational e-commerce company and platform for online stores and retail point-of-sale systems.
With almost a million companies worldwide using Shopify to build their stores, they rank third among ecommerce platforms in the market for having a share of 20%.
In the Philippines, there are 11,605 live Shopify stores to date, majority of them located in Metro Manila and belong to the apparel, home & garden, beauty & fitness, and food & drink industries.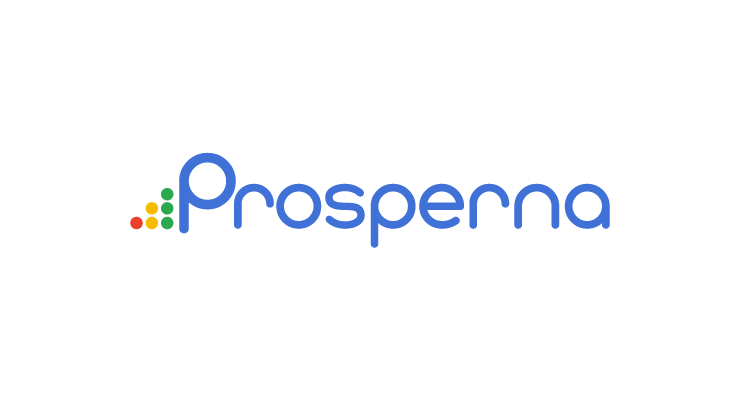 The other contender is none other than Prosperna; and for those of you who don't already know, Prosperna is an up-and-coming complete eCommerce platform designed for SMEs.
Our humble beginnings take us back to 2017 but we're now empowering hundreds of SMEs in the Philippines, USA, Latin America, Guam, and Australia!
And, we're proudly Filipino-made, focusing on the needs of Philippine SMEs!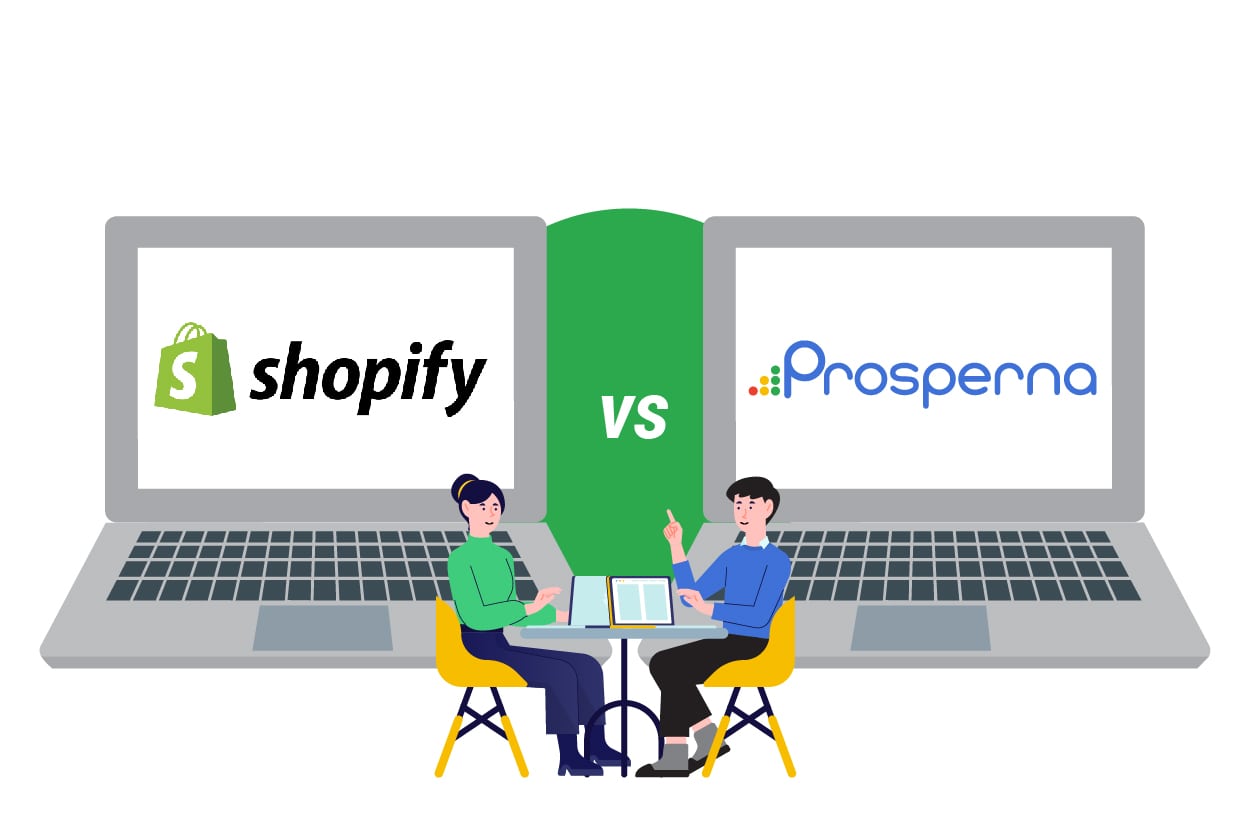 METRICS OF COMPARISON
Unlike our previous rounds, we'll be focusing on two (2) main features between Shopify and Prosperna which are local payments and delivery providers.
Under those circumstances, we'll be comparing their similarities and differences through:
Number of providers they have available on their platform
Pricing plans, budget range and transaction fees included per sale
Areas covered by their services
User experience and customer feedback
Once we get the results, we'll find out which platform wins this round.
Let the battle begin!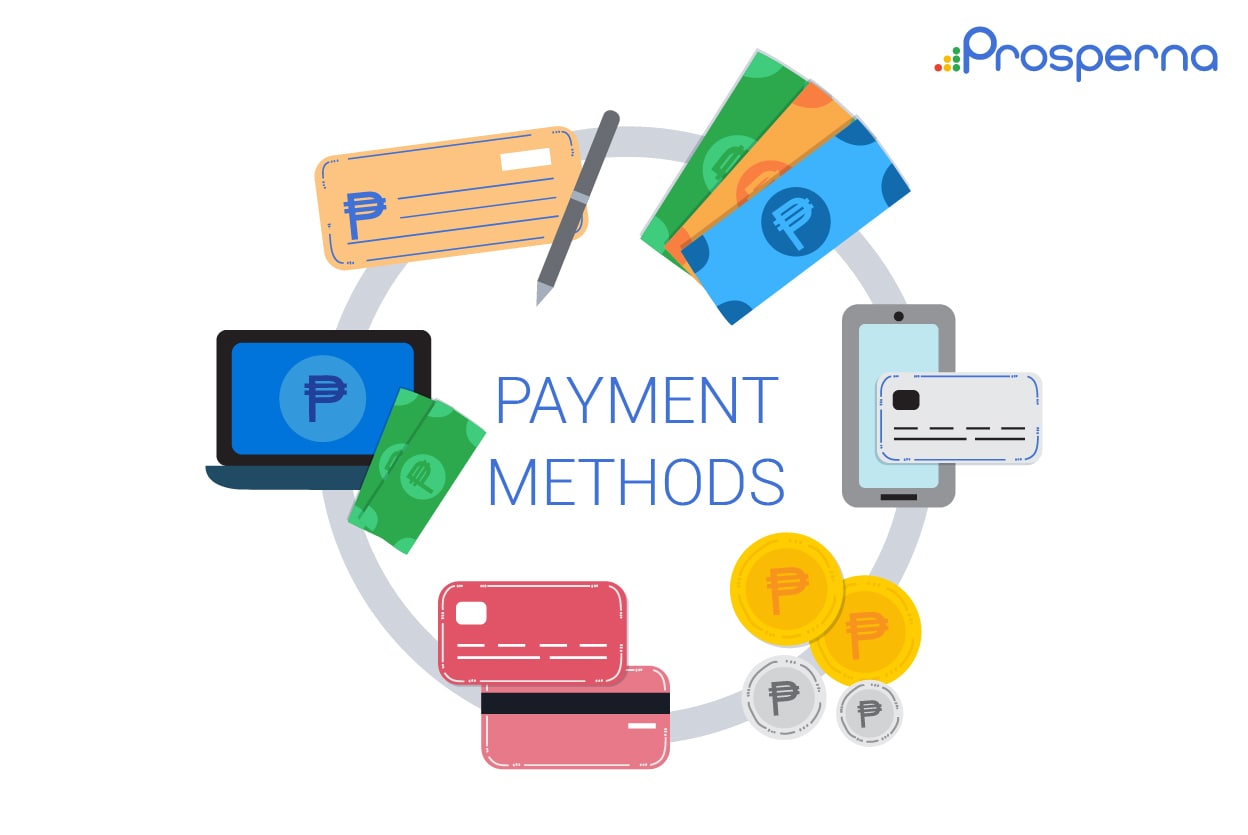 PAYMENT GATEWAYS
Shopify is known to have their own payment system known as Shopify Payments, but unfortunately, these are only available in selected countries and business types.
They have a list of local partners with international payment services listed as:
EBANX
2Checkout
Paysera
BitPay
Coinbase Commerce
PayTabs
Credit or debit card via PayMongo
Dragonpay
GCash via PayMongo
GrabPay
iPayLinks
Although, there's a BIG catch. Shopify charges a 0.5%-2% transaction and commission fee if you DON'T use their Shopify Payments solution; and this also doesn't include any additional charges that may apply per payment provider.
As for Prosperna, our goal is to offer easy, 1-click integrations to the most convenient payment methods in the Philippines (and worldwide), such as:
Cash On Delivery
Bank Transfer
Store Pickup
Stripe (Credit & Debit Card)
PayPal
DragonPay
GCash
GrabPay
Coins.PH
7-Eleven CLiQQ
M-Lhuiller
PayMaya
Prosperna has different payment providers available and built-in, on the platform in a simple toggle of a button!
While these 3rd party payment gateway service providers may charge different rates according to their service, we'll NEVER charge any transaction fees for using any of these 3rd party services.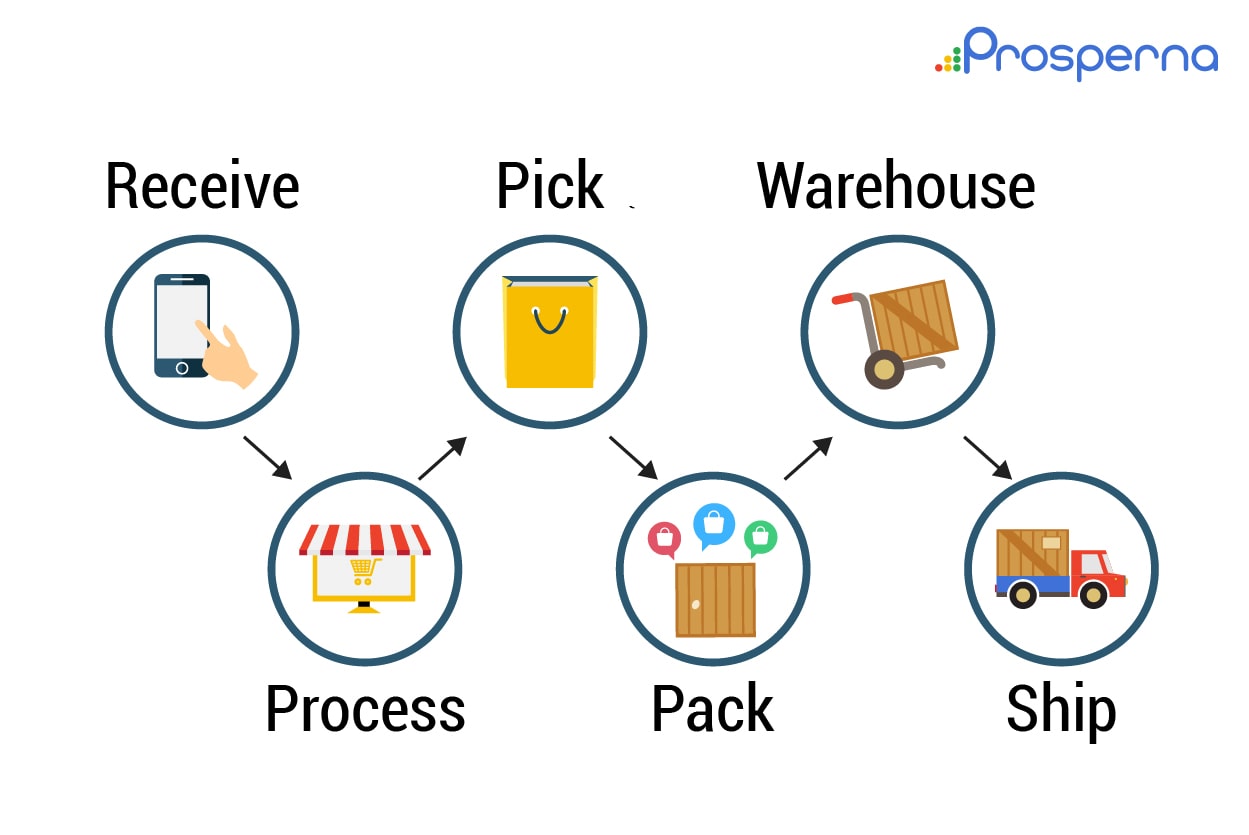 DELIVERY PROVIDERS
Shopify has an extensive list of over one thousand easy-to-install order and shipping apps and even offer their own Shopify Shipping to a limited number of countries.
All of that would have been greatly convenient if they were available in the Philippines, because all they have available here from their list are:
The majority of these will require you to download, install the code and configure the settings by yourself or through a 3rd party developer.
And, while some of these apps are free to install, one of them charges USD10 (PHP480) a month to use; apart from that, they each charge external rates per transaction.
Prosperna, on the other hand, has partnerships with multiple Philippine logistics companies and 1-click connections to over 40+ nationwide shipping providers.
Their partnership with Last Mile Inc. gives Prosperna users access to Deliveries.ph's growing network of delivery partners, including:
Black Arrow Express
Lalamove
QuadX
NinjaVan
Cliqnship
Shippo
Kairos Global Logistics
Transportify
Jojo
De Rider Courier Services
Lite Xpress
Toki-Toki
Airspeed
NexGo
Accel Manpower Agency
XPRESS22
TAG
Bizmoto
Edsi
Good2Go
Drive
ROVEX
Prosperna also has access to Fleet.ph that allows businesses to manage their own delivery fleet, where they can plan, dispatch, and track riders in real-time while sending customers instant notifications; so they can fulfill orders in-house.
In addition to the above, Prosperna also offers 1-click direct integrations with:
Lalamove
Mr. Speedy
LBC
GoGo Xpress
This year, Prosperna has also partnered up with So-Shop by LBC to help Filipino social sellers professionalize their online businesses through a webinar series and online store promo.
WHO'S GOT MORE AND WHICH IS BETTER?
If we're strictly going by the numbers, Shopify offers more payment gateways outside of the Philippines; while Prosperna offers more local providers than Shopify.
But with all things being said, quality always triumphs more than quantity because convenience and user experience matters most to the owner of the online store and their customers.
While we didn't share the other features of Shopify and Prosperna here in detail, we have mentioned these on our previous blogs that you should definitely give a read as well for further insights.
Here is our overall ratings on the Shopify VS. Prosperna battle: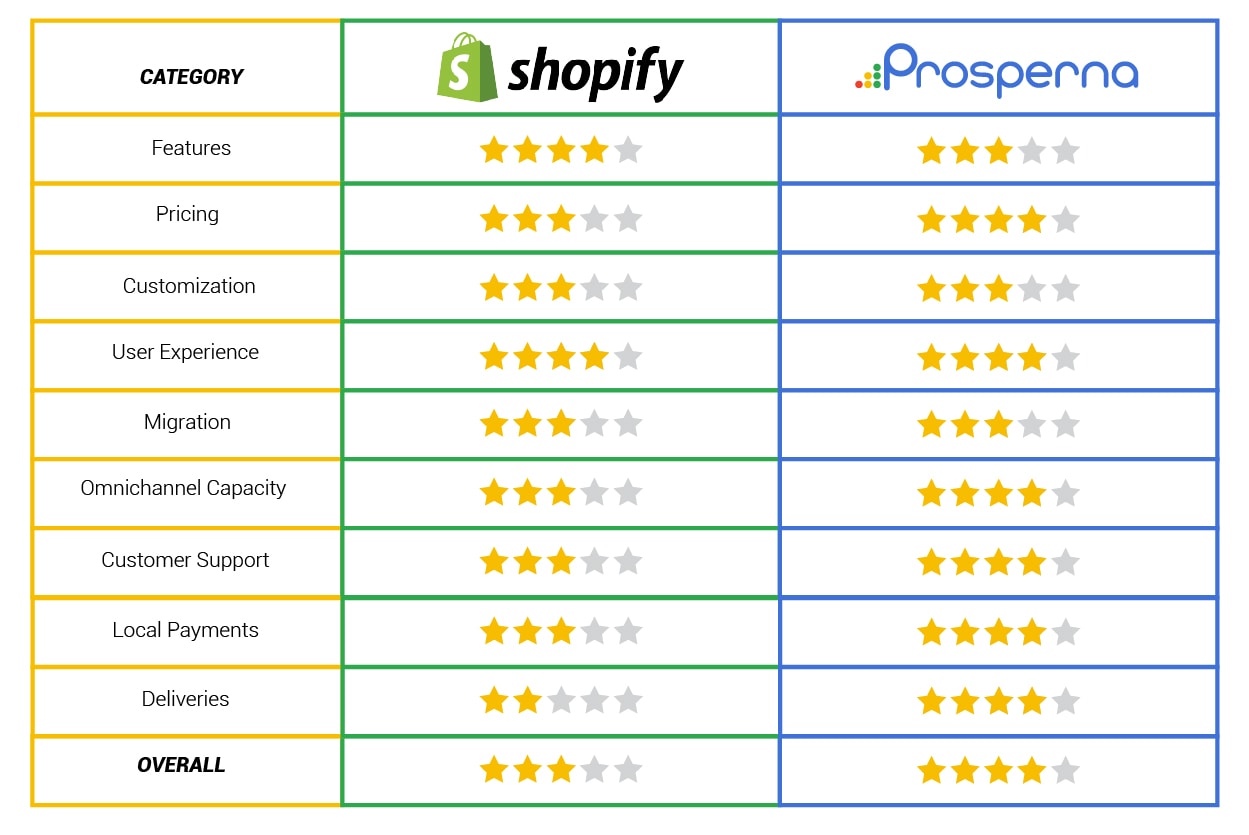 These are all based on our insights here to avoid being overly-biased, since we are such big fans of our beloved platform!
Let the results speak for themselves, without even having to give our personal recommendation.
CONCLUSION
Prosperna continues to prove itself as a competitive contender in the eCommerce market, that can give Shopify and WordPress a run for their money when it comes to servicing Filipino SMEs.
Here's a digest of the Shopify VS. Prosperna comparison:
Payment Gateways
Delivery Providers
Results – Who's Got More?
Ratings – Which Is Better?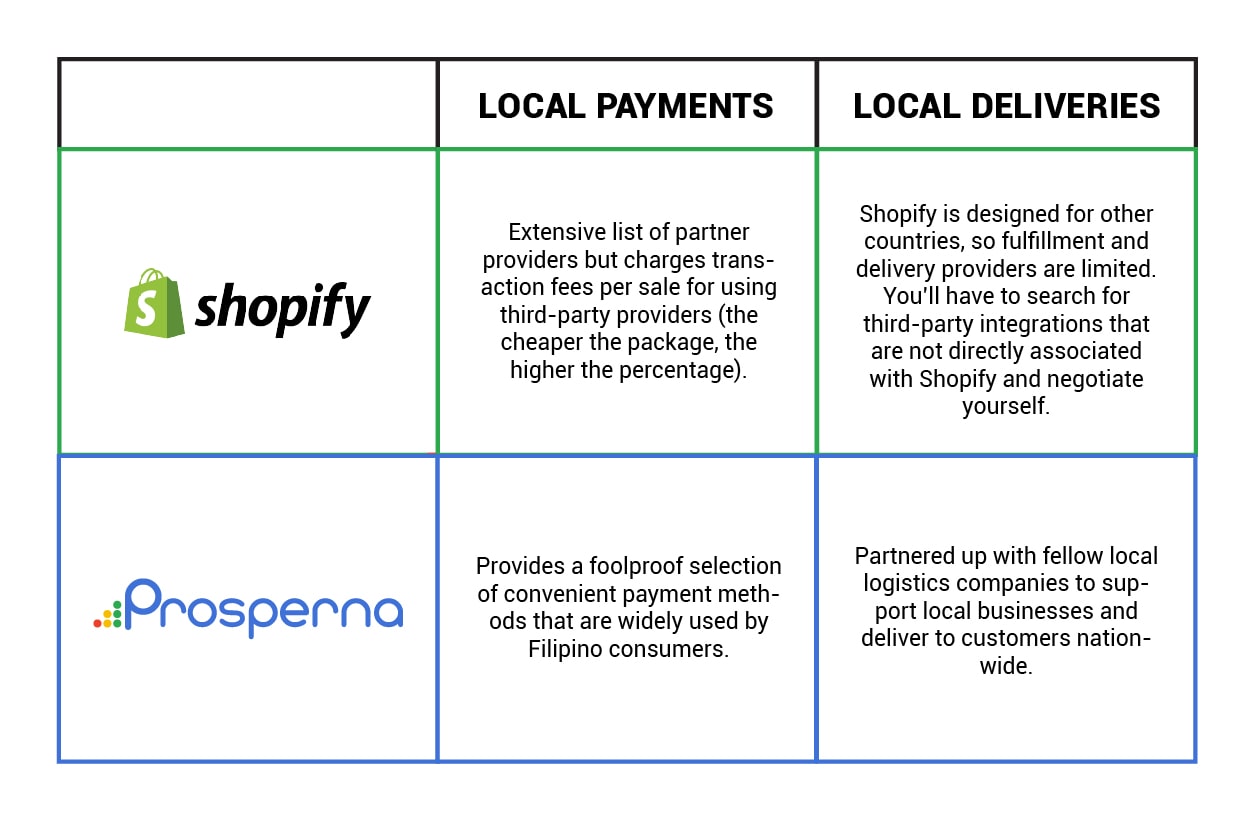 At Prosperna, we empower SMEs with the eCommerce tools they need to grow and become successful in the Philippines.
Sign up now for FREE and try this alternative for yourself!