Shopify vs. WooCommerce: which website builder proves better than the other? 59% of the world population are identified as digital consumers.
That's estimated as 4.7 out of the almost 8 billion people!
With that said, it's only wise for companies to build a website with an online store to market and sell.
So, how do you know when you've found the best?
There's a lot of options available when it comes to creating your online presence, so it usually comes down to comparing different website builders.
Lately, "Shopify vs. WooCommerce" has become a popular topic for businesses considering an online store for their website.
Do you want to know how they've reached where they are today and why companies are asking these questions?
Read on to find the answers.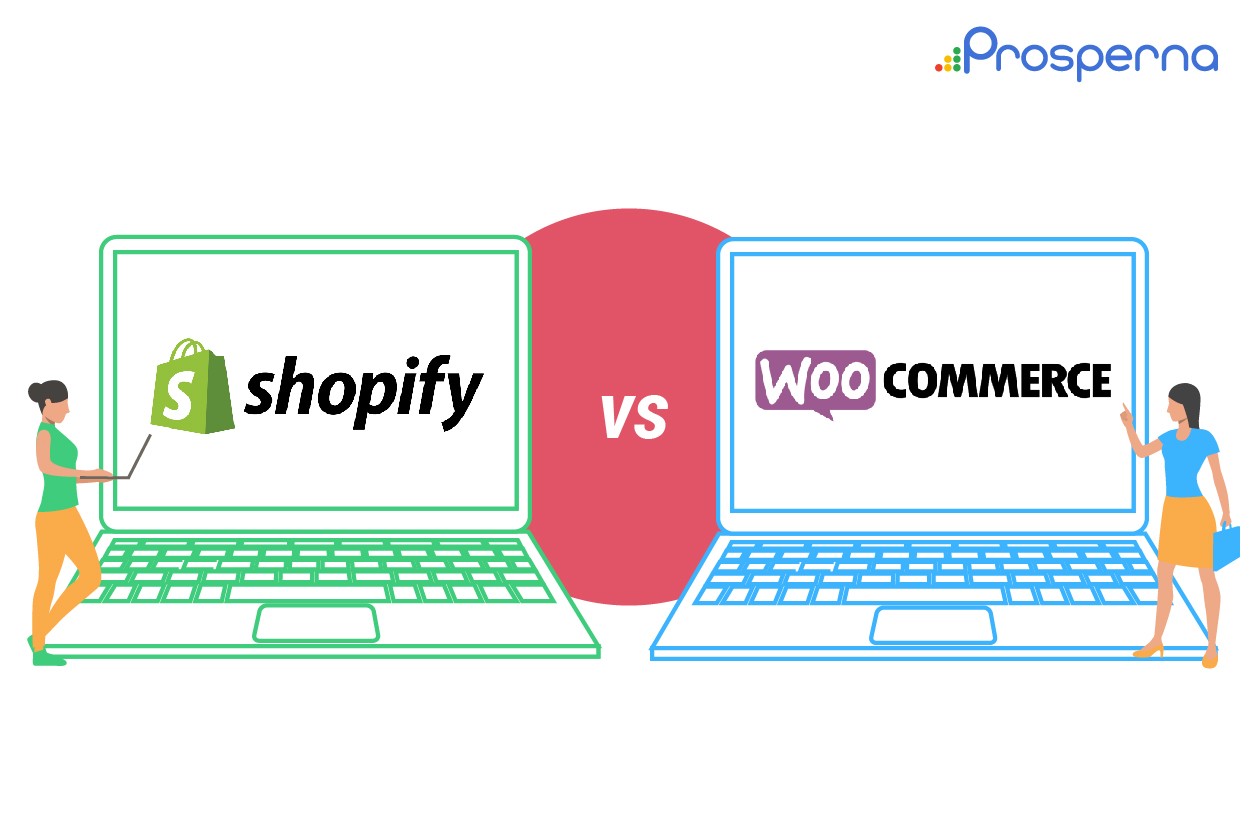 About the Contenders
Based on statistics, the two platforms served their own impact toward the eCommerce industry all over the world despite coming from two different countries.
Shopify
Slogan: "You've got the will. We've got the way."
Shopify Inc. is a Canadian multinational e-commerce company headquartered in Ottawa, Ontario. It is also the name of its proprietary E-Commerce platform for online stores and retail point-of-sale systems.
With almost a million companies worldwide using Shopify to build their stores, they rank third among ecommerce platforms in the market for having a share of 20%.
To date, they have reached the one-billion mark in terms of orders processed by the system and is expected to grow in the years to come, particularly in countries like:
China
United States
France
Australia
Russia
Canada
Germany
United Kingdom
Japan
South Korea
WooCommerce
Slogan: N/A
WooCommerce is an open-source ecommerce plugin for WordPress. It is designed for small to large-sized online merchants using WordPress. Launched on September 27, 2011 by US-based company Automattic, the plugin quickly became popular for its simplicity to install and customize and free base product.
As of 2020, there are almost 4 million websites using the WooCommerce plugin, making this ecommerce platform the largest market share in the world at 26%.
This is a trend that shows continuous growth among companies of all sizes, given that leading online stores have bigger budgets with bespoke solutions and coming from wealthier economies like the U.S.A, U.K. and Australia.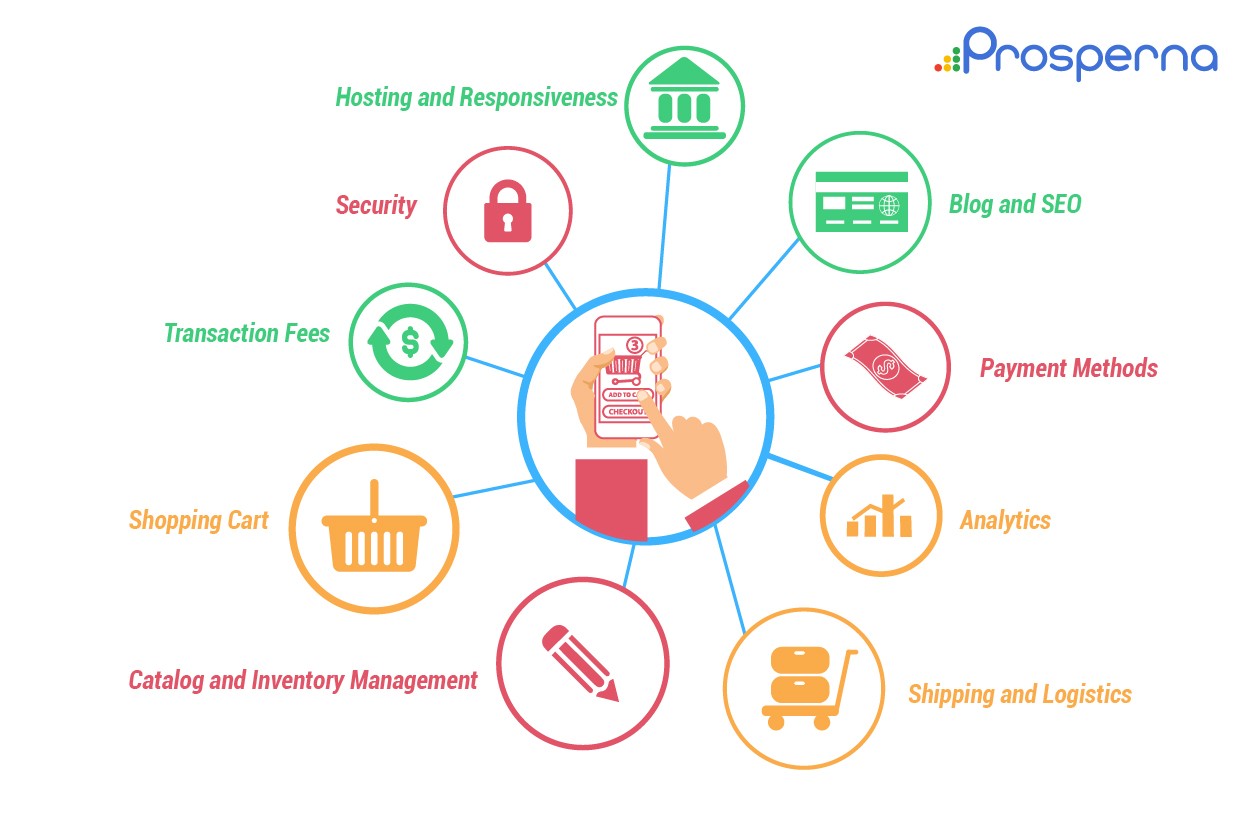 Metrics of Comparison
Through the help of existing research and information, we'll compare these two platforms to provide answers to the following questions:
What services do these platforms offer? (Website and Online Store Features)
Hosting & Responsiveness
Security
Shopping Cart
Payment Methods
Shipping and Logistics
Inventory Management
Blog & SEO
Analytics
Transaction Fees
Discount & Vouchers
HD Photos & Videos
Online Chats
User Reviews
How much do they charge? (Pricing plans and budget range)
What is the extent of customizing solutions?
Is it easy to navigate, control and manage? (User Experience)
Is migration from a listing platform to a website possible?
Are websites omnichannel? (Other Marketplace and Social Media)
Who is the target market/audience of each platform?
How responsive is the customer support?
What do existing users think? (Customer Reviews)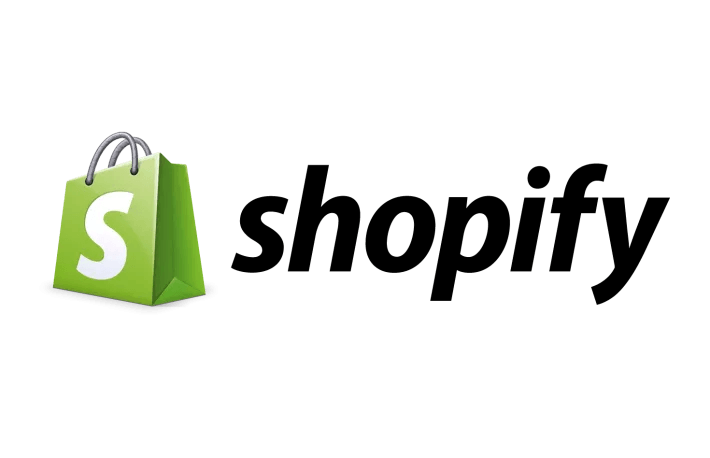 Shopify
Create and manage your online store by yourself through Shopify's eCommerce website builder.
Features
Storefront

Themes
Branding And Custom Templates
Mobile-ready
Edit Html And Css
Free Subdomain Or Purchase Your Own
Work With Shopify Experts
Web-based
Full Blogging Platform

Shopping Cart

Free Ssl Certificate
Automatic Carrier Shipping Rates
Multiple Payment Gateways
Offer Free Shipping Or Flexible Rates
Abandoned Checkout Recovery
Automatic Taxes
Multiple Languages

Store Management

Customer Profiles
Customer Accounts
Customer Groups
Fulfillment Centers
Dropshipping
Refunds
Manage On-the-go
Email Templates
Order Fulfillment

Marketing & SEO

Search Engine Optimized
Generated Sitemap.Xml
Discounts
Gift Cards
Product Reviews
Sell On Facebook
Social Media Integration

Products

Inventory Management
Product Variations
Product Organization
Digital Products
Import/Export
Unlimited Products
Multiple Images
SEO Product Tags

Web Hosting

Unlimited Bandwidth
Email Forwarding
Level-1 Pci Compliant
Ssl Certificate
Instant Upgrades

Analytics

Dashboard
Product Reports
Export Reports
Google Analytics
Traffic/Referral Reports

Mobile App

Order Fulfillment
Mobile Dashboard
Manage Inventory
Email Or Call Customers
Data Sync
Pricing Plans
USD 29.00 (PHP 1,485.00) per month: Basic Shopify – All the basics for starting a new business
USD 79.00 (PHP 4,000.00) per month: Shopify – Everything you need for a growing business
USD 299.00 (PHP 15,300.00) per month: Advanced Shopify -Advanced features for scaling your business
Customization– Features and services acquired depend on the packages you acquire. And while your product uploads are unlimited, the only customization you can do is your website design template.
User Experience – Shopify designed their user interface so merchants can manage their stores all by themselves. According to their blog, here are 5 elements of their UI that work to provide a good user experience.
Interesting Loading Page To Reduce Bounce
Notification Pop-ups Using Plugins To Avoid Context Switching
Simplified Onboarding And Setup
Display Basics, Link To Further Information
Action Signals To Direct Users What To Do Next
Migration – Shopify features an Import Tool to make it easy to migrate your online store from another service like WooCommerce, into their system.
Omnichannel Integration – Shopify offers Shopify POS that integrates the online store with their offline, physical store. There is also the option to sell on other social media platforms, depending on your monthly subscription.
Targeted For – Companies that self-manage their online selling and are looking for a quick entry to the Internet marketplace.
24/7 Customer Support
Support Team
Help Center
Shopify Experts
Discussion Forums
Ecommerce University
Customer Reviews
| | |
| --- | --- |
| BEST | WORST |
| Praised for features and customer satisfaction | Charges transaction fees for using other payment methods besides Shopify Payments |
| Multiple channel selling (social media and other marketplaces) | Content needs to be reformatted manually when changing themes |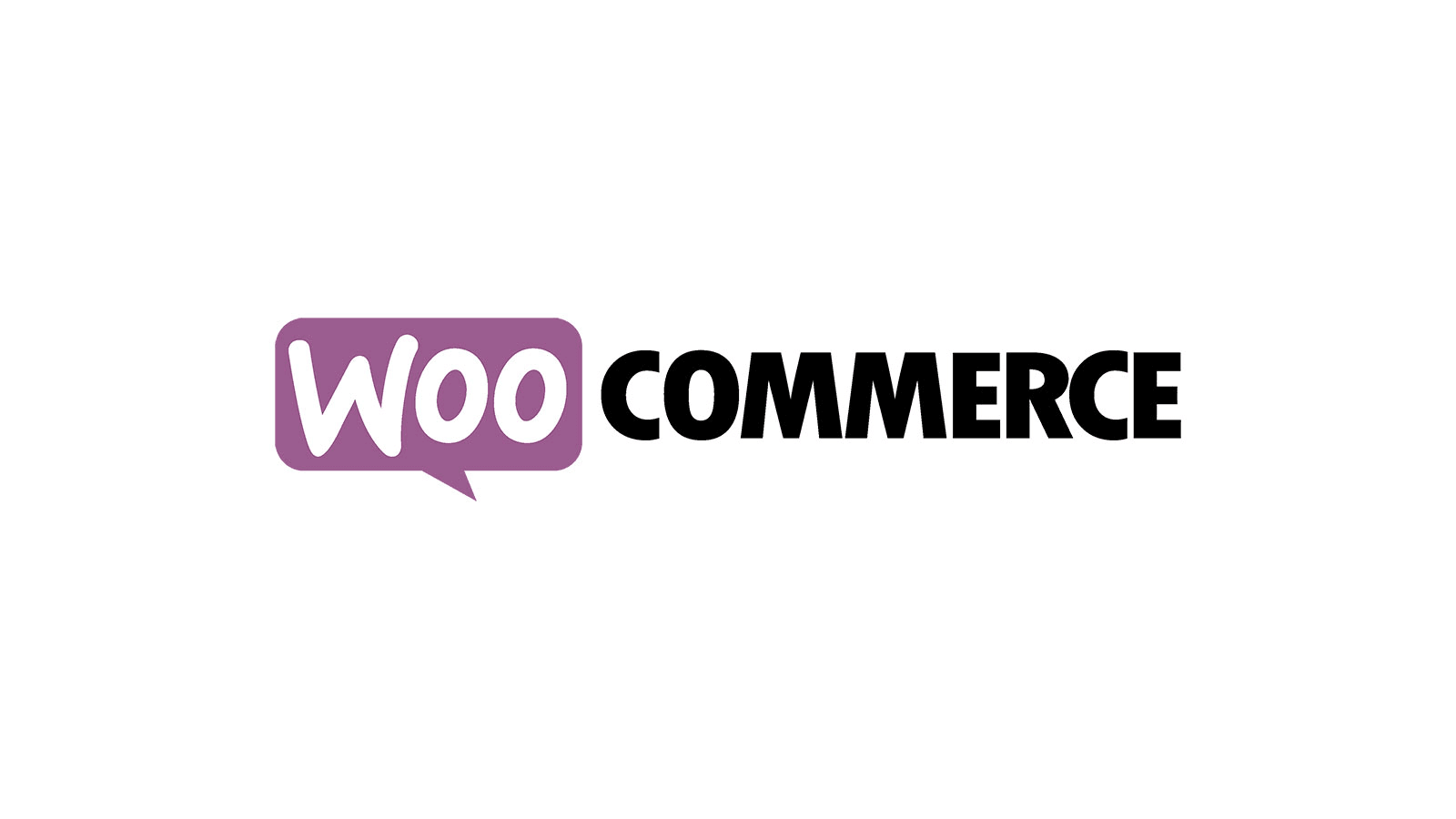 WooCommerce
Open-source software built with bank vault-like security for developers, familiar with coding.
Features
Web Hosting (Via WordPress)

Free Subdomain WordPress
Purchase Your Own

Content Management

Built-in Blogging
Email And Sms Marketing
SEO
Embed Products And Landing Pages

Modular System

Add Or Remove Features
Fully-customizable
Unlimited Products, Variations, Orders And Users
Images And Galleries
Countless Themes

Easy To Import And Export
Sell Anything

Tangibles
Digital Downloads
Subscriptions

Extensions

Shopping Cart
Payment Methods
Shipping Providers
Charge Taxes
Customer Accounts
Guest Checkouts
One-click Refunds

Documentation
Product Management

Categorization
Tags And Attributes
Sort And Filter

Product Rating And Reviews
Store Localization

Currency
Language
Measurement Units
Pricing Plans
WooCommerce itself is free
Domain name can cost about USD 12.00 (PHP 600.00) per year
Hosting Services – USD 5.00 – 25.00 (PHP 250.00 – 1,800.00) per month
Additional Costs

Theme about USD 59.00 (PHP 3,000.00)
Additional Plugins & Extensions USD 25.00 (PHP 1,800.00) each
Developer Fees – USD 20.00 – 150.00 (PHP 1,000.00 – 7,700.00) per hour
Customization– Since WooCommerce is self-hosted designed for developers, everything is 100% fully customizable for both free and additional fees.
User Experience – While it's more flexible than Shopify in terms of modifications, it's not as beginner-friendly. There's a lot of complicated controls, tabs and pages. So you can be limited in terms of self-management and navigation, without the help of an experienced developer and designer.
Migration– There are tutorials available online on how to import your current online store or start uploading your products into your website, but if it's not within your area of expertise, you may end up needing to hire a developer who will do these tasks for you.
Omnichannel Integration – Since WooCommerce is customizable you can create your own version of a Point-of-Sale system like Shopify and sell on other channels like online marketplaces and social media.
Targeted For – Companies that want bespoke solutions for their eCommerce website and have the budget to pay for domains, hosting, additional plugins and extensions, as well as to acquire the services of a web developer and designer.
Customer Support
Email Support Help Desk
Worldwide Community Forum
Developers Assist
Software Documentation
Customer Reviews
| | |
| --- | --- |
| BEST | WORST |
| 100% Customizable And Flexible | A lot of additional costs for plugs and extensions |
| Large Community and availability of Software Documentations | No dedicated customer support for user inquiries |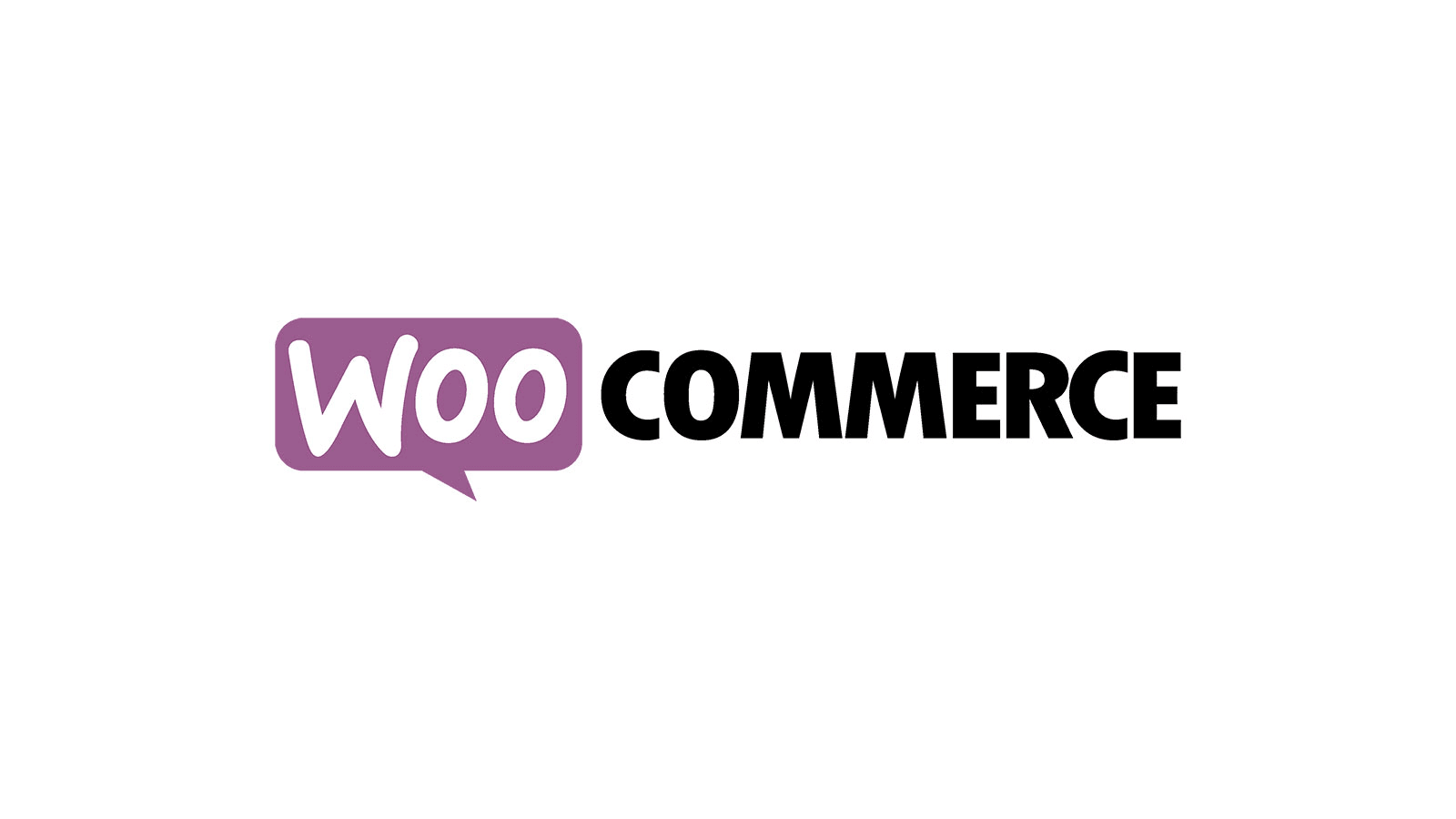 Which Is Actually Better?
In our humble opinion, the better website builder will solely depend on whether the platforms actually meet the user's needs.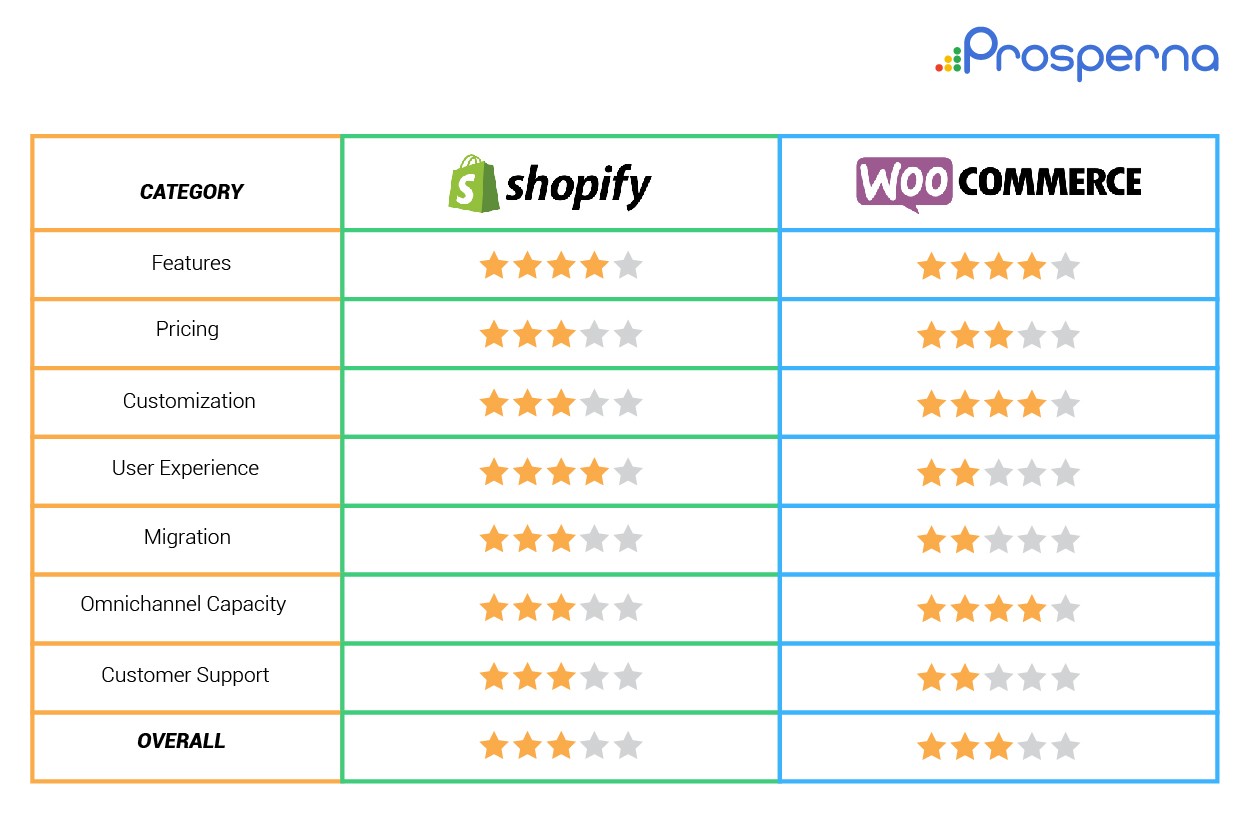 Use Shopify If:
You want to launch an online store by yourself, and fast.
Your products are simple and low-maintenance.
You don't mind the additional fees charged to your buyers and the commission fees you have to pay for every sale.
You want your physical store integrated with your online store.
Use WooCommerce If:
You already run a WordPress website, just install the plugin.
You are familiar with the WordPress interface and source code.
You can cope by yourself or without active customer support.
You need flexibility and control over what to sell.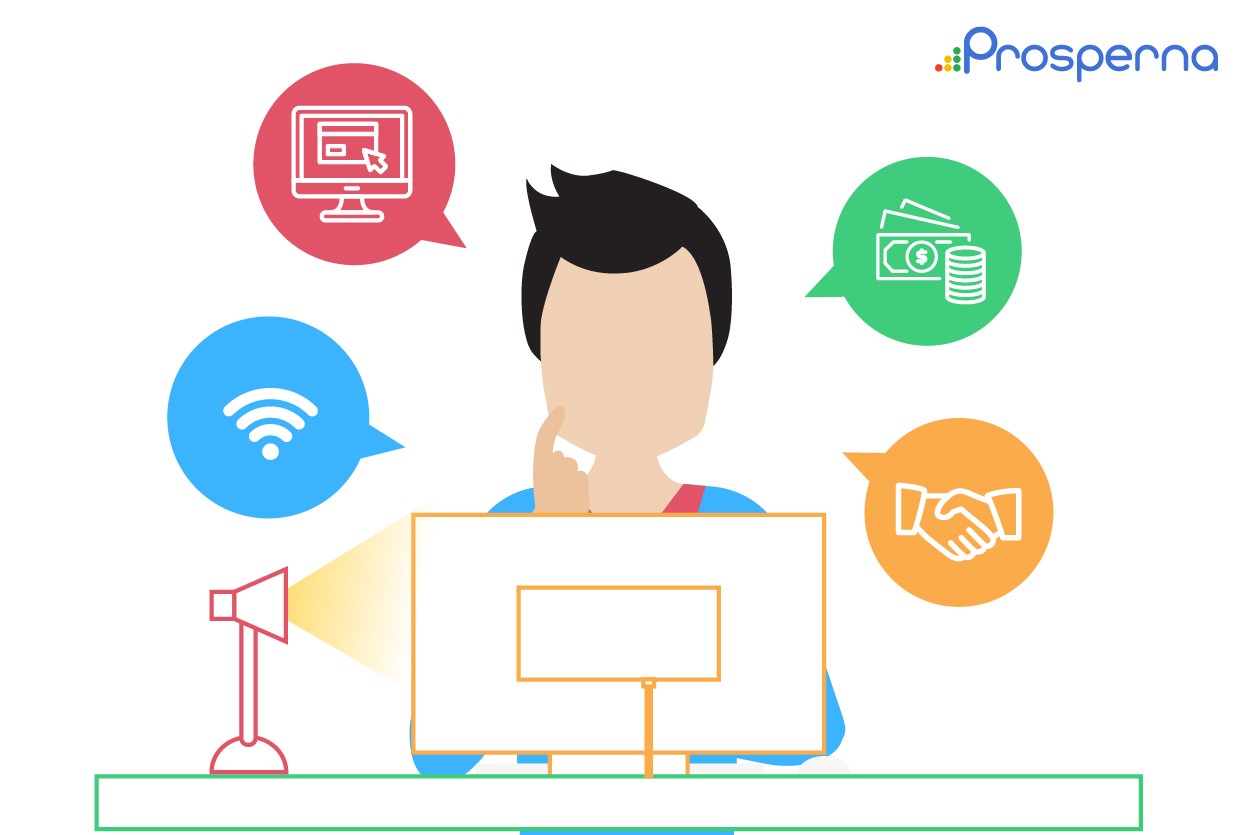 Conclusions
Don't limit yourself.
There's a lot of website builders out there.
But if you insist, here's an easy-to-digest summary of the "Shopify VS. WooCommerce" comparison.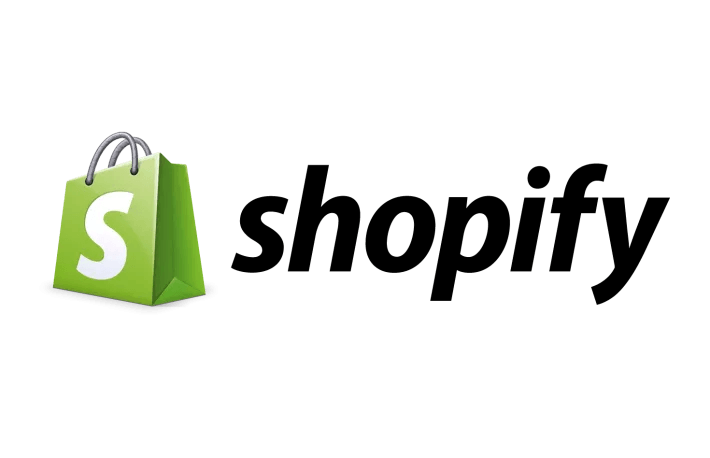 You can still refer to our questions whenever considering and comparing other platforms to use, not just Shopify VS. WooCommerce.
Are there services offered with both website and online store features?
Do you have a pricing plan for different budget ranges?
Up to what extent is customization possible?
How is the user experience?
Is it easy to migrate from a listing platform or marketplace?
Is there integration between the online store and other sales channels?
Does the website builder cater to all industries?
Is customer support available and responsive?
What are the user ratings for these services?
At Prosperna, we ALWAYS put the Customer FIRST. This is why we designed a marketing and sales platform specifically for growing companies in the Philippines, that allows them to compete at a local and global scale.
With the help of an omnichannel website, integrated on social media and leading marketplaces, even YOU can become a successful professional and business.