In today's digital age, having an online presence is crucial for small and medium-sized businesses.
According to Adaptive Marketing, 97% of consumers go online to find and research local businesses.
So, whether you're looking to promote your brand, connect with customers, or simply share your thoughts and ideas with the world, having a strong online presence can help you expand your reach and achieve your business goals.
In this blog post, we'll explore some of the key strategies and tactics you can use to increase your online presence and expand your reach.
What Is an Online Presence?
Online presence refers to a business' ability to be found, communicated with, and engaged with on the internet.
This includes having an online store, blog, and active social media accounts. Actively contributing to online forums or communities also counts.
Having an online presence allows businesses to reach a global audience and connect with customers.
It is a key aspect of digital marketing, and it is becoming increasingly important as more and more people use the internet to research products and services before making a purchase.
Benefits of Increasing Your Online Presence
Your chances of increasing brand recognition and enhancing your reputation increase with an online presence. But there are other ways that increasing your online presence benefits your business.
Cost-Effective Marketing: Creating an online presence is often more cost effective than traditional forms of advertising, such as print or television.
Better Engagement: An online presence allows you to interact with your audience in real-time, which can lead to greater engagement and more meaningful interactions.
Increased Trust and Credibility: A strong online presence can help establish trust and credibility with your audience, which can lead to more conversions and increased sales.
Better Insights: With the use of analytics tools, you can gather insights about your audience and measure the effectiveness of your online presence strategies.
Better Lead Generation: With an online presence, it is easier to generate leads, as you can use different tactics like SEO, email marketing, and social media advertising to attract prospects.
Increased Brand Loyalty: By building a strong online presence and creating a relationship with your audience, you can increase brand loyalty and customer retention.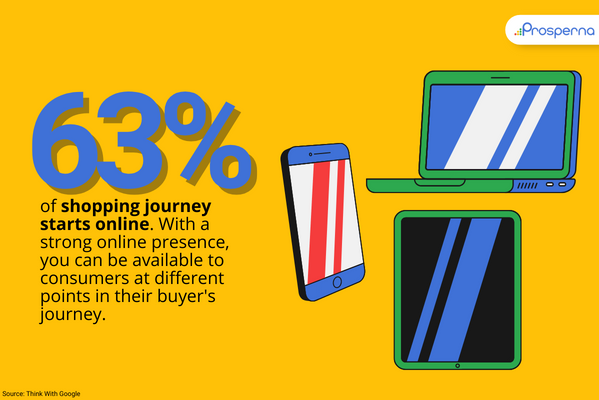 7 Tips to Increase Your Online Presence
1. Create a Website
Having a website allows you to reach a wider audience and be found by more people, as it is a central location for your business or personal information. This helps increase your online presence.
You may showcase your brand on your website through the use of colors, fonts, text, video, and photographs.
There are a lot of website builders in the Philippines including Prosperna. Prosperna's All-In-One eCommerce platform enables business owners to launch their own website, accept all types of payment, and automatically book shipping even without coding skills.
2. Utilize SEO
The practice of optimizing a website for relevant keywords in order to increase its exposure in search engine results pages (SERPs) is known as search engine optimization (SEO).
Through organic search results, SEO seeks to boost both the volume and quality of traffic to a website from search engines.
Here are a few tips on how to use SEO to increase your online presence:
Identify relevant keywords and phrases that your target audience is searching for and incorporate them into your website content, meta descriptions, and headings.
Ensure that your website is properly optimized (mobile-friendly), including proper use of headings, meta descriptions, and keyword-rich content.
Create high-quality, relevant, and valuable content for your website. Regularly updating your website with new content can help increase your online presence and improve your search engine rankings.
Acquiring backlinks from other high-quality websites can help improve your search engine rankings and increase your online presence.
Optimize your website for local search, including claiming and verifying your Google My Business listing and incorporating local keywords into your content.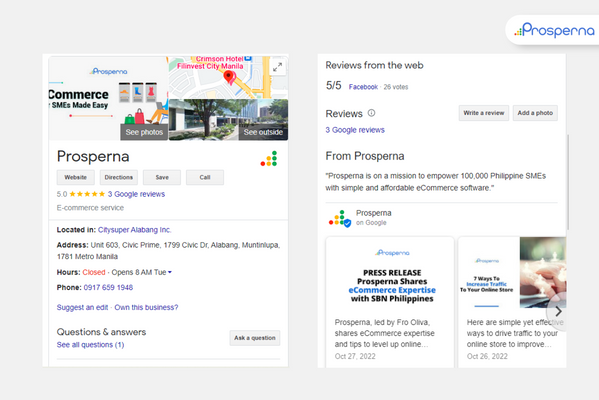 3. Write Quality Content
Remember that content is king, and investing in quality content can pay off in the long run by helping you build a strong and loyal following.
To start writing quality content, select topics that are relevant, useful, and valuable to your target audience. Then write as though you are speaking directly to your target audience, using a conversational tone that is easy to understand and engage with.
Create a strong headline, incorporating images, videos, and other visuals to grab your reader's attention and entice them to read on.
Don't forget to update your content regularly to keep it fresh and relevant. This can improve your online presence and search engine rankings.
4. Network and Connect
Attend industry events and conferences or join online communities and forums, where you can meet and connect with other business owners. This can help you establish new relationships, gain visibility for your brand, and get access to valuable industry insights and information.
Try to reach out to other businesses or influencers in your industry and ask if they would like to collaborate on a project or campaign.
You can also share your knowledge and expertise with others in your industry by contributing to open-source projects, mentoring, or teaching.
This can help you establish yourself as an expert in your field, increase visibility for your brand, and thus improve your online presence.
5. Utilize Social Media
In this day and age, having a social media presence is essential. In fact, as of October 2022, there are 4.74 billion social media users worldwide.
Social media marketing is therefore an important tool for connecting with your target audience on the channels they prefer and increasing your online presence.
Having a strong social media presence can help establish trust and credibility with your customers. The first place that prospective buyers will check when researching your business is on social media to see what you're putting out there and what people are saying about you.
It's worth noting that social media require regular monitoring and optimization, and that each platform has its unique audience, so you should choose the platforms that best fits your business and your target audience.
6. Leverage Influencers
Partner and collaborate with influencers in your industry or niche to create sponsored content that promotes your brand or products.
Influencers can reach a large audience, help establish credibility for your brand, and attract new customers.
Be creative and run a contest or giveaway on their platform to leverage the influencer's network and get more visibility.
It's worth noting that when you are working with influencers, it's essential to make sure that their audience aligns with your target market and that you establish clear guidelines for the partnership to ensure that the content aligns with your brand.
7. Automate Your Process
Building an online presence involves many time-consuming strategies.
By automating your processes, you can free up time that can be used to focus on other aspects of your online presence, such as networking, content creation, and SEO.
This helps increase efficiency by reducing the likelihood of errors and ensuring that tasks are completed in a timely manner. Plus, it can help you scale your online presence by allowing you to handle a larger volume of tasks and reach a larger audience.
Automation can also ensure that your online presence is consistent across all platforms, helping you to maintain a professional image.
Prosperna's All-In-One eCommerce platform has built-in marketing automation tools that allow you to easily share and promote your online store across multiple social media platforms.
FAQs
What makes a strong online presence?
When potential customers conduct a web search for the products or services you provide, your website and marketing platforms should pop up at the top of the results. A good online presence improves your chances of standing out from the competition and getting picked by clients.
Final Thoughts
Increasing your online presence is crucial for any business looking to grow these days. However, it's not only about numbers and data; it's also about building relationships and trust with your audience.
So, make sure that you are providing a personalized and human touch to your audience, and always be willing to listen to their feedback and take it into account when making decisions. Don't be afraid to experiment with new tactics and try new things to see what works best for your business.
Prosperna, Your Partner to eCommerce Success
Prosperna is an all-in-one eCommerce platform for Philippine businesses. We are on a mission to empower 100,000 Philippine MSMEs with simple and affordable eCommerce solutions.
In fact, we are super passionate about helping Philippine MSMEs we're giving you a free account forever!
Want to increase your online presence? Create your free-forever Prosperna account now.