"What all of us are doing here is to change the game." – Dennis Velasco
Prosperna once again proved its profound commitment to the country's digital transformation and startup community by taking part in the recently concluded Philippine Startup Week 2022 (PHSW22).
The Philippine Startup Week 2022 is the largest 5-day startup conference in the country, which happened from November 14-18, 2022, where various local startups tackled topics such as long-term partnerships, investments, and collaborations.
A hybrid conference has finally been made possible this year thanks to a collaboration between DICT, DOST, DTI, and the QBO Innovation Hub after two years of purely online events.
The PHSW22 has over 60 online events, more than 20 onsite events spread out in different cities nationwide, 160 virtual booths, 150 speakers, 100 startups, and 4 night fests.
The Prosperna team, led by CEO and Founder Dennis Velasco and Head of Partnerships Fro Oliva, participated in this week-long event with pride, attending talks and various networking functions to further solidify its connections with the startup community.
An Ally for Women in Tech
Dennis Velasco, CEO and Founder of Prosperna, was indeed the unique one—the only male ally—in a panel of women entrepreneurs, as he offered his opinions on the topic "She Can Have It All: An Integrational Discussion on Career Progression and Work-Life Balance" at the Startup Pinay Conference.
The Startup Pinay Conference is one of PHSW22's community events that aim to strengthen the pipeline of female leaders and entrepreneurs in technology, from the classroom to the boardroom to the political sphere.
"You don't want to go to a market where you're just like everybody else. You wanna be unique."
Velasco revealed that he grew up surrounded by strong women in his life—from her mother, who is a businesswoman, down to his wife and daughters. This is why, as a leader, he values equality at work and the necessity of speaking up without fear.
Velasco believed that achieving equality could transform the socio-economic landscape of our nation and suggested having more one-on-one conversations at work between men and women so as to encourage both sides, especially women, to make informed decisions and help pursue leadership positions.
Velasco is also hoping for more women to play an active and more significant role in the tech industry.
Read more of this story here: Prosperna Joins Startup Pinay Conference
The Government's Role in the Startup Ecosystem
The future is promising for the Philippine startup ecosystem with the government's full support, the remarkable achievements of numerous local startups, and the country's digital transformation.
"We need the government to lead the way and make it easier to invest in the Philippines. And we need an organization that will drive growth and create jobs. If the government and private sector can come together, we can create successful startups," Rene "Butch" Meily, President of Ideaspace Foundation, said.
The Department of Science and Technology, the Department of Information and Communications Technology, and the Department of Trade and Industry work together to ensure a seamless process for the many initiatives to assist the country's startup ecosystem.
Through its InnovNation program, the DICT strives to simultaneously motivate and educate the public on important facts and significant events in the startup business.
DICT, together with DOST, also looks to provide financial grants to at least 10 new and early-stage startups related to startup development, capacity building, and network building in their Startup Grant Fund under the Innovative Startup Act.
The Technology Business Incubator (TBI) Summit by DOST, now in its 6th year, brought together various government and private innovators to discuss the issues and challenges facing the startup community.
"The TBI had truly been significant in building a thriving startup ecosystem and in developing innovative startups in their respective localities with the potential to become the next technology superstars." Sec. Renato Solidum Jr. of the Department of Science and Technology said.
Another government initiative is the Slingshot Conference by DTI, where startups and investors connect, showcase their products and services, and take part in building the Philippine startup ecosystem.
It encourages innovative partnerships and shows the community how to cooperate for the common objective of promoting understanding and admiration of the Philippine startup ecosystem.
Sen. Grace Poe, via a video message, also pledged to continue working to grow this industry as a way of demonstrating her support for the startup community.
Related Articles:
Helping MSMEs Embrace Digital Transformation
There is no doubt that we live in a digital world.
As important drivers of successful innovation, competitiveness, and growth, digitization and the wise use of information and communication technologies present MSMEs with several opportunities to improve their market position and resilience to demand and supply shocks.
MSMEs in the Philippines are slowly embracing the digital era, and startup enablers like Prosperna have made this move much simpler and faster for them.
"One way we support the MSME sector is by providing them with [simple and affordable eCommerce] software," Fro Oliva, Head of Partnerships at Prosperna, said during one of the community events entitled "Impact of Digitization on MSMEs".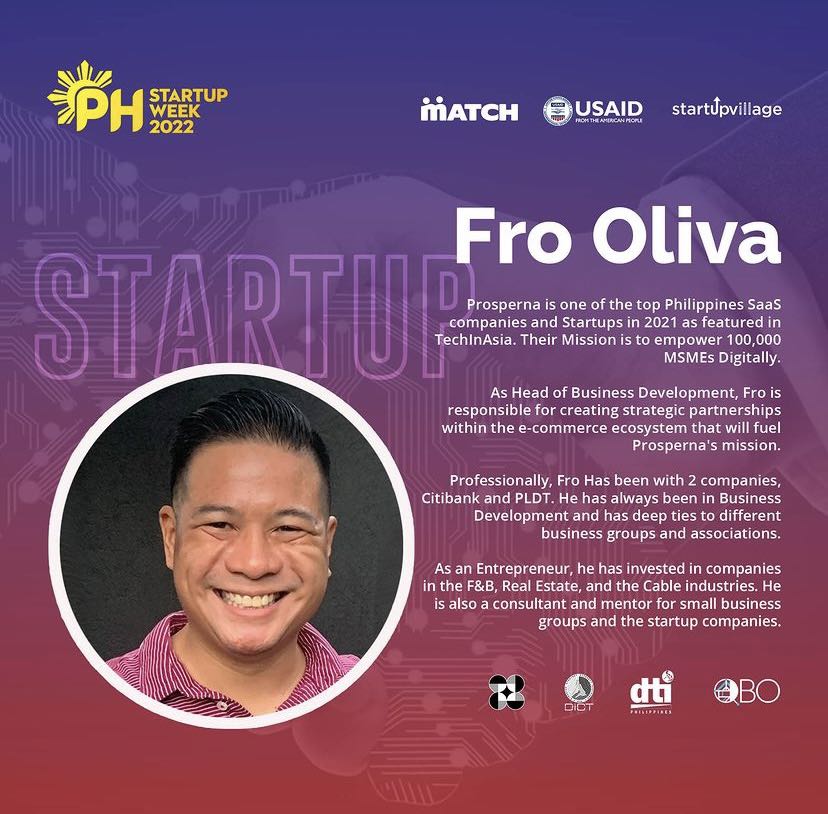 Oliva explained that they focus on MSMEs in particular due to their high prevalence and economic potential for the nation. Prosperna seeks to strengthen MSMEs by expanding their market and boosting their income.
Oliva was accompanied by other startup enablers namely Leandro "Dax" Gazmin, Component Lead for SME Development at USAID Deliver; and Aiko Reyes, Co-founder, COO, CXO at Peddlr Philippines, Inc.
Marilyn Ceredon, the owner of LVMCC Hardware Trading and a delighted Prosperna customer, also participated in the same event. Ceredon commended Prosperna and other startup enablers for assisting merchants like her in easily making the switch to the eCommerce industry.
The largest disadvantage MSMEs in the Philippines have in the race for digital transformation and business innovation is a lack of resources.
This is where the hottest, high-potential, and fast-growing Filipino startups, like Prosperna, come in.
As part of this year's QBO Top 100 Startups Showcase, Velasco proudly shared the company's growing traction, with over 5000 clients, 2x GMV YOY, and 270% MRR YOY.
"My team and I are looking forward to you joining us on our super exciting journey to empower 100,000 MSMEs during this extraordinary time of rapid Philippine digital transformation," he said.
Philippines: The Fastest Growing Hub of Innovation in Asia
The first ever live crowdfunding event in the country happened at the Philippines Startup Week, where emerging Filipino startups showcased their ideas to a global audience as well as a panel of renowned tech leaders and investors.
Cocotel International, a tech-hotel brand; On Demand Deals, a social commerce company; and Britana, an app developing company, were the three chosen startups to receive funding from a network of accredited investors from Stonks.
Learn more about how crowdfunding works in the Philippines.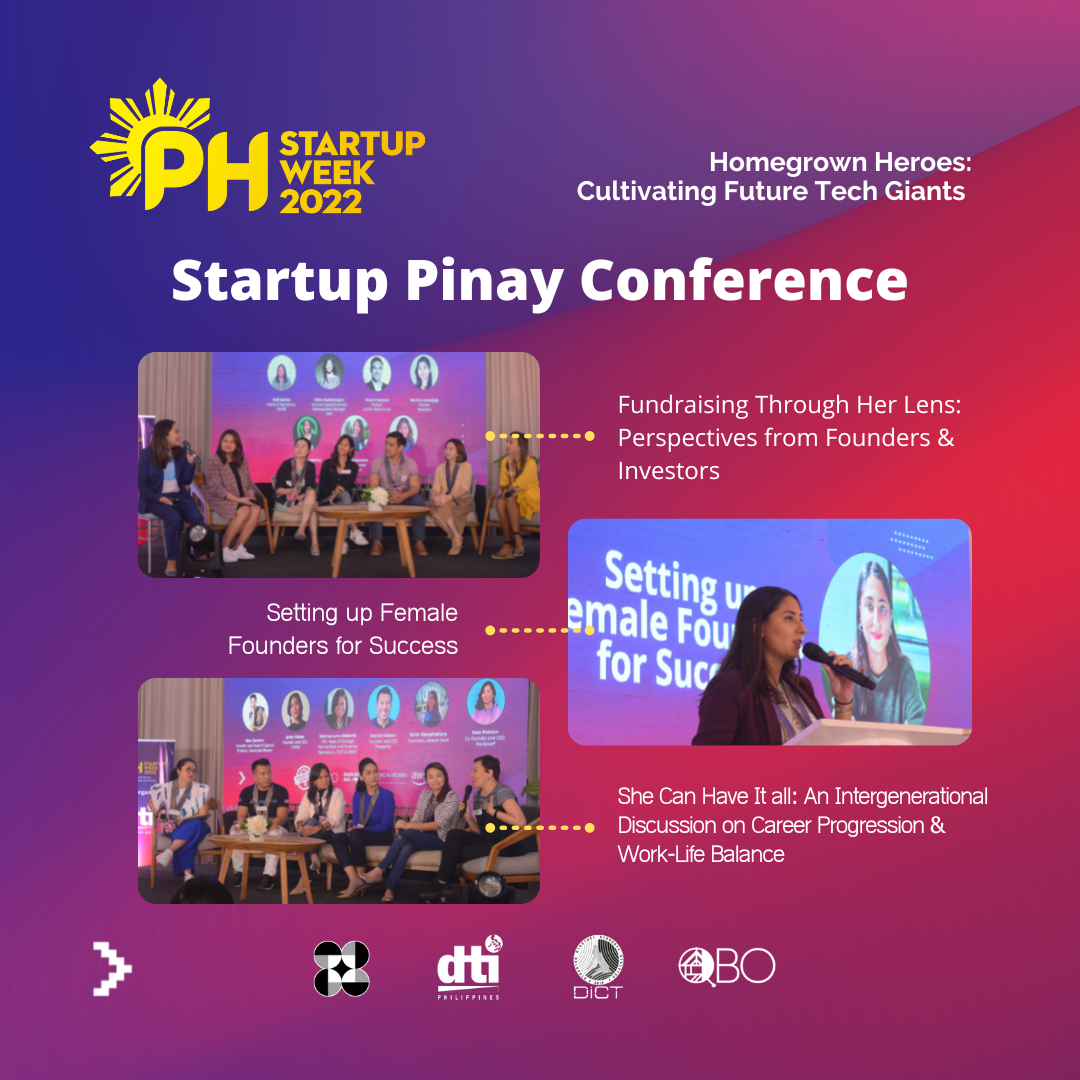 The Philippine Startup Week is co-presented by Accelevents, 917Ventures, Microsoft, PLDT, AWS, Shell Livewire in collaboration with Accenture, Globe, Meta, Qapita, Xendit, AHG Lab, Jobstreet with support from Paymongo, Cloudeats, PWC, Qubit, and Great Deals E-commerce Corp.
You can watch a recap of the events here: bit.ly/rewatchphsw22
About Prosperna
Prosperna is an all-in-one eCommerce platform for Philippine businesses. We are on a mission to empower 100,000 Philippine MSMEs with simple and affordable eCommerce software.
Want to launch your own online startup? Create your free-forever Prosperna account now.