November 14, 2022 — The Philippine Startup Week officially started its Day 1 activities with an opening ceremony headlined by Sec. Renato Solidum Jr. of the Department of Science and Technology; Usec. Rafaelita Aldaba of the Department of Trade and Industry; Sec. Ivan John Uy of the Department of Information and Communications Technology; and Rene "Butch" S. Meily, President of QBO Innovation Hub.
Dennis Velasco, CEO and Founder of Prosperna, joins the discussion on career progression and work-life balance with other female techpreneurs and male allies at the Startup Pinay Conference, which follows the opening ceremony, at the Blue Leaf Events Pavilion in Taguig City.
The Startup Pinay Conference is one of the main highlights of the Philippine Startup Week 2022, featuring female leaders and their male allies who are pushing boundaries in the tech industry.
As a member of the panel, Velasco offered his opinions on the topic "She Can Have It All: An Integrational Discussion on Career Progression and Work-Life Balance". He revealed that he grew up surrounded by many strong women.
He also underlined the value of equality at work and the necessity of speaking up without fear.
"What all of us are doing here is to change the game, and if the old was not as much equality, then the new must be that because that's where the best ideas come from. So I hope everybody can just continue to gain that courage to, no matter what, just speak up," he said.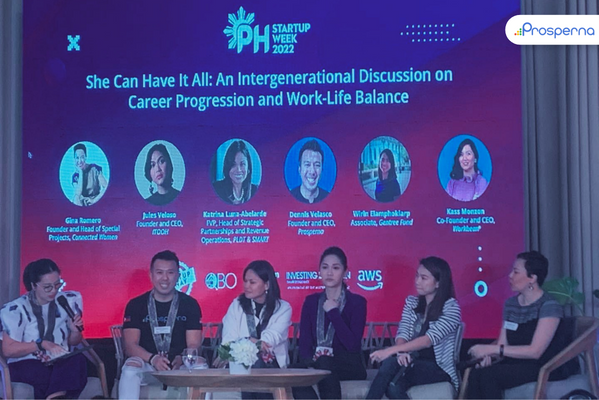 Velasco thought that achieving equality could transform the socio-economic landscape of our nation. He continued by pointing out that the idea of "she can have it all" is all about having the appropriate perspective.
"To me, it's a mind game. Everything is mental. Before you act, you must think. So if you can't think in [the] right direction and take those actions properly, you don't even get a chance to find success [or] failure," he explained.
He also shared his understanding of the unique advantages of being a woman in the tech industry in today's modern world.
"Look at things in the world [as] supply and demand. And when there's less supply, that makes you unique. And when you're unique, there's an advantage. And today, there [are] definitely less and hopefully [soon] more women in business and tech. So, to me, I think now is the time for women to play a more active and bigger role because of those unique perspectives, and that is every person's opportunity here."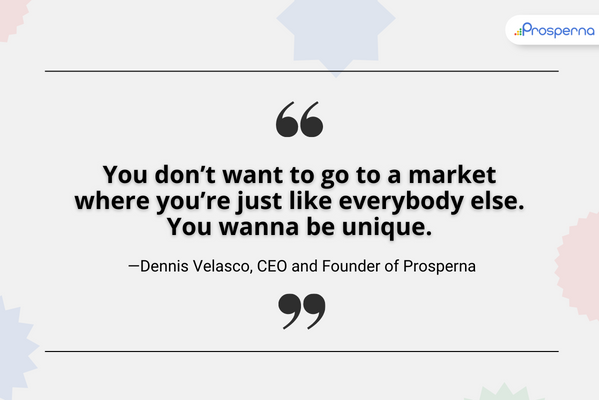 Imposter syndrome was also covered, along with how it typically affects female leaders and he carefully considered it from a different angle, "Imposter syndrome comes up because of distractions. Because of opportunities that you might think are right for you. Therefore, you get tempted to do that without knowing who you are, what you like, what you don't like, what you're good at, [and] what you want. Because that's when you start to try to do all kinds of different things that become distractions, and then you get lost."
Velasco gave a simple yet meaningful response when asked how businesses should encourage women to take part in decision-making and pursue leadership positions.
"We should just have more one-on-one conversations. Just help each other. Men help women, women help men. Work together," he said.
Additionally, he pushed for more role-playing conversations. "At the leadership level, we need to take more steps to open those conversations up. Because sometimes it can feel awkward. You just have to open up the door."
Other speakers from the panel discussion were Gina Romero, Founder of Connected Women; Katrina Luna-Abelarde, CEO of PLDT Global; Jules Veloso, Founder of ITOOH; and Wirin Eiamphoklarp from Gentree Fund.
It was moderated by Kass Monzon, CEO and Co-Founder of Workbean.
Catch our Head of Partnerships, Fro Oliva, this Thursday, November 17, at 2:30 PM, as he takes part in the discussions on the "Impact of Digitization on MSMEs". Get your online tickets here: bit.ly/phsw22-attend
About Prosperna
Prosperna is an all-in-one eCommerce platform for Philippine businesses. We are on a mission to empower 100,000 Philippine MSMEs with simple and affordable eCommerce software.
Want to launch your own online startup?
Create your free-forever Prosperna account now.