With over 18 million users in the Philippines alone, Instagram is one of the most widely used social media platforms, making it an excellent marketing platform for your business.
However, utilizing Instagram for business can seem intimidating, especially if you've only ever used it for personal purposes.
In this article, we're going to explore how to use Instagram to promote your business.
Key Takeaways
Instagram is a popular social networking site that can be an effective tool for business marketing.
Knowing your audience well is the first step in developing a successful Instagram for business marketing strategy.
Utilize images, live videos, and hashtags to promote your business after setting up an Instagram business account.
What Is an Instagram Business Profile?
Instagram's version of a Facebook page is an Instagram business profile.
Your Instagram account gains legitimacy when you create a business profile, which also gives you the chance to provide important details like your business's contact details, such as a website, email, and location.
If you have a business profile, you can access additional features like Instagram Insights and the capability to run advertisements.
Why Use Instagram for Business?
Instagram might be a great way to reach a new audience. Due to its visual nature, it is an excellent platform for businesses to connect with their customers.
It is the best way to engage your audience, build trust, and grow your brand. What's more, it is one of the best ways to stay in touch with your customers and get them to come back to your stores.
Pros and Cons of Using Instagram for Business
Instagram is the newest social network powerhouse and has taken the world by storm over the last few years, so it is no surprise that many entrepreneurs are starting to use Instagram for business.
But are you wondering if it's worth using for your business?
Let's take a look at some pros and cons of creating an Instagram account for business:
Pros:
Ability to monitor how your audience interacts with your content
Access to insights for your posts and stories
Clickable CTAs to promote your website, book appointments, etc.
Gaining capabilities like Shoppable posts, which let you sell through your Instagram posts
Cons:
Possibly less organic visibility and reach being labeled as "business"
To utilize advertising features, you also need a Facebook account
Because of the extra features and statistics, business profiles are more advantageous for most businesses.
How to Use Instagram for Business: 5 Easy Steps
1. Set up an Instagram Business Account
If you don't already have one, you'll open a personal account on Instagram and turn it into a business profile. If you currently have an Instagram account, turning it into a business account is simple.
How to create a new Instagram account:
Download the Instagram mobile app for iOS, Android, or Windows on your smartphone or tablet.
Open the app and click 'Sign Up'.
Enter your email address. Use your company email or an email set aside for your company's social media accounts, if possible. If you currently have a business account on Facebook, you can log in there as well.
Choose a username and password, then complete your profile information. You might be prompted to sign in if your login method was Facebook.
Click 'Next'.
Congratulations! You can now turn your "personal" Instagram account into a business profile.
How to switch a personal account to an Instagram business account:
Open the app and click on your profile image in the lower right corner.
Click on the hamburger menu in the top-right corner of your profile.
Select 'Settings'. Switch to Professional Account may be available from this menu in some accounts. In such a case, tap it. If not, proceed to the next step.
Click on 'Account' and choose Business. Choose the business category that precisely describes your company.
Review and update the contact details for your business as necessary. Follow the instructions to link your account to your Facebook Page if you want to link your Facebook business and Instagram accounts.
Click 'Done' to finish creating your Instagram business profile.
2. Improve Your Instagram Business Profile
You can get a lot done with a little space by creating an Instagram business page. People can visit your website, make an appointment, or learn more about your company from there on Instagram.
Improve your Instagram for Business profile by utilizing the following fields:
Profile photo: Use your brand logo (ideal size: 320×320) so customers can easily identify your business
Bio: This is the place where you can draw users' attention on Instagram. Describe your company's services, promote your website, or simply place your mission statement here (or you can do all of the above).
Contact options: Include links to all of your contact information, including phone, email, and physical address.
Action buttons: Include a call-to-action button, such as "Order food," "Book now," "Reserve," or "Get quote," right on your Instagram profile.
Instagram story highlights: Whether they are user-generated material, advice, recipes, or commonly asked questions, organize Stories into saved categories on your page.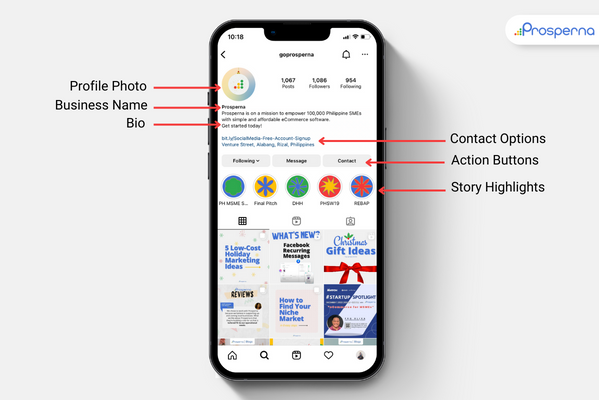 3. Develop an Effective Instagram Marketing Plan
Every social commerce platform where you have a presence needs its own unique marketing strategy, and Instagram is no exception.
Because Instagram is primarily a visual social media platform, a big part of your strategy should be to share beautiful images.
There are a few other things to keep in mind, though, such as:
Defining your target audience
Setting goals and KPIs
Tracking your performance and metrics
Creating a social media content calendar
4. Post Only the Best Content on Instagram
You must create the most engaging content that attracts new customers and inspires them to interact with your brand. Think about how you can satisfy your customers while upholding your business' integrity.
Establish pillars with repeating themes so you can switch them out. Notice the pink-blue theme of Little Paddler's Instagram page.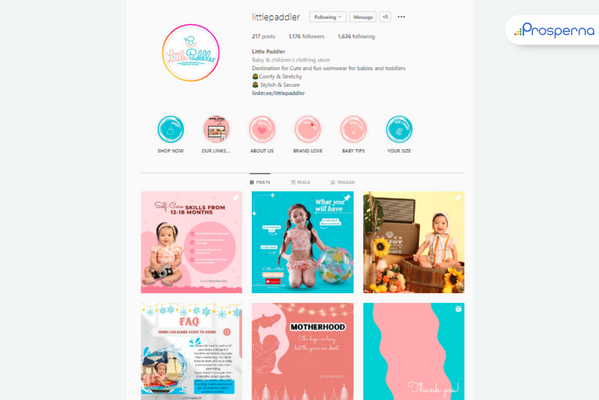 If you're a clothing line, showcase your clothes.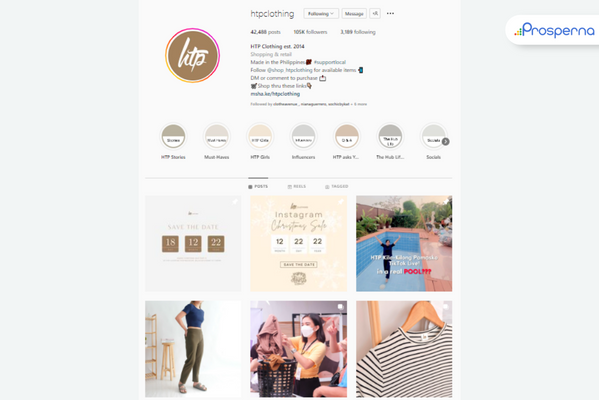 A restaurant may upload pictures of its food.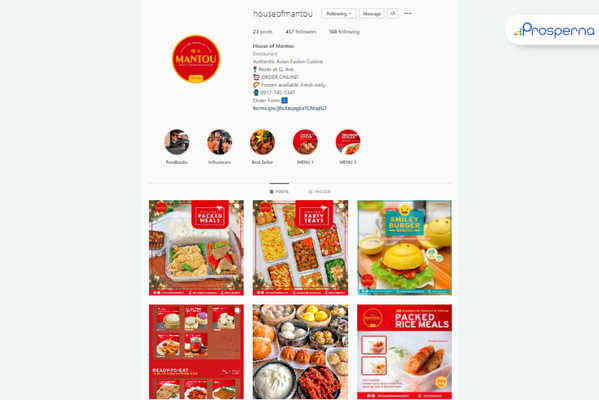 If you provide services, consider sharing client success stories or going behind the scenes to show the employees who keep your business running smoothly.
5. Increase and Connect With Your Audience
By connecting with your audience, you may make them feel important and more invested in your company.
Here are some tips to increase your following:
Spread the word about your Instagram business account on other platforms.
Comment on Instagram posts from users that appear to be your target market.
Use appropriate hashtags in your postings so that people looking for those topics may locate your content.
Hire influencers and work together to reach their audiences.
Keep an eye out for the stuff that generates the most interest and produce more of it.
To build brand recognition and boost sales, you don't just need to upload pictures of your goods online.
Get creative and post funny quotes or relevant memes to engage your audience.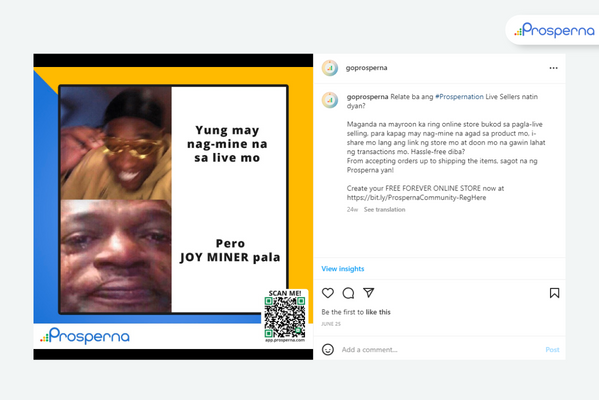 FAQs
Is Instagram for Business free?
Yes, setting up a business account on Instagram is free. You will only ever be required to pay if you decide to run advertisements on the platform.
Is Instagram worth it for small businesses?
Absolutely! Small businesses have a great opportunity to stand out on the platform if they utilize all the capabilities that are offered to them.
Final Thoughts
Instagram is a tremendous tool that can help you connect with millions of potential clients, regardless of your business goals.
You probably follow a lot of brands using your personal account. Think about what makes those business accounts interesting to follow, and let that inspire you. Create an Instagram marketing plan that is unique to your business using this inspiration and the advice I've given here.
Your Instagram strategy will also evolve as your business expands. Try out new methods, solicit input from your audience, and pay attention to what they have to say.
Related articles:
Prosperna, Your Partner to eCommerce Success
Prosperna is an all-in-one eCommerce platform for Philippine businesses. We are on a mission to empower 100,000 Philippine MSMEs with simple and affordable eCommerce software.
In fact, we are super passionate about helping Philippine MSMEs we're giving you a free account forever!
Want to get more out of Instagram for Business? Create your free-forever Prosperna account now.