The importance of a competitive analysis lies in being proactive.
By understanding your competitors and their strengths and weaknesses, you can identify opportunities for growth and make informed decisions about how to position your own company.
In this blog post, we will discuss the importance of conducting a thorough competitive analysis and provide tips on how to get started.
What Is Competitive Analysis?
Competitive analysis is the process of studying and evaluating the strengths and weaknesses of your competitors, as well as the opportunities and threats they present to your business.
It typically includes researching and analyzing information such as your competitors' products and services, pricing strategies, marketing tactics, and target audiences.
This information can be collected through various means, such as online research, customer interviews, and competitor surveys.
You can use this information to improve your own business strategy by identifying areas where you can differentiate yourself from your competitors as well as areas where you may be at a disadvantage.
The goal of a competitive analysis is to understand the competitive landscape of your industry and make informed decisions about how to best position your company within it.
What Is the Importance of Competitive Analysis?
As a business owner, you might have asked yourself, "How well do I know my competitors? Are they working on anything new? Do I know anything about the strategies they're using for success?"
While many businesses are well aware of the importance of competitive analysis, it is a necessity that some still fail to grasp.
It is important for businesses to perform competitive analysis in order to learn from the successes and mistakes of their competitors.
This kind of data is vital for any business that wishes to remain competitive and for any business that is hoping to remain relevant in the market.
It can be difficult for any business to survive in the modern business world without awareness of its competition, so there is little to no excuse for not doing so.
How to Do a Competitive Analysis
1. Identify Your Competitors
Before starting, you must know who you're in competition with and be aware of the many types of competition you will encounter.
How can you do this?
Divide your competitors into two categories:
Direct competitors – they are businesses that have similar business models, target similar customer segments, and sell similar products or services. For example, if you sell athletic footwear, companies like Nike, Adidas, and Puma would be considered direct competitors because they offer similar products to the same target market.
Indirect competitors – these are businesses that offer different products or services to the same target market as your business. They are considered indirect competitors because they are not directly competing with your company for the same customers, but they may be attracting customers away from your business by offering similar or complementary products or services. For example, an athletic footwear business' indirect competitors are those selling athletic clothing or fitness equipment.
The market can and will change at any time, and if you aren't constantly monitoring it, you won't be aware of these changes until it is too late.
2. Gather Information About Your Competitors
Once you have identified your competitors, gather information about them.
This could be information about their products and services, pricing strategies, marketing tactics, target audience, and financial performance.
You can gather this information through online research, customer interviews, competitor surveys, and industry reports.
Then evaluate them using the 4 P's of Marketing:
Product. Compare your products to that of your competitors. What is the quality like? What features do you prefer or disapprove of?
Price. What are the costs of their products and services? Do they have different rates for customers and channel partners? What is their policy on discounts?
Place. In comparison to your business, how large is their service area or geographic reach?
Promotion. What marketing strategies do they employ to engage and communicate with their clients? How active are they on social media?
To gather this data and conduct the research, you can consider devoting a couple of weeks to working with your sales, marketing, and customer support teams. Then, on the last day, go over everything you've discovered and plot the results.
3. Analyze the Information
Once you have collected the information, analyze it to identify patterns and trends.
You can perform a SWOT analysis to look for areas where your competitors are strong and areas where they are weak.
This is a wonderful tool for seeing how your company compares against others in its industry.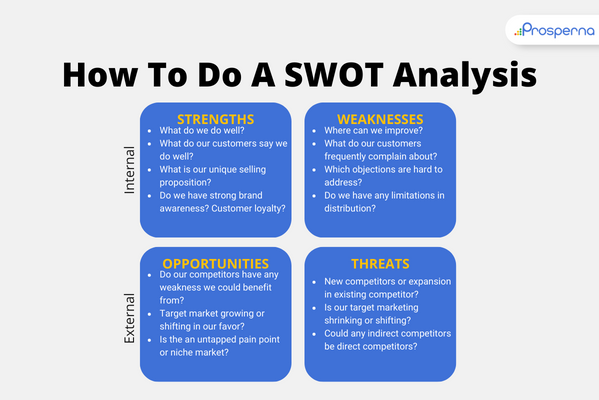 Compare your advantages against the flaws of your competitors. Pay close attention to the chances they are passing up. Are there any opportunities for you to profit from them?
Knowing your strengths and weaknesses can help you better understand the market's general conditions and entrance barrier—and will better equip you to overcome the challenges of starting an online business.
4. Determine Your Competitor's Market Positioning
Competitive positioning is the unique value proposition that a business provides to its customers in contrast to its competitors.
It is a strategic process that involves defining a company's unique selling points, target market, and overall market positioning in order to stand out from its competitors.
You can do this by asking your customers about their perceptions of your competitors and their products or services.
Or you can also use brand tracking studies to gather information about your competitors' brand awareness, reputation, and customer loyalty.
5. Review Their Social Media Presence and Strategies
Look at the types of content that your competitors are posting on social media, such as photos, videos, and written posts. Pay attention to the frequency and timing of their posts, as well as any patterns or trends in their content.
Also, observe which social commerce apps they are using and how they are using them. Are they on Facebook, Instagram, Twitter, TikTok, Snapchat, Pinterest, or Youtube?
Then analyze the level of engagement they are receiving from these platforms, such as the number of likes, comments, and shares.
This will give you a sense of their go-to platforms and their strategies for using social media to reach their target audience.
6. Study Their Content Strategy
If you find a large collection of content in their blog archive, this means your competitor has been updating frequently. This data could help you determine their lead-generation tactics, depending on the topics they cover.
Also, pay attention to the photos and imagery they are using.
Do stock photos quickly pass you by, or do original artwork and photos leave an impression?
When employing stock images, do they at least include overlays with text quotes or calls to action that are specific to their brand?
By taking note of your competition's content strategy, you can gain valuable insights into the types of content that are resonating with your target audience, the frequency and timing of content production, and the tone and style that are most effective for your market.
This information can then be used to inform your own content strategy and to create content that sets your business apart from your competitors.
7. Learn What Technology They Use
Analyzing a competitor's website with BuiltWith might help you discover more about their tech stack.
This is a useful tool for discovering what platforms your competitors' websites use, along with third-party plugins like CRMs, analytics, and content marketing tools.
You might also think about browsing the job postings of your competitors, especially for engineer or web developer positions.
The job description will probably specify the tools a candidate must be knowledgeable with, which is a clever way to learn about the technology your competitors use.
Learning what kinds of technology your competitors are using is an important part of competitive analysis that can help you stay ahead of the curve, gain a competitive edge, and improve your business operations and marketing strategies.
FAQs
How often should you do a competitor analysis?
Performing a competitive analysis is highly recommended on a quarterly basis—and on a monthly basis for ideal results.
What happens if I don't do a competitor analysis?
Several things could go wrong if you skip competitor analysis. You can initially undervalue the initial funding you'll need as well as the entry barrier to your major target market. Furthermore, you run the danger of launching a product with little to no demand because of poor market fit, excessive prices, or a lack of compelling differentiators.
Final Thoughts
Competitive analysis is an important aspect of any business strategy. You can find growth possibilities and decide how to position your own business by being aware of your competitors' advantages and disadvantages. Plus, you can gain insight into industry trends, identify areas for differentiation, and improve your own marketing strategies. So, whether you're just starting out or looking to revamp your existing business plan, it's worth taking the time to conduct a competitive analysis.
Prosperna, Your Partner to eCommerce Success
Prosperna is an all-in-one eCommerce platform for Philippine businesses. We are on a mission to empower 100,000 Philippine MSMEs with simple and affordable eCommerce solutions.
In fact, we are super passionate about helping Philippine MSMEs we're giving you a free account forever!
Have you completed your competitive analysis? Create your free-forever Prosperna account now.