SMS text blasting is a great way to generate leads for your small business in the Philippines. We are so used to receiving texts from everyone that a text from a business shows that it is trusted. Even people living in the provinces and small barrios know how sending a simple message via text makes a whole lot of difference when it comes to communication.
SMS is more than just a way to send a text message to friends; it also allows us to receive updates and alerts, keep track of our finances, send an email, and get a potential client's attention.
In this blog, we'll look at 5 different ways you can use SMS text blasting to generate leads for your small business in the Philippines.
What Is SMS Text Blast?
SMS text blasting is a marketing strategy that involves sending mass text messages to the public in order to promote your business and get leads. 
Text blasts are a simple and effective way for a person or organization to quickly communicate a message to a large number of cell phone users.
It is a cost-effective way to promote any product or service. For example, if you have an event that you want your customers to attend, an SMS text blast will help you reach your target audience.
Why Do Most Businesses Still Rely on SMS Texting to Communicate?
Text Messaging Is Quick
It takes an average person a few seconds to respond to a text message, as compared to responding to an email, which would take an average person approximately 30 minutes to an hour.
Texting gets a better and quicker response than any other form of communication. It is actually an effective marketing tactic because people pay attention to instant text messages.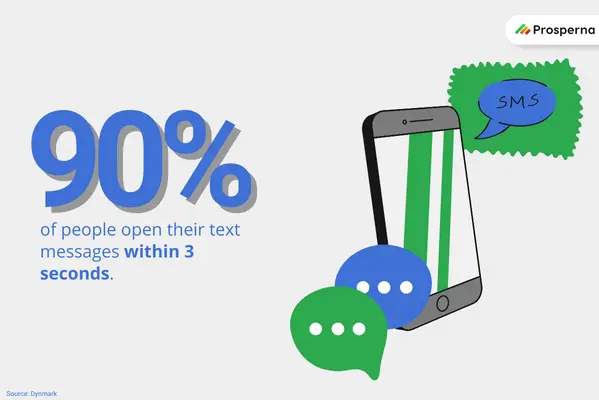 Text Messaging Is Very Accessible
Text messaging is very accessible to the average person. It is free, and mobile phones have become a staple device; a lot of people carry their phones with them at all times, making it a convenient way to communicate.
You might even know somebody who has slept with their mobile phones beside them, always ready to check the phone when there are notifications or alerts.
On top of this, you can send text messages to a large number of people at once using an automated SMS text-blasting system.
5 Ways to Generate Leads Through SMS Text Blast
With real SMS text blasting, you can save time by simply selecting leads in your pipeline and sending them a specific message at a scheduled time directly to their cell phone.
And it's as easy as 1-2-3! Here's how:
1. Integrate CRM With SMS Text Blasting
SMS text blasting is a great way to generate leads, and if coupled with the best CRM, which will help in sending personalized text blasts, your business will surely grow.
When you integrate the best CRM with text blasting, you get full control over SMS templates. You can create your own or edit pre-designed SMS templates and then use them to send text blasts.
With a CRM, you can monitor and track all your sent items and keep your clients updated in one place. Sending personalized text blasts will aid in building good relationships and connecting with your customers on a deeper level.
2. Opt-in Text Messaging
This is basically a "permission-based" activity and works similarly with Facebook recurring Notifications. 
Potential clients have to give their permission for you to send them SMS text messages for marketing.
The clients who subscribe to this service are willing and generally interested in receiving your business marketing messages.
For opt-in text messaging, you must include clear instructions on how clients can opt-out of your SMS text blast service and unsubscribe at any time. You should let your clients know the different codes or keywords to use when subscribing to this service.
Inform your clients of the maximum number of messages that they will receive from your small business.
Just make sure the client understands fully how opt-in text messaging works.
3. K.I.S.S. (Keep It Short and Simple)
The next step after putting out your SMS campaign is to create a text blast to send out to your customers.
Keep this in mind: Make it easy and simple.
The simplicity of text messaging is one of the reasons why customers prefer this form of communication.
4. Offer a Clear Call-To-Action
Business text messages should be on point and fast, so if customers ask for help, you'd better offer a solution with an action that customers can take.
SMS text blasting restricts you to using only a limited number of characters, so you obviously have to be clear and exact with your solutions.
You need to be clear on what action you're suggesting to the recipient and be able to respond to leads immediately; otherwise, they might take their business elsewhere.
Time is of the essence, so act on things as fast as possible to get good results and to make sure you don't lose your prospects/possible leads.
Follow-up is also key to maintaining good customer relationships.
5. SMS as a Support to Other Channels
How does SMS supporting other channels help in generating leads?
Well, SMS text blasting can work to highlight and complement your email and phone call campaigns. When customers receive an SMS message after receiving an email and/or a phone call, it's more likely that the email will be opened right away.
You can use SMS text blasting as a means to notify customers about your emails, your website, and other social media platforms.
What's important is that customers know where to find you when they need you, using SMS as a support channel for other channels.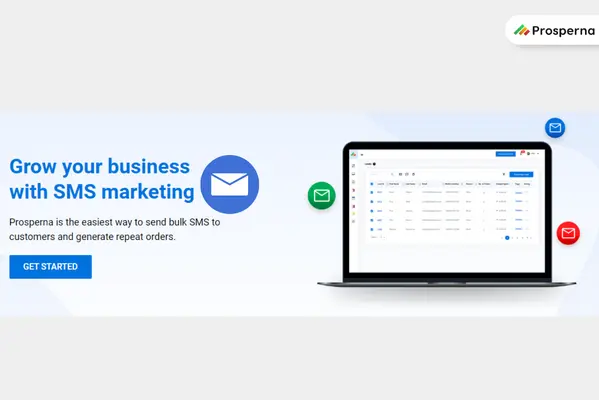 Revolutionize Your Marketing Strategy with Prosperna's Bulk SMS Feature
Are you looking to sell smarter, faster, and build better relationships with your customers? With the Prosperna eCommerce platform, you can achieve all that and more with just three clicks!
Our platform allows you to send personalized SMS text blasts to your customers, helping you increase sales and grow your online business in the Philippines.
With our built-in marketing tools, you can easily send bulk SMS to your target audience, all while maintaining a personal touch that resonates with your customers.
Conclusion
So you've got your leads, but how do you turn them into customers? If they're not ready to buy at the moment, you need to take the time to build relationships with them, and one of the best ways to do that is by sending them personalized text messages about your product or service.
SMS text blasting has become a popular and effective marketing strategy in the Philippines. With its high open and response rates, businesses of all sizes can reach a wider audience and increase their brand awareness. And with the right approach, it can be a valuable tool for businesses looking to maximize their reach and grow their customer base in the Philippines.
Prosperna, Your Partner to eCommerce Success
Prosperna is an all-in-one eCommerce platform for Philippine businesses and digital creators. We are on a mission to empower 1 million Filipinos with simple and affordable eCommerce solutions.
In fact, we are super passionate about helping Philippine businesses and digital creators we're giving you a free account forever! 
Want to start selling online? Create your free-forever Prosperna account now.