Starting a subscription-based business is a great way to create a steady stream of revenue and improve customer retention. And today, there is almost a subscription for anything—food, books, TV shows, music, etc.
The Harris Poll reveals that 78% of adults subscribe to services, and 75% of them think that in the near future, people will subscribe to more services and possess fewer physical goods.
This means that the subscription business model isn't going anywhere.
In this article, I'll walk you through the steps of starting a subscription-based business, from identifying a market opportunity to launching and scaling your service.
What is a Subscription-Based Business?
A subscription-based business is a business model where customers pay a recurring fee to access a product or service.
This fee is typically paid on a regular basis, such as monthly or annually.
Subscriptions are not an entirely new idea.
The subscription business model has penetrated our daily lives, from coffee subscriptions to your local library to today's "Kindle Unlimited."
Subscription-based businesses are often associated with software, streaming services, magazines, and newspapers, but they can be applied to a wide range of products and services.
Some popular examples of subscription-based businesses include Netflix, Amazon Prime, and Spotify.
Advantages of a Subscription-Based Business
Recurring Revenue
Subscription-based businesses generate recurring revenue, which means that customers pay on a regular basis, e.g., monthly or annually. This creates a steady stream of income, which can help stabilize a business's cash flow.
Customer Retention
Compared to businesses that only accept one-time purchases, subscription-based businesses frequently have a higher customer retention rate, as customers are more likely to stay subscribed to the business for a longer period of time, thus also increasing customer lifetime value.
Data Collection
A subscription-based business can collect a lot of data from its customer base. You can use this data to improve your product or services and make informed business decisions.
Cost-effective Marketing
Because it is less expensive to keep an existing customer than to get a new one, a subscription-based business may be more cost-effective.
8 Easy Steps to Start a Subscription-Based Business
1. Establish A Goal
When you are designing subscription and pricing models, the right goal will direct your process.
For example, you might aim to acquire a certain number of subscribers within a specific time frame or increase revenue by a certain percentage.
Remember that goals should be flexible, and it's okay to make changes as you learn more about your business and the market.
The key is to have a clear direction and to regularly evaluate your progress toward achieving your goals.
2. Identify Your Target Audience
Knowing who your customers are, their needs and their wants, is an important step in starting your subscription-based business.
You have to understand what kind of product or service they are looking for, how they prefer to consume it, and what they are willing to pay.
This will help you decide on your niche market.
To identify your target audience, you can:
Conduct market research
Gather customer feedback
Analyze your competition.
Once you have a clear understanding of your target audience, you can begin to develop a product or service that meets their needs and create a marketing strategy that will appeal to them.
This will ensure that your business is well-positioned to capture a loyal customer base and generate recurring revenue.
3. Develop Your Subscription Model
There are several different types of subscription models that your business can choose from.
Subscription Boxes Model
A subscription box business model is a type of package subscription in which customers pay a recurring fee (monthly, every 3 months, etc.) to receive a box of curated products or items on a regular basis.
The box can contain a variety of items, such as clothing, beauty products, snacks, or specialty items.
Streaming Service Subscription Model
Streaming services typically offer different subscription plans with different levels of access and features, such as ad-free content or offline viewing.
Customers can watch or listen to the content on various devices like smartphones, smart TVs, tablets, laptops, and gaming consoles.
Some of the most popular companies that use a streaming service subscription model are Netflix, Hulu, Amazon Prime Video, Disney+, and Spotify.
SAAS Subscription Model
SAAS (Software as a Service) subscription model allows customers to access the software on a pay-as-you-go basis rather than having to invest in expensive licenses upfront.
This allows businesses to offer the software on a monthly or annual subscription basis, which provides a predictable revenue stream.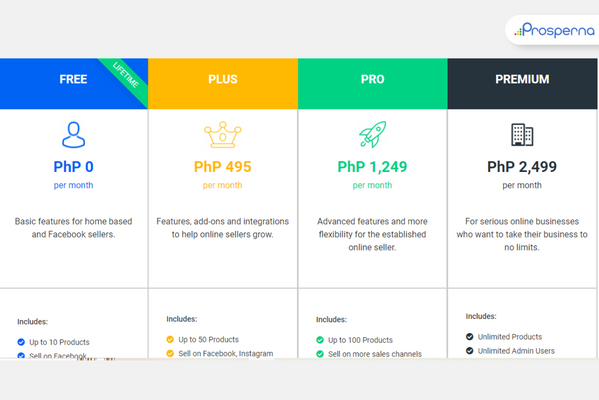 Prosperna's All-In-One eCommerce platform is offered on a subscription basis. Our platform is hosted on remote servers and accessed through a web browser or mobile app.
4. Build Your Website
Decide on a platform to build your website on.
There are a lot of good website builders in the Philippines, but each platform has its own features, capabilities, and ease of use, so choose the one that best suits your business needs.
Make sure that it's easy for potential customers to find and subscribe to your service on your website. Optimize your website for conversions by making it easy to navigate and load quickly.
Use clear calls-to-action, like Prosperna does below, and make the subscription process as simple as possible.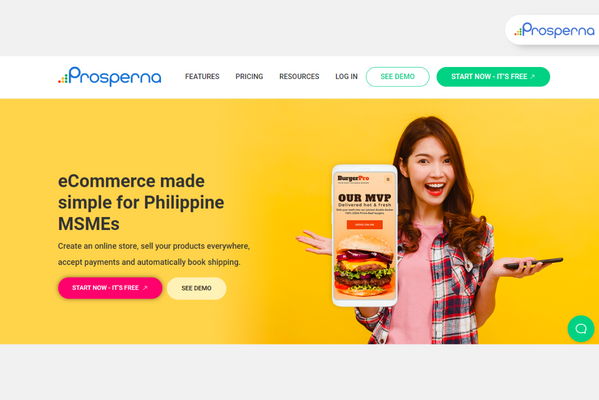 Potential customers should be able to determine which package to select once they reach the pricing page based on the description and costs associated with each subscription level.
There should be a live chat or email option available to contact your staff if there is any confusion.
Also, make sure that your website is mobile-responsive, as a significant percentage of internet users access it from their mobile devices.
5. Set Up Your Payment System
The pricing model you choose will depend on the nature of your product or service and your target audience.
Here are some of the most common types of pricing models:
Monthly pricing – customers are charged a recurring fee on a monthly basis. This model is popular with businesses that offer services that customers use on a regular basis, such as streaming services or software.
Annual pricing – a yearly recurring fee is imposed on customers, e.g., magazine subscriptions or membership-based clubs.
Per-user pricing – customers are charged according to the number of people using the service. This is popular with teams or organizations, such as project management software or enterprise-level services.
Usage-based pricing – customers are charged based on the consumption of the service, e.g., cloud storage, and data processing.
As a first-time entrepreneur, you need to test different pricing models and monitor customer behavior and revenue to find the most suitable one.
6. Set Up Your Payment System
Choose the best payment type that allows you to accept payments online. Popular options include GCash, Maya, and PayPal. Make sure that the payment gateway you choose supports recurring payments.
Then integrate it with your website. This will allow customers to sign up for your service and pay for it directly from your website.
At Prosperna, payments are already integrated into the platform, so you won't have to manually connect each payment gateway. You can choose from multiple payment options such as credit/debit cards, bank transfers, eWallets, etc.
With the right payment gateway and a well-designed checkout process, you can make it easy for your customers to sign up for your service and pay for it, which will help you generate recurring revenue and grow your business.
7. Leverage Social Media
Use social media to build a community of loyal customers and potential customers. Share content, updates, and information about your business, and encourage customers to share their feedback and experiences.
You can also share behind-the-scenes footage of your business or create engaging posts, such as images and videos. Respond to their questions, comments, and concerns. This will help to build trust and loyalty with your customer base.
By leveraging social media, you can increase brand awareness, generate leads, and drive sales for your subscription-based business.
8. Utilize Email Marketing
Email marketing can be a powerful tool for promoting and growing your subscription-based business. Use opt-in forms on your website and social media to build an email list of potential and existing customers.
This will allow you to send targeted and relevant marketing messages to your audience.
To save time and improve efficiency, use marketing automation to create email campaigns and send trigger-based or personalized emails.
Prosperna's All-In-One eCommerce software comes with built-in marketing tools so you can easily promote and share your business across all platforms.
This is an effective way to communicate with your audience and keep them engaged and informed about your service or product.
FAQs
Is a subscription business profitable?
Subscription-based businesses can be extremely profitable if done properly. PowerSync estimates that up to 18% of the $41 trillion global credit card processing market comes from the subscription economy.
What are examples of subscription-based businesses?
Customers pay a price on a recurring basis to access your product or service under a subscription business model. Two excellent examples of subscription-based businesses are Netflix and Spotify.
Final Thoughts
A subscription-based business can be a wonderful way to attract repeat customers and earn consistent revenue. However, it's a continuous process, so you need to continuously review and improve your business model, pricing, and customer service to reduce customer churn and increase customer satisfaction.
Further reading:
Prosperna, Your Partner to eCommerce Success
Prosperna is an all-in-one eCommerce platform for Philippine businesses. We are on a mission to empower 100,000 Philippine MSMEs with simple and affordable eCommerce solutions.
In fact, we are super passionate about helping Philippine MSMEs we're giving you a free account forever!
Want to start a subscription-based business? Create your free-forever Prosperna account now.