The online fashion industry has skyrocketed, and if you're a business owner with an eye for fashion, here's how you can start your very own online clothing store.
Key Takeaways
Having your own eCommerce website adds credibility to your online clothing store.
It is easier to stand out in the congested fashion eCommerce market if you establish a brand identity through a specific niche and target market.
Make the online shopping experience as seamless as possible for your customers by simplifying payment and delivery methods.
The Rise of the Clothing E-commerce Market
E-commerce sales are on an upward trend, given that the entire world was on lockdown for two years, so purchasing essentials in-store is a story from a long time ago.
This is especially true when it comes to the fashion and apparel industry.
Most customers would choose to buy their clothes from online stores due to the hassles of visiting a mall just to buy one item of clothing. With just one click, clients may purchase the ideal outfit without having to deal with crowds of other shoppers, road congestion, or unneeded stress or costs.
And with the power of easy-to-use eCommerce software, like Prosperna, starting an online clothing store is simpler and easier than ever before. Even without coding experience, sellers may set up their very own online shop and begin selling in 30 seconds.
5 Steps to Start an Online Clothing Store
The competition is fierce because of a lot of online clothing stores rising here and there, but if you follow the simple methods below, you'll be well on your way to selling in a matter of hours and succeeding in your business.
1. Create a Digital Brand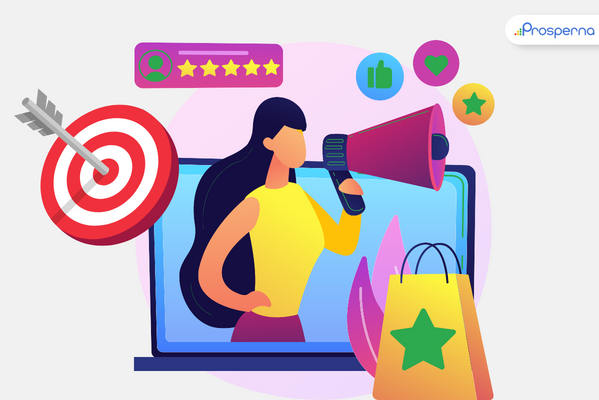 A central part of every business is branding. But it's more than just your logo and product appearance.
As a clothing store, you need these primary elements:
Company Values – these are your advocacies or business motivations and are commonly found in mission and vision statements
Product Niche – finding a niche is important to help you stand out from other clothing shops. It could be a vintage clothing store like The Good Bulk PH or a swimwear line for kids like Little Paddler.
Target Customers – demographics of customers to appeal to and align with your branding. For example, Baby Grey Kids Collection's target customers are parents with children around 0-12 years old.
When you first open your physical business in a boutique or mall, you may be familiar with branding, but typically, customers tend to focus on the outside appearance.
Businesses making the shift to eCommerce need to establish an online brand identity with substance and value from the inside out.
2. Get Your eCommerce Channel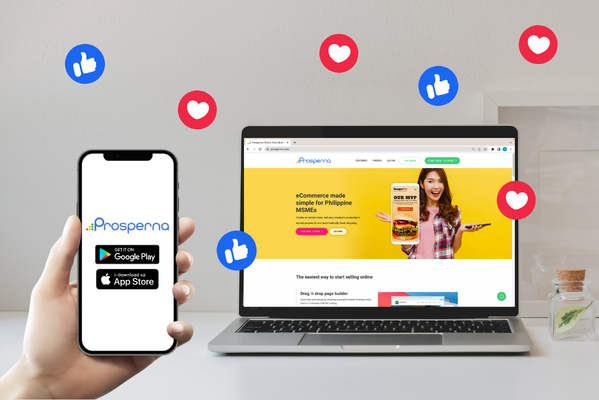 There are several ways to start an online store, but nothing compares to having a platform or website created specifically for you and your brand.
You may be wondering whether you'll be a good fit since a lot of technical work goes behind website development and there are too many choices in the market.
Not all platforms are created equal, and if you're a Philippine MSME focused on growing your clothing business, you're better off working with local experts who understand your local business needs and will do the hard work for you.
This is how Prosperna's All-In-One eCommerce software can help you get into the eCommerce scene as soon as possible. We can help you create an online clothing store, accept local online and offline payments, and book with local delivery service providers.
And for just P495/month, you can get your own free domain with the Prosperna Plus Plan. Having your own domain name for your online clothing store is like having a storefront window. It aids in spreading awareness and attracting clients.
And even if you're not skilled at creating websites, Prosperna can help you with everything you need, from creating to selling to marketing online.
3. Showcase Your Clothes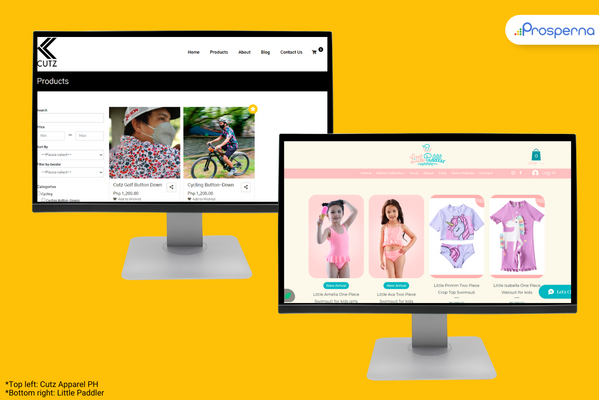 Fewer people are coming to malls and stores to shop for clothing, so your eCommerce website is the new "display window" for clients to browse things from.
Having a product page allows you to create a catalog so you can list your products individually.
You can list an entire collection of clothes that can be sorted into several categories for easy search in a few clicks.
An online store is easier compared to hanging clothes in-store and having to keep items "in the back" since your space is limited for display.
4. Accept and Fulfill Orders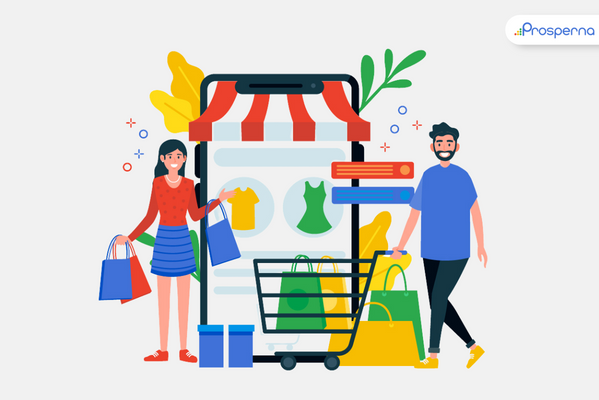 As part of digitizing your clothing business, the next step is to make the shopping experience as seamless as possible.
Most websites allow users to browse and read content—which is a typical procedure. But buyers must be able to make purchases, particularly from an online clothing store.
That's why you need a cart system that makes it simple to add things to the cart, view pricing, and use coupons at checkout.
Imagine what it's like to shop in-store except everything can be done in a few clicks without having to go anywhere physically.
That means customers should be free to choose their preferred payment method—be it credit or debit cards, bank transfers, eWallets, or COD.
And most of all, you have to make sure the clothing items make it to the customer's doorsteps, so you need an eCommerce platform that comes with a reliable logistics provider or hire an in-house rider to help you simplify deliveries.
5. Go and Launch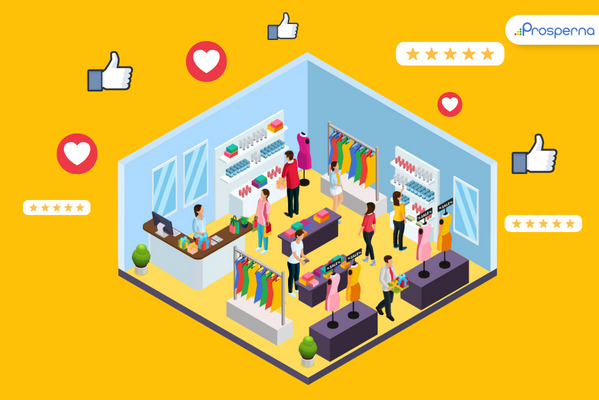 The final step is to advertise your online clothing store.
Your brand will benefit from marketing promos and initiatives. Therefore, you must have a solid online presence.
Whether you're promoting on holidays or just daily posts to let people know about your online clothing store, it helps with advertising and brand recognition.
You should actively engage in providing customer support and establishing relationships with your target customers, wherever they are—be it on social media, email, or marketplace channels.
Having online business profiles allows you to retain loyal customers and maintain them as supporters of your clothing brand.
Final Thoughts
Starting an online clothing store takes more than just finding who your target market is; breaking into a saturated niche; creating a brand identity to help you stand out from your closest rivals; and setting up an eCommerce website. Being able to capture buying intent and doing a lot of hard work, along with these steps, are the keys to every eCommerce business's success.
Sell trendy apparel, vintage clothing, and many other items in your Prosperna store. A dedicated customer support team, useful information, and user-friendly tools will be there for you at every step of your online business journey.
Prosperna, Your Partner to eCommerce Success
Prosperna is an all-in-one eCommerce platform for Philippine businesses. We are on a mission to empower 100,000 Philippine MSMEs with simple and affordable eCommerce software.
In fact, we are super passionate about helping Philippine MSMEs we're giving you a free account forever!
Want to start your own online clothing store? Create your free-forever Prosperna account now.