Content creation has become a crucial part of every business's digital marketing strategy. With the rise of social media platforms, businesses are now expected to produce high-quality, engaging content on a regular basis to keep their audience interested and engaged.
However, with the overwhelming amount of content available online, it can be challenging to stand out from the crowd. This is where curated content comes in.
In this blog post, we'll explore why curated content is the future of content creation in the Philippines and how your business can benefit from this approach to content creation.
What Is Curated Content?
Curated content is a content creation strategy that involves sourcing and sharing relevant, high-quality content from other sources.
Instead of creating original content from scratch, you curate content by selecting and organizing existing content from various sources, such as blogs, articles, social media posts, and videos.
The curated content is then presented in a way that provides value to the target audience, whether that's through summarizing, categorizing, or adding commentary to the content.
Curated content allows businesses to offer their audience a diverse range of perspectives on a particular topic or industry while also saving time and resources that would have been spent on creating original content.
Benefits of Curated Content
Provides diverse perspectives: Curated content allows you to offer your audience a range of viewpoints and ideas on a particular topic or industry, which can help establish your brand as a thought leader or expert in the field.
Saves time and resources: By leveraging existing content, you can save time and resources that would have been spent on creating original content from scratch.
Increases engagement: Curated content is often highly targeted and relevant to the audience's interests, which can lead to increased engagement and shares on social media.
Builds relationships with industry influencers: When you curate content from other sources, you can build relationships with industry influencers and other thought leaders in the field.
Improves SEO: By including links to high-quality, relevant content, curated content can help improve a website's search engine optimization (SEO) and drive traffic to your online store.
Strategies for Creating Curated Content in the Philippines
Content curation is quickly becoming a strategy to stand out from the crowd. Here are some strategies you can use to create curated content.
1. Identify Your Audience
Identifying your audience is a crucial step in creating effective curated content.
One way to do this is by conducting market research to gain insights into their demographics, interests, and behaviors. Surveys, focus groups, and social media analytics can be used to gather this information.
Analyzing your existing audience can also help you understand who they are and what they are looking for.
Creating buyer personas is another effective way to develop a representation of your ideal customer, helping you create more targeted, curated content that resonates with your audience's needs and interests.
Monitoring social media conversations and hashtags related to your industry can help you understand what your audience is talking about and what content they share.
Additionally, website analytics can provide insights into who is visiting your site, what content they are engaging with, and where they are coming from. 
2. Research Relevant Content
Researching relevant content can help you find high-quality content that is informative, engaging, and relevant to your audience's interests.
Here are some tips to help you look for relevant content:
Identify the top thought leaders in your industry and follow them on social media, subscribe to their newsletters, and read their blogs to stay up-to-date with your industry's latest trends and insights.
There are several content curation tools available that can help you find relevant content from a variety of sources. One perfect example is DrumUp, a social media marketing, content marketing, and news-tracking app that helps your curate top content from your industry and generate more leads from your social media channels. They can help you save time and effort by providing you with a curated list of content based on your keywords and topics of interest.
Curated content can include a range of content types, including articles, videos, podcasts, infographics, and more. Don't limit yourself to just one type of content.
3. Choose Platforms Wisely
Choosing the right platform for your curated content is crucial to its success. 
Here are some factors to consider when choosing a platform for your curated content:
Where your audience spends their time online: Are they active on social media? Do they prefer to read blogs or watch videos?
Consider the type of content you plan to curate: Different platforms are better suited for different types of content, such as articles, videos, podcasts, or images.
Choose a platform that offers a good user experience for your audience, provides analytics and insights, and integrates with your existing marketing tools.
DrumUp allows you to track engagement, identify trends, and adjust your curated content strategy as needed. They also make it easier to share your curated content across different channels and reach a wider audience.
The Role of Curated Content in the Philippines
1. Curated Content Helps with Branding
Curated content helps you maintain a consistent brand voice and messaging across different platforms and channels.
This way, you can build trust and credibility with your audience and position your brand as a go-to resource for industry-related information.
You can provide them with a unique perspective and set your brand apart from competitors.
By curating content, you can also build a stronger connection with your audience and encourage them to engage with your brand, attract new customers or followers, and expand your reach.
2. Strengthening Customer Relationships
By curating content tailored to your audience's interests and needs, you can create a personalized experience that resonates with your customers.
This can help build stronger connections with your customers and make them feel valued and understood.
Curated content also builds customer loyalty with consistent and valuable content that keeps them engaged and connected to your brand.
Also, curated content encourages discussion and feedback, which strengthens customer relationship and foster a sense of community around your brand.
By curating content that meets your customers' needs and interests, you can build stronger relationships with them and encourage them to become loyal advocates for your brand.
3. Enhancing Visibility
Curated content can be a valuable tool for enhancing the visibility of your business.
Why?
It can be shared on social media platforms and reach a wider audience.
It can help improve your website's search engine optimization (SEO) by providing valuable backlinks to authoritative sources.
You can easily establish partnerships and collaborations.
Curated content can be used in newsletters and email marketing campaigns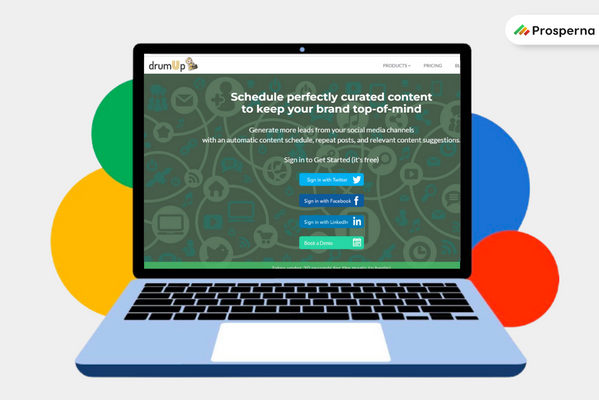 Schedule Perfectly Curated Content for Brand Awareness
Using DrumUp helps online businesses discover interesting content and trends and work with them to "drum up" their social media and online presence.
One of the key features of DrumUp is its ability to schedule and curate content automatically. You can plan and post content in advance, ensuring a steady stream of updates to keep your audience engaged.
By using DrumUp to manage content, you can save time, increase efficiency, and generate more leads. And with the option to sign up for a free account, there's no reason not to try it out and see the benefits for yourself.
Curated Content FAQs
What is curated content in social media?
Content curation in social media is based on the premise that you don't actually have to write or produce all of the content that you publish.
Why do we curate content?
The curation of content helps you extract the best available content and become a trusted source of valuable information.
Final Thoughts
Curated content is the future of content creation in the Philippines. With the overwhelming amount of information available online, curating content that is relevant, informative, and engaging can help businesses stand out from the crowd and build stronger relationships with their audiences.
As more and more businesses in the Philippines begin to recognize the value of curated content, those who fail to adapt risk being left behind. By embracing curated content as a key part of your content strategy, you can stay ahead of the curve and thrive in the years to come.
Prosperna, Your Partner to eCommerce Success
Prosperna is an all-in-one eCommerce platform for Philippine businesses and digital creators. We are on a mission to empower 1 million Filipinos with simple and affordable eCommerce solutions.
In fact, we are super passionate about helping Philippine businesses and digital creators we're giving you a free account forever!
Want to start selling online? Create your free-forever Prosperna account now.