Cart abandonment is one of the main problems experienced by online retailers. Nearly 70% of online customers abandon their carts before completing the transaction.
There are times when customers have no intention of abandoning their carts—they occasionally use their cart as more of a "wish list" because they aren't quite ready to make a purchase yet.
But in some cases, customers do intend to abandon their cart whenever they encounter some friction along the way. Learn what cart abandonment is, its causes, and how you can avoid it in this article.
What Is Digital Cart Abandonment?
Digital cart abandonment is the term used to describe when a prospective client visits an online store, begins the purchasing process, and adds items to their shopping cart but does not complete the transaction.
Customers that aren't prepared to purchase might also abandon, instead, they surf around and compare rates, utilizing their basket as more of a "wish list."
What Causes Online Shopping Cart Abandonment?
Customers abandon their carts for a variety of reasons. One common reason is that shoppers are simply browsing and not ready to buy. They add items to their cart as they would add items to a wish list.
Another reason is that the website is slow or difficult to navigate, which makes shoppers give up before they complete their purchase.
Additionally, high shipping costs can deter shoppers from completing a purchase, especially if they weren't aware of the shipping costs until they reached the checkout page.
Finally, many people abandon their carts because they are worried about security and privacy issues. With so much information being stolen online these days, it's no wonder that shoppers are hesitant to make purchases on websites that may not be secure.
How Can I Calculate Cart Abandonment Rates?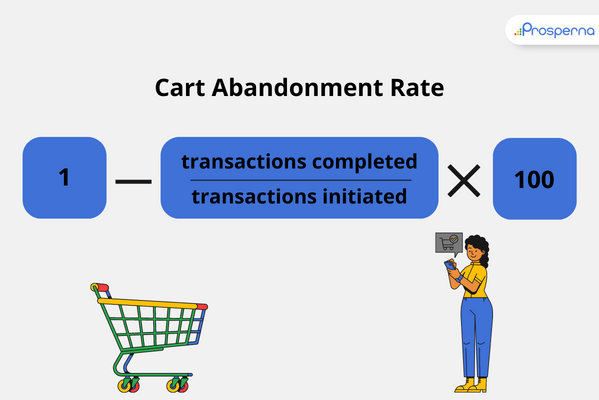 For instance, you can take into account all of the transactions from the previous month or quarter and divide them by the number of initiated transactions, or the goods that customers added to their shopping carts but did not purchase. This will reveal your shopping cart abandonment rate over a given time frame.
As an online seller, you should pay close attention to the shopping cart abandonment rate since it is a crucial component of the entire online shopping process.
How to Reduce Shopping Cart Abandonment?
While there are a number of reasons why cart abandonment occurs, there are also ways to prevent it.
1. Make Use of Trust Badges and Social Proof
Add social proof components to your marketing materials to foster trust, whether they are on your ads, emails, or exit pop-ups to entice cart abandoners.
You may send the buyer an email showcasing reviews and endorsements for an item they have in their shopping cart.
Or as the customer proceeds to check out, a straightforward callout or sidebar with one or two customer recommendations might keep the motivation level high.
2. Offer Free Shipping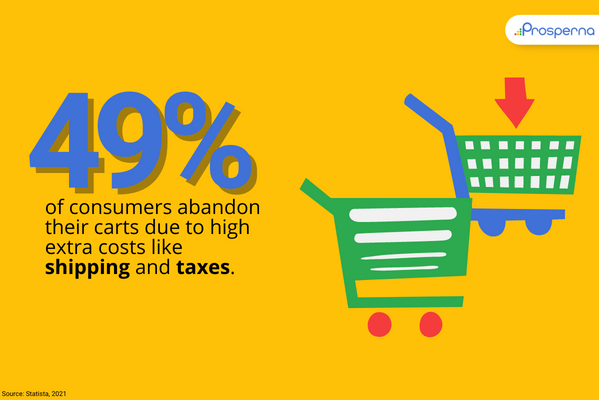 Chances are, your rivals are winning because they offer free delivery while you don't. One of the most efficient ways to reduce shopping cart abandonment is to offer free shipping. It lowers the cost of the transaction, which makes customers less inclined to think twice about their decision to buy, especially when making impulse purchases.
3. Make It Easy to Save Your Cart
Some customers use their shopping carts as wishlists and only return when they're ready to make a purchase. Make it easy for them to return to their active carts at a time that's convenient for them by adding a "save for later" button. This reduces your shopping cart abandonment rate, therefore increasing conversion rates.
4. Personalize Your Messages
The more you can personalize your customer messaging, the more likely it is that you can reduce your shopping cart abandonment rates. This could mean using the customer's name in emails or sending them personalized discount codes. It's essential that, as a business owner, you find ways to make your customers feel valued and appreciated.
5. Give Incentives Based on Cart Total
One of the most common reasons why shoppers abandon their cart is that they don't feel like they're getting a good deal. This is where giving incentives based on cart total can help.
By offering a discount or free shipping on orders over a certain amount, e.g. "free shipping on orders over Php1000" or "50% off minimum spend of Php5000", you can encourage shoppers to complete their purchase.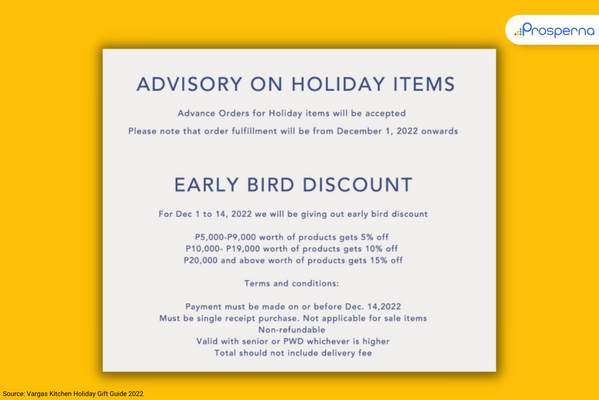 Vargas Kitchen offers early bird discounts on orders of P5,000 or more as part of their holiday promotions.
6. Enable Guest Checkout
The majority of customers, especially new ones, prefer not to bother with an account while making purchases online. That's why you should enable guest checkout on your website, just like Lola Nena's did.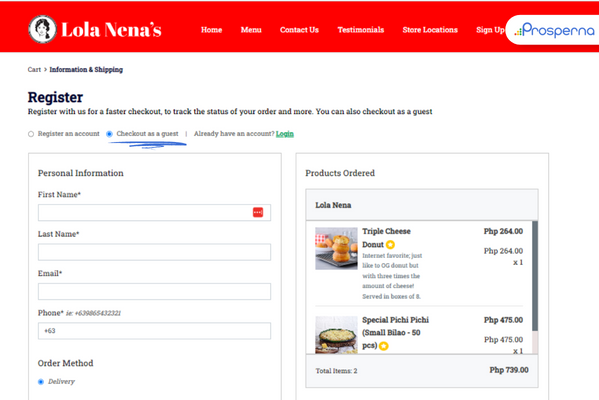 You'll sell more products if you make it simpler (without requiring an account) for customers to purchase from your online store, eventually reducing shopping cart abandonment.
Additionally, if you provide a seamless online shopping experience, you can discover that past customers are more likely to create accounts to take advantage of loyalty programs and other benefits in addition to making future purchases from you.
7. Simplify the Checkout Process
We all know that online shoppers have a limited attention span, and if your checkout procedure is even slightly complicated, they will abandon their cart right then and there.
It should only take three to five steps to check out. Offer a user-friendly interface, a quick and secure checkout procedure, and a selection of payment and delivery methods.
8. Offer Multiple Payment Solutions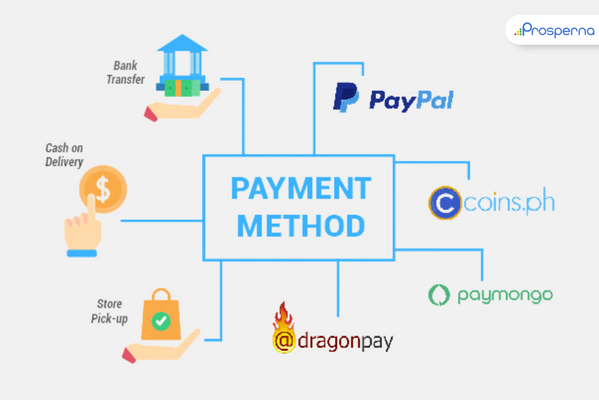 A part of creating a seamless online shopping experience is offering multiple payment solutions that provide more convenience or security. It takes away yet another possible justification for a customer to abandon their shopping cart and do business somewhere else.
For starters, aside from a credit/debit card, add bank transfers or eWallets like GCash or Maya, or any other digital payment providers available in your location.
Some customers would also prefer to be able to pay for their cart in several installments.
9. Create a Sense of Urgency
You can use urgency messaging to persuade shoppers who are on the verge of leaving by reminding them of how well-liked the product is or the deals they'll miss out on if they abandon their cart.
10. Use Progress Indicators
A progress indicator on your website shows how long it will be until the transaction is complete. This builds momentum and lowers the possibility of someone leaving because the checkout procedure took too long.
A progress indicator should include as few steps as possible.
11. Thumbnails to Show Items in the Shopping Cart
Most people need to know what they are purchasing. For this reason, it's crucial to include photos not only on your product menu but also on the checkout page.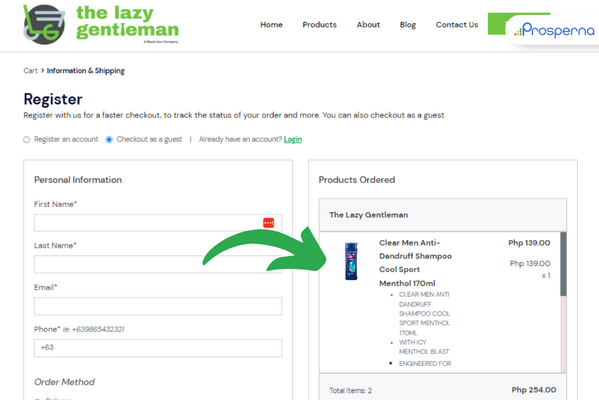 You're removing the chance of distraction, notably the hesitancy a customer could have if they couldn't quickly remember what they were buying, by including thumbnails—just like what The Lazy Gentleman did here—to show items in the shopping cart.
Cart Abandonment FAQs
What are the effects of cart abandonment?
The more abandoned carts you have, the more likely it is that customers won't be able to finish their orders on your website, which will have a negative effect on your revenue.
Is cart abandonment a problem for retailers?
Yes. The fact that when customers don't check out, they lose out on a sale is one of the main reasons why shopping cart abandonment is an issue for retailers. It makes no difference how big or small the order was.
Conclusions
There are various strategies to reduce the rate of shopping cart abandonment, but only if you understand why customers leave in the first place.
Examine your conversion funnels to distinguish between window shoppers and clients with purchase intent who leave your website because of website friction.
By taking these steps, you can reduce your online business's cart abandonment and improve your sales performance over time.
Prosperna, Your Partner to eCommerce Success
Prosperna is an all-in-one eCommerce platform for Philippine businesses. We are on a mission to empower 100,000 Philippine MSMEs with simple and affordable eCommerce software.
In fact, we are super passionate about helping Philippine MSMEs we're giving you a free account forever!
Want to reduce your shopping cart abandonment and grow your revenue? Create your free-forever Prosperna account now.