Fro Oliva, Head of Business Development at Prosperna, shared his expertise in growing businesses through eCommerce at the Small Business Network's 2-part webinar entitled How to Grow Your Online Business last August 20, 2022.
SBN Philippines is an online community and resource hub for Filipino business owners that aims to empower Filipino businesses and help them recover from the adverse effects of the pandemic.
The said webinar aims to provide knowledge and support to every online business owner on complex topics such as eCommerce, accounting, and taxation.
In his presentation, Oliva expounded on the definition of eCommerce backed by research and statistics. He also covered the rise of online platforms and marketplaces like Lazada and Shopee, as well as how to leverage Facebook and Instagram for social commerce.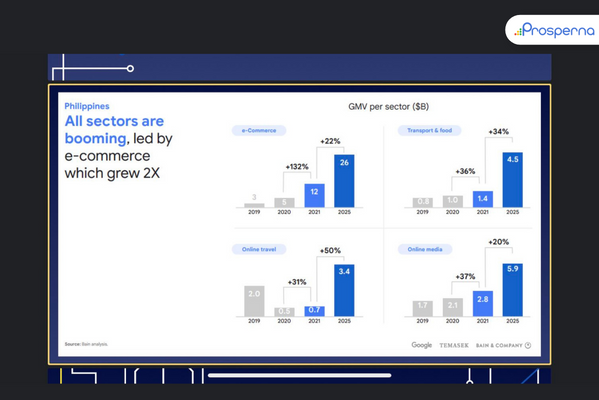 Furthermore, he emphasized the importance of understanding consumer shopping behavior as it has seen an intense amount of change over the past two years with the lockdown and a lot of people turning online to buy their essentials.
"We want to carry [on] the mission of empowering 500,000 MSMEs through digitization and through our online store builder because that's where the future is going," Oliva said as he introduced Prosperna's eCommerce software to the participants.
Oliva also shared the major difference between an online store and a marketplace. He stressed how crucial it is to set up your own online store in order to avoid the fierce rivalry present in marketplaces.
"To have a successful online store, it should take no more than five clicks for your customer to purchase," Oliva said.
He also shared some tips on starting an online business saying, "Sometimes you have to experiment, you have to try it out and it's okay if it doesn't work, as long as it's controlled, because how do [you] know kung gagana o hindi." [English translation: Sometimes you have to experiment, you have to try it out and it's okay if it doesn't work, as long as it's controlled, because how do [you] know if it's going to work or not.]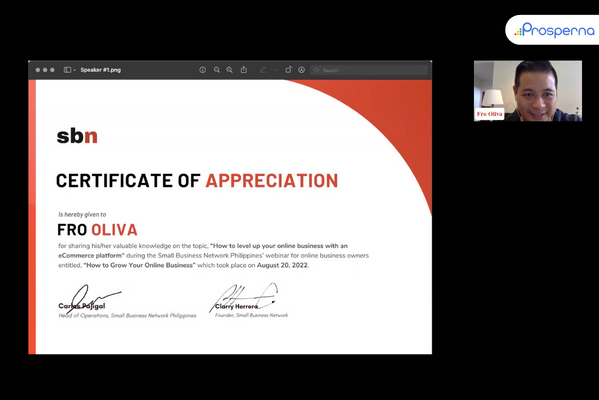 When asked how stable and secure the Prosperna platform is, Oliva answered with pride, "Security is one of our key things because a lot of transactions are passed through us. Last year, we had more than $5M worth of transactions. We partnered with other platforms that provide us with this level of security. Our biggest client is Cebuana Lhullier. If they can trust us, then I'm sure you can trust us, too."
Another speaker was Louie Tolentino, VP for Business Development at TFC Business Consultancy Service, who shared accounting and business taxation tips for online businesses.
The webinar was streamed via SBN's Facebook Group Page, whose members are Filipino business owners from all over the country who want to get business tips and lessons to help streamline their business process.
About Prosperna
Prosperna is an all-in-one eCommerce platform for Philippine businesses. We are on a mission to empower 100,000 Philippine MSMEs with simple and affordable eCommerce software.
Want to level up your business through eCommerce?
Create your free-forever Prosperna account now.