September 30, 2022 — Josec Rojas, Head of Sales at Prosperna, led the talk about Connecting Farmers to Consumers through eCommerce at the recently concluded NAPC Webinar Series with the theme "Bringing the Farmers Closer to Consumers".
The NAPC Webinar is a two-day event, from September 29-30, 2022, and is a part of the whole-of-nation approach of NAPC to achieve poverty reduction for all.
Over 200 farmer leaders and representatives from both the local and national government sectors of Mindanao, including Cooperatives of Farmers, Fishers, and Workers in the Informal Sectors, Provincial Technical Institute of TESDA, and Association of the Youth, Women, Farmers and Fishers Sector attended the said webinar.
Dennis Velasco, CEO and Founder of Prosperna, through a pre-recorded video, expressed his gratitude to the host team for inviting him and his team to share their expertise in the field of eCommerce.
He also shared Prosperna's mission to empower 100,000 Philippine MSMEs. "With the power of simple technology, we can positively change [the] socio-economic landscape of the entire Philippines in the next 10 years".
Rojas represented the company on behalf of Velasco and talked about how it's possible to connect farmers to consumers digitally through eCommerce.
He explained the huge potential and opportunity of having an online presence—with over 60 million Filipinos using smartphones today and 53.8 percent of them being online shoppers, it's clear to see the importance of going digital for the agricultural sector.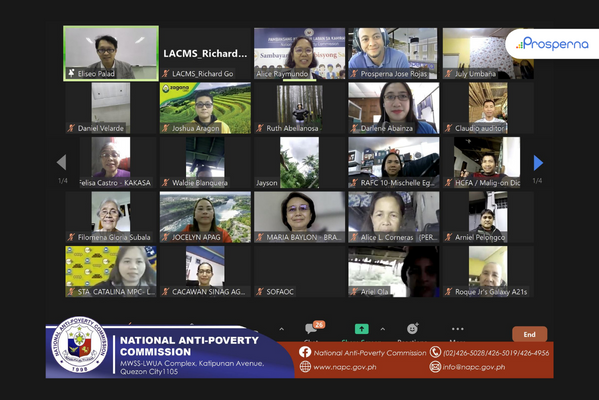 Rojas demonstrated how technology is changing the way people do business. That even for farmers and fishermen, there's an opportunity with digital platforms like Prosperna that allows them to create their own online store without any coding knowledge.
And those that already have Facebook or Instagram presence can further strengthen their online business by having a credible website.
One of the online businesses powered by Prosperna that was highlighted in his presentation was Lola Nena's, a local Filipino delicacy store famous for its triple-cheese donuts.
Prosperna was the one who made their official website and taught them how to market and sell their products, process and fulfill their orders as well as integrate different payment and delivery methods.
Rojas also expounded on the benefits of digital marketing for farmers and fishermen such as having a bigger audience, more targeted and focused marketing campaigns, being cost-efficient, and the ability to receive instant feedback from customers via ratings and reviews.
Other speakers from the NAPC Webinar Series who shared their knowledge in agricultural business and management are Dr. Roehlano Briones, Senior Research Fellow II PIDS; Dr. Connie Dacuycuy, Senior Research Fellow PIDS; Ms. Emmalyn Guinto, Division Chief of ACPC; Mr. Ferdinand Pio, Corporate Purchasing Manager of KLT Fruits, Inc.; Ms. Darlene Abainza, Asst. Division Chief, DA; and Mr. Joshua Aragon, Founder and CEO of Zagana.
Looking forward, Velasco and his team are excited to work with farmers, fishermen, and other leaders and representatives from the agricultural sector and build a better Philippines together.
About Prosperna
Prosperna is an all-in-one eCommerce platform for Philippine businesses. We are on a mission to empower 100,000 Philippine MSMEs with simple and affordable eCommerce software.
Want to connect to your customers digitally? Create your free-forever Prosperna account now.