October 24, 2022—Dennis Velasco, CEO and Founder of Prosperna, once again proved his absolute passion for business as he shared valuable entrepreneurial insights and exclusive testimonies at the JAMP Sit-In 2022 as its Keynote Speaker.
The JA MarketPlace (JAMP) PH serves as a platform for connectivity to encourage collaboration between students and budding cooperatives and small businesses.
Over 100 student entrepreneurs from all over the Philippines participated in the event, which was organized by JA Philippines as a part of its mission to expand its merchant network by encouraging students to join in educational sessions on the fundamentals of entrepreneurship.
Velasco started his presentation with a little background on his life and a glimpse of his Silicon Valley journey.
He then proceeded to explain the difference between a startup and a small business, as these two terms are used interchangeably by most people. And although they are different, they both require an entrepreneurial mindset.
In addition to having an entrepreneurial mindset, one must be open to change and innovation. "No company is too big to be displaced by [a] small startup or small business that starts at home or in the garage with the mindset of innovation and the commitment to pursue," he said.
Velasco is known to be an open book and frequently reveals the strategies behind his thriving entrepreneurial career. One of them is his three-point formula for a successful business: People + Process + Technology.
"If any business puts this formula and success methodology together, religiously, they will be wildly successful," Velasco said.
He emphasized how important small businesses are to the Philippines' socioeconomic development. 99% of all Philippine companies are small businesses, which account for 36% of the country's total GDP.
According to Velasco, startups also play a huge role in our country's socio-economic development because they are considered the "engine of change".
"Business isn't all about profit, it's [also] about making the world a better place."
Startups help (1) solve problems, (2) push society forward, (3) create new jobs, (4) stimulate the economy, and (5) attract foreign investment. Just last year, startups in the Philippines raised a total of $1.03 billion USD in funding.
"Tech companies pay—on average—30% more than any other job locally. It's [the] innovation that's putting our country's socio-economic level higher," Velasco said.
During the question-and-answer session, he was asked how to determine when to offer new products and responded cannily, "The best way to know is to talk to [as] many customers as you can. Even today, we've grown from just a handful of employees to 50 employees. One of the top four things that I still do every day is talk to customers. The customers will tell you everything."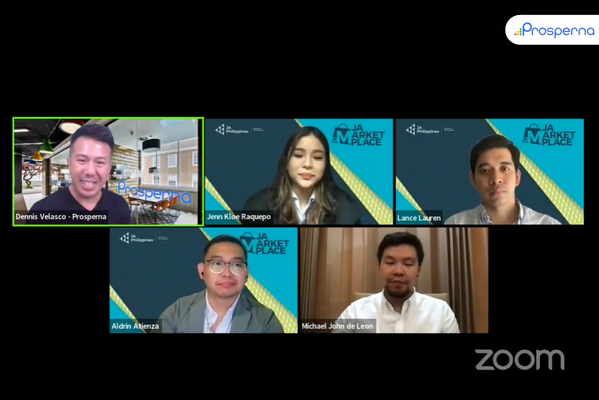 Another question thrown by the audience was how to balance work and study and business, and he simply answered, "It's about priorities. The question is, what are the three things that [you] should do today that will move the business forward in the next 30 days? If you understand those priorities, then it's a lot easier mentally to achieve them."
Other speakers who joined Velasco in giving tips and advice on entrepreneurship are Michael John De Leon, CEO of Iconic Blvd; Jenn Kloe Raqeupo, Freelance Graphic Designer and Marketing Specialist in E-commerce; and Aldrin Atienza, MBA, an Entrepreneur and Motivational Speaker.
"Being an entrepreneur is not easy, and so the best way to do it is to also create time for you to be strong mentally, physically, and emotionally. It's mind, body, and soul. The better you are [at] those three, the better you will perform at school and in your business," were Velasco's final words of wisdom for the student entrepreneurs.
About Prosperna
Prosperna is an all-in-one eCommerce platform for Philippine businesses. We are on a mission to empower 100,000 Philippine MSMEs with simple and affordable eCommerce software.
Want to start your entrepreneurial journey? Create your free-forever Prosperna account now.