If you're an eCommerce business owner, then you know that there are a number of different payment processing options available to you. One of the most popular payment gateways is PayPal.
Learning about PayPal online payment setup is relevant so you can offer convenience to your customers.
The checkout process is one of the most crucial parts of an eCommerce business. If it's made easy for customers, your business has more chances of closing sales, compared to those who don't.
During checkout, customer profiles and sensitive information like credit card numbers are disclosed and most customers want to feel safe and secure when giving out this information. With PayPal, you can rest assured that your transaction is safe and secure. PayPal uses cutting-edge encryption technology to protect your personal and financial information.
In this blog post, we'll show you how to set up a PayPal online payment for your eCommerce business. We'll also cover some of the benefits of using PayPal as your payment gateway.
So, if you're interested in learning more about PayPal, keep reading!
Using PayPal
It's no question that PayPal has become the popular choice for payment as financial technology (fintech) firms have offered the best solutions to make businesses more efficient and convenient. Here are both the perks and pitfalls of the PayPal Online Payment Setup: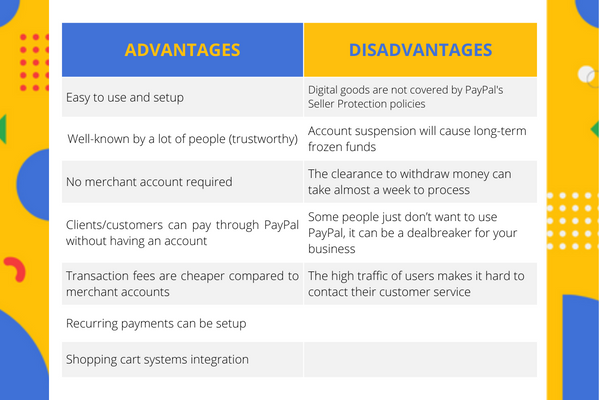 How to Set up a PayPal Business Account
Visit PayPal's website and click on the "Sign Up" button.
Click on the "Business Account" box on the account selection page, then click on "Next."
Create a login ID and password by entering your email address, as well as your first and last name.
Make sure to read the terms and conditions, user agreement, and privacy statement carefully. Then click Agree and Submit, if you agree and are all good with the terms.
Next, enter your business information: employer ID number or if you're a sole proprietor, enter your social security number.
Enter the business type, category, and subcategory, as well as an estimation of your monthly sales on the "Tell us about your business" tab, then click "Continue."
Then, enter your website address (if you have one) and click "Continue".
To complete the setup of your PayPal business account, click "Continue."
Click on the confirmation link on the email that PayPal will send to the registered email address to verify your information.
Finally, your account is ready to use.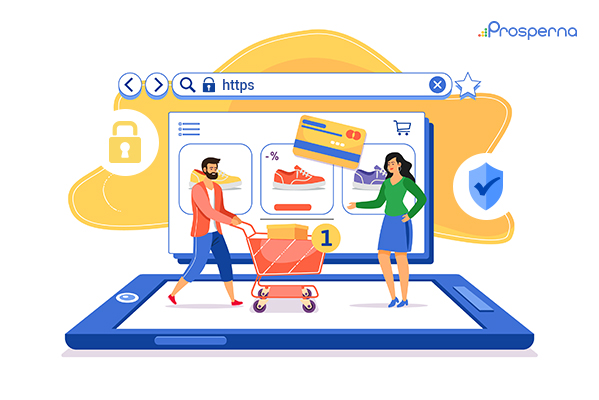 Website Integration
Once you start an eCommerce business, let's say an online food business, you have to integrate the PayPal online payment into your eCommerce business website.
Don't worry you don't need to be a computer programmer or developer to do this. PayPal has a guide, providing all of the necessary code or HTML. Just follow our steps below:
Log in to your Paypal Business Account.
On the horizontal navigation bar at the top of the page, click on "Merchant Services." Tap on "Build payment buttons for your website" on the Merchant Services tab. If you need a more specialized service than just payment buttons, use the phone number on the right side of the page to contact PayPal for assistance.
Follow the development page of the three steps on the press. The first step allows you to choose a form of click, such as "Pay Now" or "Donate" and then enter the specifics of the payment. Steps two and three have extra, optional features.
After entering the details, click the "Create Tab" button at the bottom of the page. PayPal will send you a string of HTML code to put wherever you want the button to appear on your web page. For more support, just above the HTML list, click on the "Integration tips."
Paste the HTML wherever you want the icon to appear on your website. Update your website with the resources of your web host or manually upload to your server the modified web pages.
Check the new buttons to make sure they are working properly. Normally you don't have to complete a complete transaction; just click the button and make sure it takes you to a payment page on the secure servers of PayPal itself. Search in the address bar of your browser for the "paypal.com" domain.
PayPal Business Account FAQs
Is a business account on Paypal free?
Yes. It's free to open a business account on PayPal. You only pay for transaction fees once customers pay you.
Is there a difference between PayPal and PayPal Business?
PayPal Business has all the options as Paypal (or personal account) but also offers more features for small to medium-sized business owners. For instance, PayPal Business allows you to send and receive invoices, as well as set up subscription services.
Conclusion
As the eCommerce industry continues to thrive in the Philippines, competition for different online businesses increases by the day. Using PayPal online payment is a great way to stay ahead of the competition. It is used by millions of people around the world for it is a great way to securely and easily accept payments from your customers.
Plus, setting up a PayPal business account is easy—even if you're not tech-savvy. If you're not already using it for your business, you could be missing out on a lot of sales. So why wait? Now is the time to set up PayPal online payments for your eCommerce business.
Prosperna, Your Partner to eCommerce Success
Prosperna is an all-in-one eCommerce platform for Philippine businesses. We are on a mission to empower 100,000 Philippine MSMEs with simple and affordable eCommerce solutions. Our platform enables you to launch your online store, accept COD and online payments, and automatically book shipping.
In fact, we are super passionate about helping Philippine MSMEs we're giving you a free account forever!
Want to start selling online? Create your free-forever Prosperna account now.