Every business is vulnerable to fraud, but it is especially prevalent among small businesses.
Small and medium-sized businesses (SMEs) often prioritize innovation, development, and survival over due diligence, internet controls, and risk management when resources are scarce, which makes them susceptible to fraud because many owners and managers are ignorant of the dangers their companies are exposed to.
To minimize this loss, fraud prevention and detection measures must be used. Here are five strategies you might use in order to prevent business fraud.
What Is a Business Fraud?
Business fraud is a broad term that can refer to crimes committed by employees or attacks against businesses.
According to the Global Fraud Study by the ACFE (Association of Certified Fraud Examiners), fraud costs the typical business an average of 5% of its annual revenue.
Business fraud usually involves someone stealing money from another person under the guise of business dealings.
It's important to be aware of the types of fraud in business today so you can avoid becoming a victim.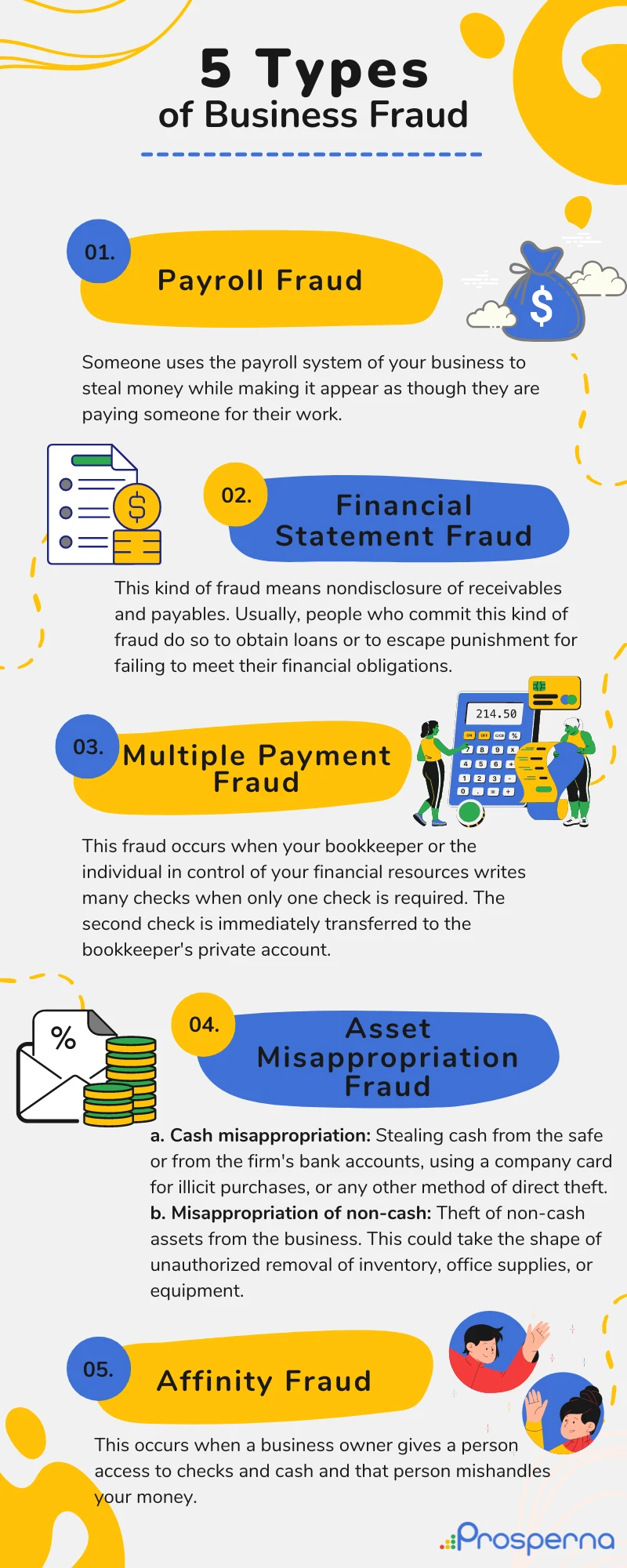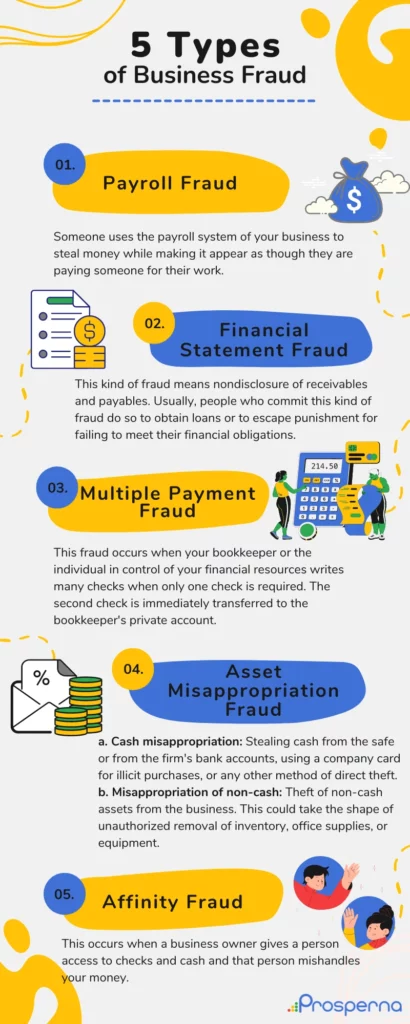 5 Ways to Prevent Fraud in Your Business
Keep in mind these five ways to prevent business fraud and protect your employees and your business.
1. Protect Your Bank Accounts
If you haven't already, open separate credit card and bank accounts for your personal and business use.
And if you want to provide employees with credit cards, be sure the card issuer has adequate fraud controls in place, such as automatic warnings if an employee spends more than a specific amount.
You can also reduce the number of paper bills sitting around your office by using online payment gateways. A bill with financial information is more likely to be compromised the more paperwork there is.
2. Know Your Business Inside and Out
Know your business inside and out, including how it functions, the goods and services it offers, your target market, your industry, and your legal and regulatory responsibilities. This will make it easier for you to recognize when something is off.
Also, hiring people who are not only qualified but also reliable is essential when growing your workforce and preventing business fraud. Don't just rely on employment history and referrals. Do a comprehensive background investigation.
3. Safeguard Your Computer Systems
Your business's data, no matter how big or small, can be protected with a reliable firewall and antivirus software that helps spot breaches quickly.
Also, think about regularly backing up your files and storing them offline. You won't experience much downtime if something happens to your PC because you can quickly recover the files you require.
Ask your team to generate complex passwords, too. Set password restrictions and mandate password changes on a regular basis to prevent business fraud.
4. Implement Internal Controls
These are the strategies and tactics, e.g., segregation of duties and documentation, used by your business to protect its resources, guarantee the accuracy of its financial records, and prevent business fraud.
To build trust in your online business, make sure your internal controls are efficient and current with technological and other advancements and should be regularly reviewed and updated.
5. Develop an Action Plan
Think about when you might require legal or professional counsel. An expert will evaluate your business's policies and practices, suggest suitable initiatives, and help with implementation.
Even though prevention is better than cure, it's crucial for you and your company to be ready for the worst. Having a plan of action in place will reduce the amount of money you lose to fraud.
FAQs
What counts as business fraud?
Some business frauds include setting up a phony firm or fake merchant identity in order to launder money, steal cash or credit card information, conduct unauthorized credit transactions, make sales but never deliver the product, or promote bogus products.
Final Thoughts
Although there isn't a single way to prevent business fraud, the above knowledge will enable you to recognize the most prevalent types and take precautions to safeguard your online business, your employees, and yourself.
I encourage you to implement as many of these tips as you can to prevent fraud from occurring in your business.
Prosperna, Your Partner to eCommerce Success
Prosperna is an all-in-one eCommerce platform for Philippine businesses. We are on a mission to empower 100,000 Philippine MSMEs with simple and affordable eCommerce software.
In fact, we are super passionate about helping Philippine MSMEs we're giving you a free account forever!
Want to avoid online business fraud? Create your free-forever Prosperna account now.