The milk tea industry boomed especially in the past two years. According to F&B report, Filipinos ranked the second highest milk tea drinkers in Southeast Asia—next to Thailand. They consume an average of five cups of milk tea in a month [1].
Milk tea originated from Hong Kong and is usually composed of black tea and evaporated or condensed milk. If you're a boba lover yourself, you may have considered turning this passion into a business.
Starting your own business can be a daunting task, but it's also very rewarding.
If you're thinking of starting an online milk tea business, there are a few things you'll need to know. In this blog post, we'll provide some basic tips on how to start an online milk tea business.
Here's our 5-step guide to starting your online milk tea business.
1. Do Your Prep Work!
In our blog about setting up an eCommerce business, we mentioned that the first step is to create an idea. We're going to apply that now and in this case, the idea is to start an online milk tea business.
The process doesn't happen overnight and takes some time to accomplish, so you need to list down your primary objectives, like:
Setting up a milk tea business from scratch or becoming a franchisee for a bigger company.
Doing a market analysis and research to find your target audience
Creating a menu you can serve and writing down the recipes
Procuring equipment to be used in making milk tea like kitchen tools, or ingredient suppliers to buy wholesale from
These are just initial steps that allow you to create your products and sell them for profit.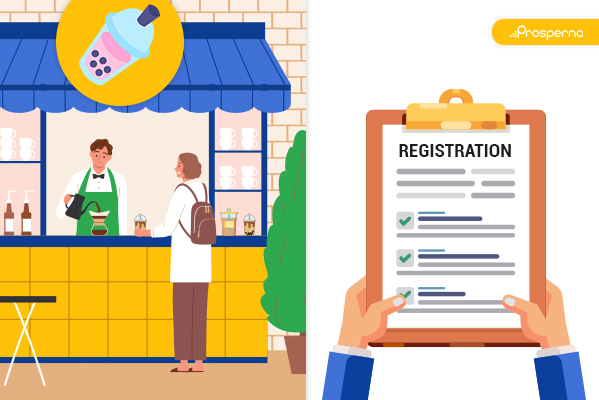 2. Make It Official: Get Trained & Registered
Before you can get the business going, you want to make customers trust you, so being licensed by the government to operate is a MUST. We've shared this process in detail in our blog about how to register your business, and it is something you should prioritize for your security.
While anybody can make milk tea, not everyone can serve it. You must train yourself and your employees (if any) on how you can simplify your business processes to serve customers well and provide a positive customer experience.
Also, your milk tea business needs a location but depending on how you operate, you can either use your home or get a spot with a lot of foot traffic. But since we're on the topic of an online milk tea business and under the "New Normal," we'll be focusing on being fully contactless.
3. Build Your Brand & Online Presence
When you start an online milk tea business, you need a brand that represents who you are and what you do, to differentiate yourself from competitors. In the "New Normal," it is important to stand out to customers and adapt to the changes brought by the pandemic.
This can be as simple as creating a style guide, a business logo, a slogan, a domain name, and a username. But what makes them more effective is to make yourself accessible to everyone with the help of your very own website.
Having your own website allows you to set up an online store and make yourself known on the internet by posting content about your milk tea business and things that are relevant to you in a blog section. This gives your target customers the means to communicate and do business with you on your "official page" over the internet.
Contrary to popular belief, you can now create your own website even if you don't have IT skills. With Prosperna's All-In-One eCommerce Platform, you can launch your own online milk tea business, design your website however you like, and sell across different social media platforms.
Prosperna's eCommerce solution also makes it easier for your online milk tea business to provide the best customer experience by accepting different kinds of payments (e.g. GCash, COD, bank transfer, credit card, etc.) from your customers and automatically book delivery riders from Grabfood, Lalamove, etc.
4. Use Technology to Market Everywhere
Unless you already have a loyal customer base, your milk tea isn't going to sell itself. Did you know that 80% of customers look up a business online before making any purchase from them?
Imagine not having a website or online presence—that tantamounts to business suicide. One of the best ways to prevent this and reach more customers is by using technology to market your online milk tea business.
Here's a list of strategies you should practice when marketing your online milk tea business:
Register on Google My Business and improve your SEO to appear on Google-related apps like Maps.
Be cohesive on social media by using the same themes to maintain a strong online presence and foster brand awareness.
Increase referrals with contests and giveaways. Simple mechanics like following your page, leaving likes and comments, sharing your posts, or tagging friends to follow you are some ways to grow your audience and increase engagement.
Invest in online advertising, so you can appear on the timelines and stories of your specified audience on social media and the internet.
Send personalized email and SMS campaigns directly to your customers and prospects about the latest news and updates, promotions, and loyalty programs of your online milk tea business to encourage buyers.
Don't worry, getting the word out there and promoting your online milk tea business doesn't have to be difficult and expensive with the help of modern technology. Marketing your online milk tea business has never been easier thanks to the Internet.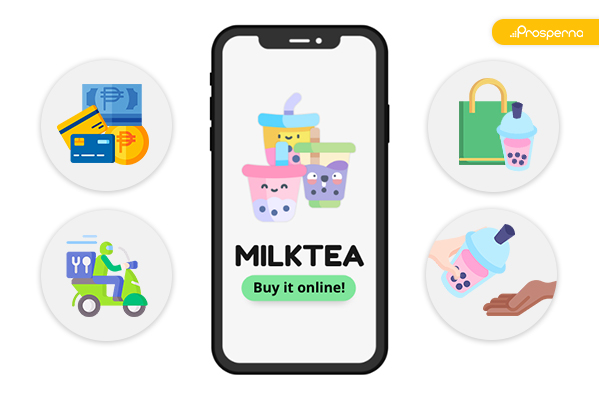 5. Give the Best Milk Tea Shopping Experience
Now that your physical store and online presence are fully set up, you are on the right track to finally opening your online milk tea business!
More and more customers prefer to shop online in the "New Normal". This is why you should take advantage of technology and bring your milk tea business online.
You'll be making the most out of your sales channels online, with an eCommerce website and social media profiles—depending on where your target customers are more engaged to buy milk tea from you.
For example, you can integrate your online store with your Facebook Shop so that when customers find you on Facebook they can complete their purchases on your website. This is why accepting online orders on your website is important in making a sale.
To make the experience even better, your online store should offer digital payment methods like debit and credit cards, mobile wallets, and bank transfers to reduce cash handling and make it easier for your customers to buy milk tea and pay for it anytime and anywhere.
And finally, you should be able to fulfill milk tea orders by delivering their orders straight to their doorstep for added convenience.
Start Your Online Milk Tea Business with Prosperna
Here at Prosperna, we do all the hard work for you! Prosperna partners up with growing companies in the Philippines with eCommerce technology that helps your business market and sell successfully.
Milk Tea Business FAQs
Why is the milk tea business popular?
The milk tea business is popular especially among youngsters because it is a convenient drink. It complements the fast-paced professional and personal life of many Filipinos.
How much capital is required for a milk tea business in the Philippines?
It depends on how small or big you want to start but it is roughly around P30,000-P100,000.
Conclusions
If you have been thinking of starting your own online milk tea business now is the time to do it! These five easy and simple steps will set you on the right path and help you get your business off the ground.
Already have a milk tea business? Share this article with your team so they can follow these tips and improve their businesses as well. How has your experience been with starting an online milk tea business? What challenges have you faced and how did you overcome them? Let us know in the comments below.
Related articles:
Prosperna, Your Partner to eCommerce Success
Prosperna is an all-in-one eCommerce platform for Philippine businesses. We are on a mission to empower 100,000 Philippine MSMEs with simple and affordable eCommerce solutions.
In fact, we are super passionate about helping Philippine MSMEs we're giving you a free account forever!
Want to start selling online? Create your free-forever Prosperna account now.