In this special battle of online store builders, we compare retail giants SM & Ayala Malls VS. Prosperna's eCommerce platform, to see whether brick-and-mortar triumphs against eCommerce.
As a business owner, you still sell the same products and services for the same target customers…
…but with those things considered, your business structure will have different costs, depending on the setup you choose.
In this article, you're about to see the different types of expenses and REAL COST of a brick-and-mortar business VS. eCommerce platform.
ABOUT THE CONTENDERS

SM Supermalls (1958) is one of Southeast Asia's biggest developers and the operator of 72 malls in the Philippines, and 8 malls in China. They are owned by SM Prime Holdings, Inc., a publicly-listed company and is one of the largest integrated property developers in Southeast Asia.
Ayala Malls is a real-estate subsidiary of Ayala Land, an affiliate of Ayala Corporation. Founded in 1988, Ayala Malls own a chain of large shopping malls, all located in the Philippines. Ayala Malls is one of the largest shopping mall retailers in the Philippines, along with SM Supermalls and Robinsons Malls.
As old as they both are, they stand strong today with almost 100 malls nationwide. However, because of the effects of the COVID-19 pandemic, retailers are challenged to rethink their business models into eCommerce.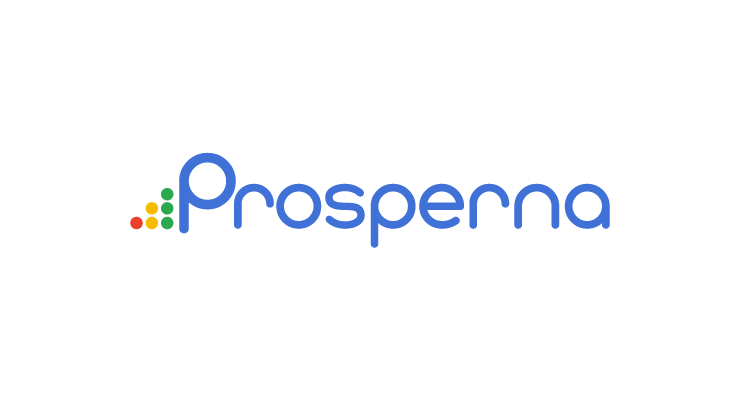 Prosperna, of course, is the complete eCommerce platform designed for Philippine SMEs to start and grow a successful online business.
Our mission is to empower 100,000 Philippine SMEs with a simple and affordable way to start selling online, especially in the #NewNormal where consumers have primarily gone digital for their shopping needs.
Despite being small compared to the retail giants, we'll have an in-depth comparison of what makes eCommerce (way!) better.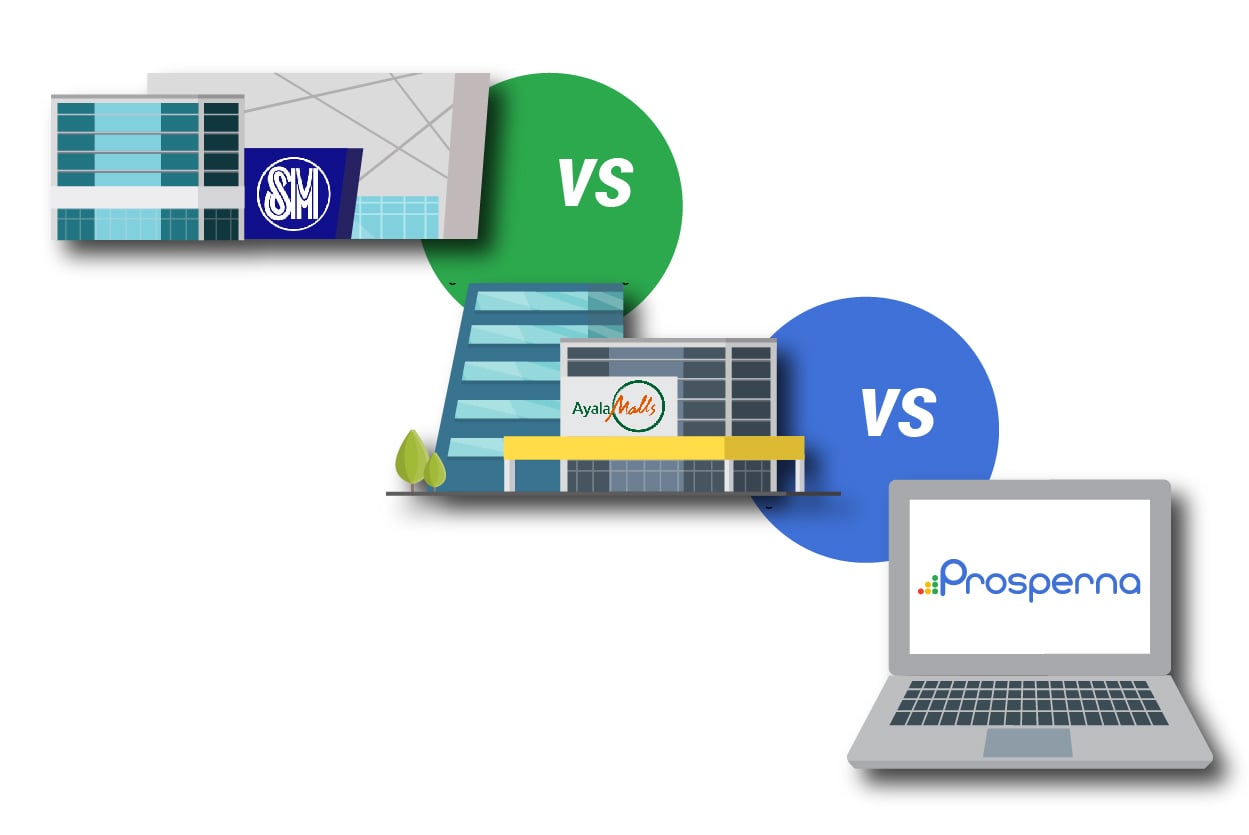 METRICS OF COMPARISON
When it comes to costs, there's more than just money involved. Resources, benefits, and risks also need to be considered as deciding factors.
With that being said, here's a list of things that we'll be exploring:
List Of Expenses
Reasons To Choose Each Setup
The REAL COST – What You Pay For
Getting The Value For Your Money
Then decide for yourself, which is "more expensive" than the other.
Let the battle begin!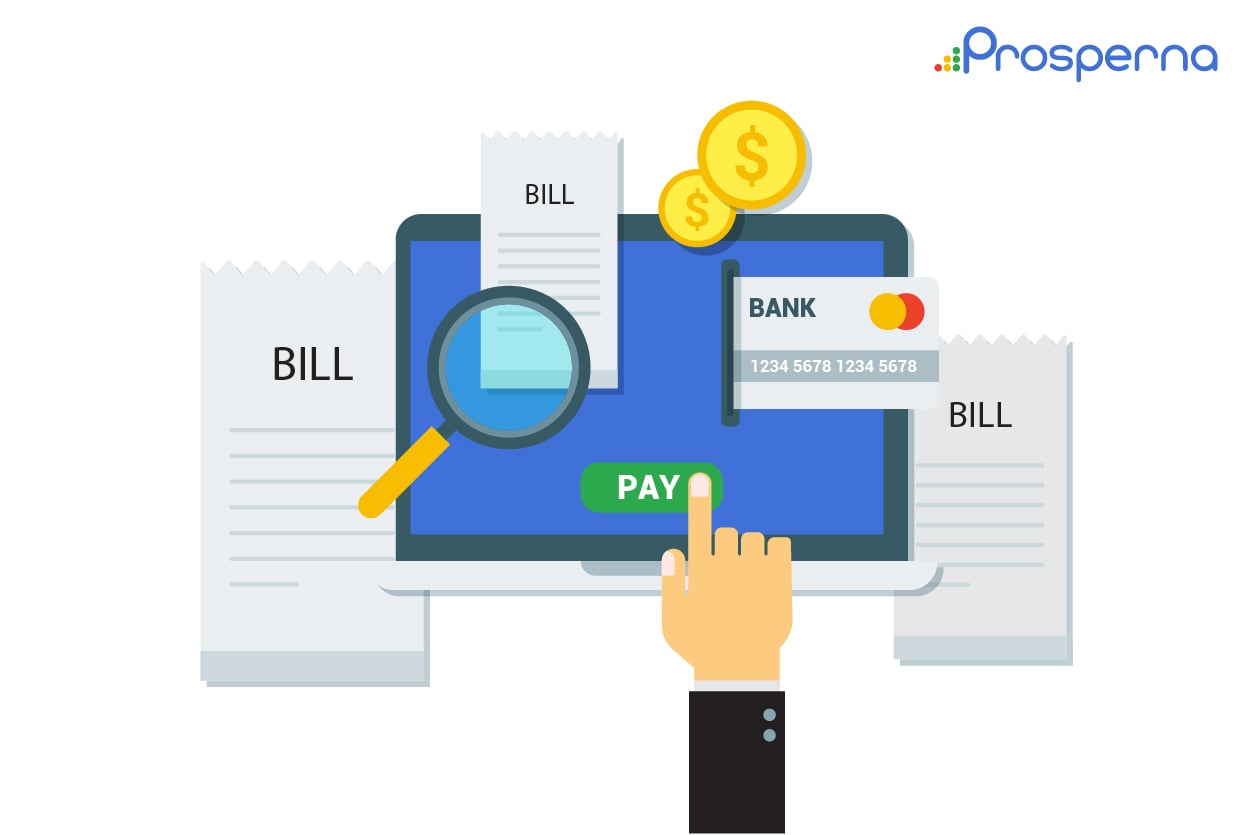 LIST OF EXPENSES
We created a blog where we compared traditional shopping with eCommerce and gave you an idea about the kinds of expenses that are involved in each setup.
Here's a detailed list, along with the price range of what you have to pay for, whether it's one-time, short-term, or long-term billing.
Basic expenses for both setups include but are not limited to:
Business Permits – can cost up to Php 5,000 depending on your scope
Raw Materials Or Product Stocks – online stores have the advantage of dropshipping or only restocking as needed, while physical stores need to have large stocks on-hand to display on their shelves
Storage Units For Product Inventory – (between Php 1,000 to Php 20,000) online sellers can keep their stocks at home or invest in a separate storage unit, while physical stores need both a storefront and storage facilities separate.
Here are the costs that come with setting up a store in SM & Ayala Malls:
Monthly Rent (per sqm) – we had to compare multiple sources since they don't have any official "pricing" and renting can cost somewhere between (at least) Php 8,000 (5sqm) to Php 30,000 (100sqm). You also have to consider the size because there are counters, kiosks, and full-sized stores.
Common Use Service Area Fees (CUSA) – CUSA fees are charged monthly and used to maintain the common areas such as the restroom, lobby, and other shared spaces that can be used by all the tenants of the building and its customers. It is computed based on the tenant's proportionate share of the common areas. Our research from KMC Savills shows that estimated CUSA fees in Philippine Malls are between Php 80 to Php 150 per square meter.
Monthly Commissions Against Sales – on average, retailers must also pay mall operators an estimated 5% of gross sales every month.
Operating Equipment – food processors cost a few thousand but this category depends on your business type (like restaurants and retail), sometimes you won't even need equipment.
Signages – costs between Php 300 to Php 20,000 depending on the size and quantities you need per store.
Interior Decor – in retail, there are at least 11 items you need to have in-store, apart from the products themselves. If you search one by one, these total at least Php 20,000 if you want us to put a tag on them.
Utilities – there are separate bills for electricity, water, internet, and security fees that come with renting in malls like SM & Ayala. In terms of cost of living it would cost at least Php 6,000 monthly but in business, it could be more.
Payroll – even if you pay minimum wage to a single employee (which isn't usually the case for retail stores) you will need to invest at least Php 10,000 per employee in a store (sales rep, cashier, manager, etc.).
On the other hand, eCommerce exists digitally on the internet (duh!), and while they share the same purpose of selling products to customers…
…they serve as a different (and probably even better, in our opinion) kind of store that costs WAY LESS than the typical SM & Ayala Malls setup, all things considered.
Using online store builders like Prosperna, you can create an account in minutes and get started for as low as USD 10 (PHP 495) per month, which includes every feature you need.
We've already shared the Prosperna Pricing in detail before and what it includes, but to give you an idea, you only need to pay for:
Although the platform is easy enough to do-it-yourself without any coding experience, if you opt for our one-time professional setup, fees can estimate between Php 7,599 and Php 14,950 for your online store
Monthly or annual subscription fee between Php 495 to Php 4,995 depending on your plan to maintain your store features and its security
One-time add-ons to enhance your store (optional but highly recommended)

SEO
Logo Design
Google Analytics
BOSS App (free to download)
All these come with their tag prices too, but won't even cost a fraction of how much you'll spend on a physical store overall.
RATIONALE BEHIND EACH SETUP
In the table below, we provided reasons why businesses choose each setup and its corresponding benefits for their customers.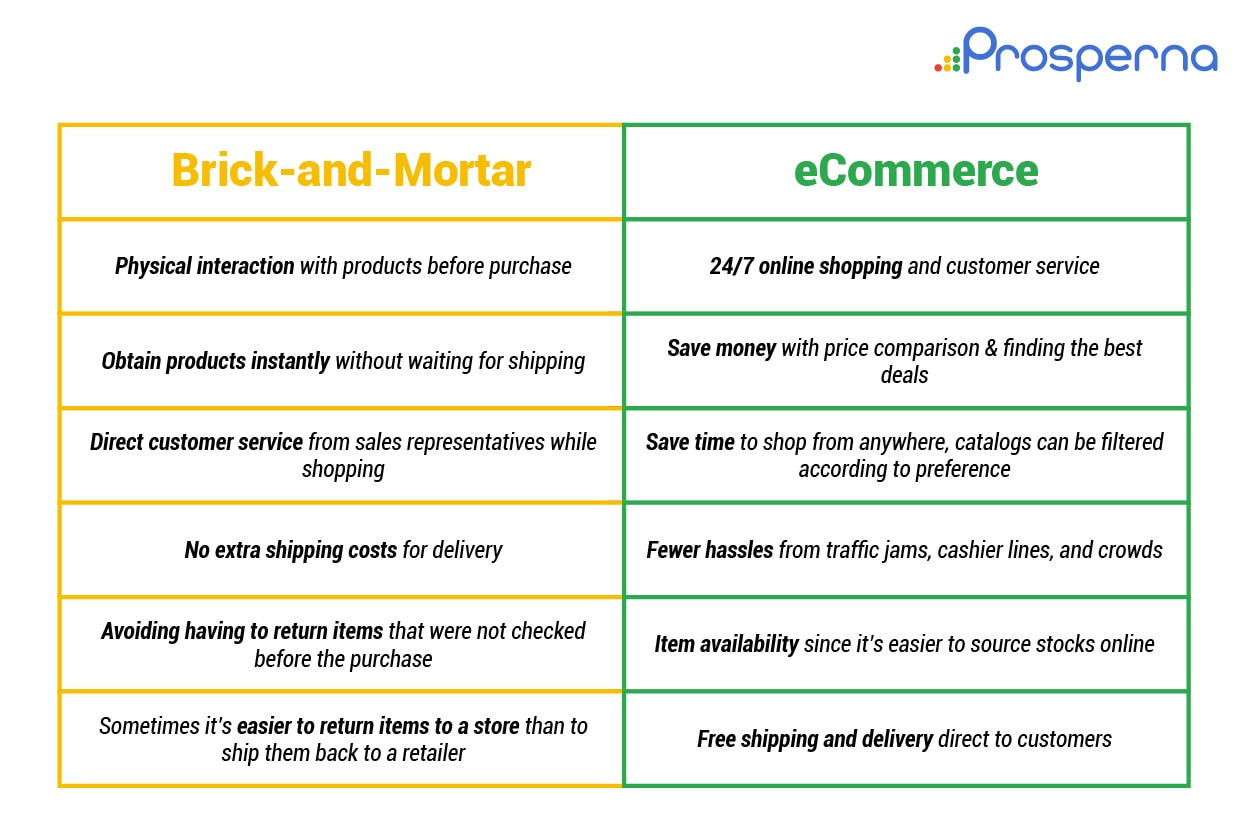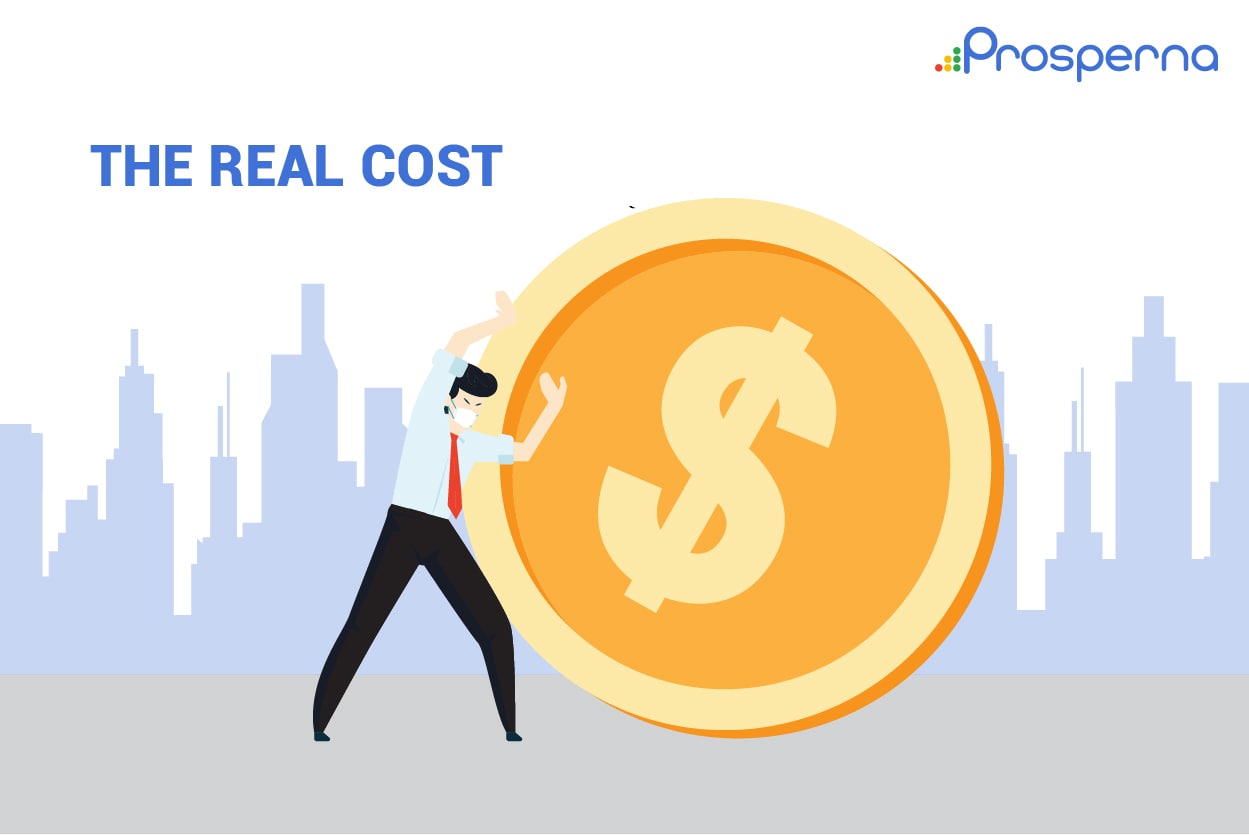 REAL COST – WHAT YOU REALLY PAY FOR
While the previous points show that there are still consumers that prefer to shop in-store, the "New Normal" has changed that very consumer behavior to prioritize health and safety first.
So businesses that still have a mall set up, despite its benefits, may be paying more than just money.
Here's what we mean:
You spend more on your physical setup and earn less when you need to recover from the recession.
Instead of saving money and earning more profits, you have to deal with unwanted (non-essential) costs that come with your physical store setup.
There are more health and safety risks for your customers and employees when you gather people in your store to make contact.
Physical stores that are not in prime locations can be hard for customers to find. The majority of people (customers and businesses) are online, so you are missing out on opportunities to market and sell more.
The lack of constant engagement with customers reduces your relevance in the market.
You can't provide the same full brand experience to every customer and store that you own because of human limitations.
There's no freedom for you to do the business you want the way you wish because of physical boundaries and governing laws.
Growing will be hard for your business when it's defined by the size and quantity of store branches, as opposed to the number of loyal customers and sales that you make.
CONCLUSION – GETTING THE VALUE FOR YOUR MONEY
That ends our battle of online store builders between SM & Ayala Malls VS Prosperna!
It just goes to show that having an eCommerce sales platform is NO LONGER AN OPTION when it comes to becoming a successful business.
To help you remember, here are our overall ratings in this round that proves Prosperna to be the best solution.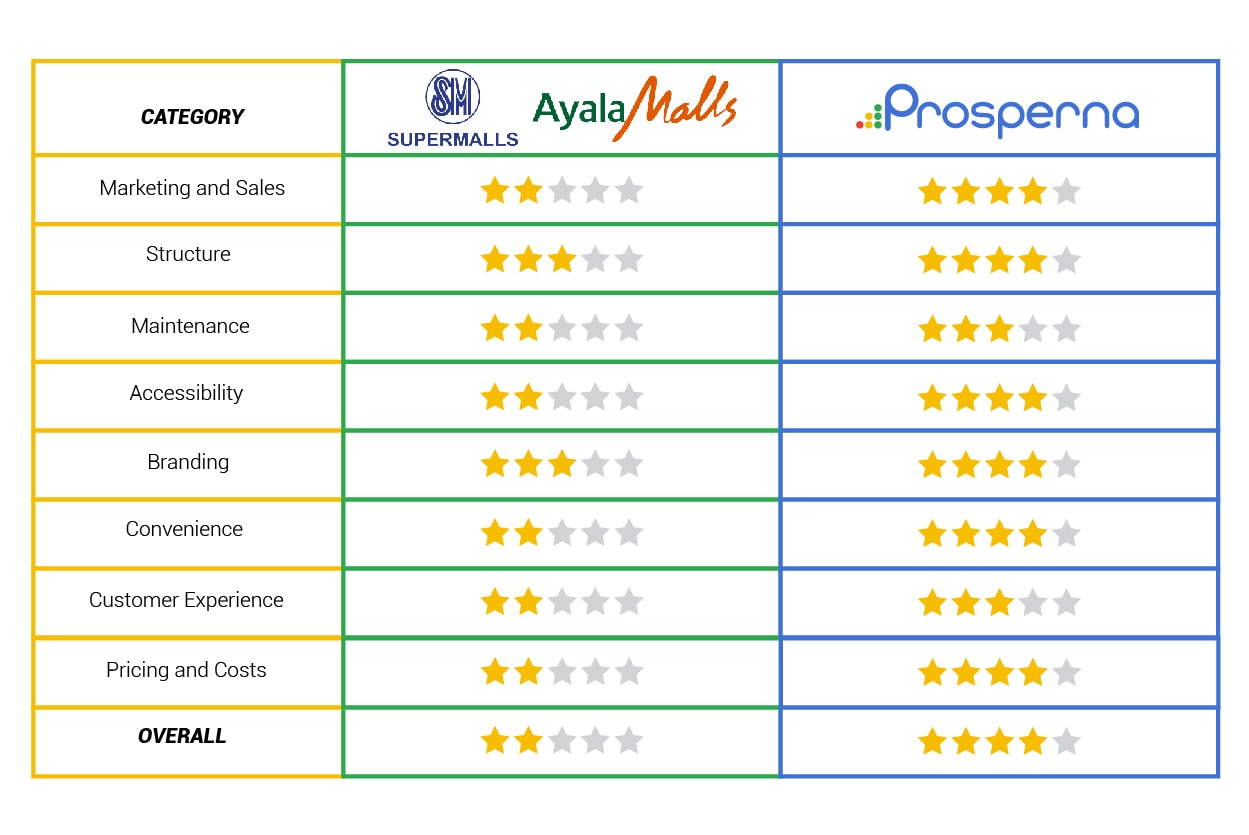 At Prosperna, it's our mission to empower 100,000 Philippine SMEs using the best eCommerce tools in the market, without breaking the bank and compromising safety!