One good example for businesses to stay competitive in today's highly competitive market is to implement a loyalty program that rewards customers for their repeated patronage.
However, setting up a loyalty program can be a daunting task for small businesses, which is why Globe Business Upstart, a loyalty program designed specifically for Philippine MSMEs, can be an excellent solution.
In this blog post, we will explore the benefits of a loyalty program for MSMEs and how Globe Business Upstart can help these businesses thrive in today's market.
What are Loyalty Programs?
Loyalty programs are a marketing strategy that encourages repeat business from existing customers. It's a way to reward customers who have previously made a purchase.
Once a customer has signed up for the loyalty program, they will receive additional benefits on their next purchase.
The loyalty programs also encourage customers to make repeat purchases by encouraging them to build up points, which can later be redeemed for rewards.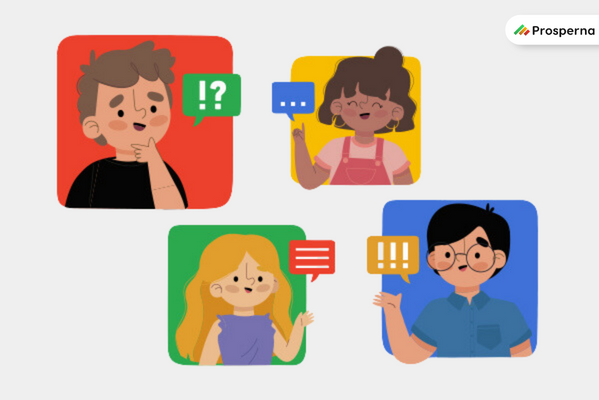 Importance of Loyalty Programs for MSMEs
Loyalty programs are an essential component of any business strategy, regardless of its size or industry.
For MSMEs, loyalty programs can be particularly impactful, providing a variety of benefits that can help these businesses succeed and grow.
Here are some of the most significant reasons why loyalty programs are crucial for MSMEs:
Customer Retention. For MSMEs, it's often more expensive to acquire new customers than to retain existing ones. Loyalty programs are an effective way to encourage customers to continue doing business with you by providing incentives for them to return and make repeat purchases.
Increased Sales. By offering rewards or discounts to loyal customers, MSMEs can encourage these customers to spend more money on their products or services. This increased spending can lead to increased sales and revenue.
Improved Customer Experience. A well-designed loyalty program can enhance the customer experience, making customers feel valued and appreciated. This positive experience can lead to increased customer satisfaction and loyalty.
Competitive Advantage. In today's crowded marketplace, MSMEs need to find ways to differentiate themselves from their competitors. A loyalty program can be a valuable tool in this regard, providing a unique selling proposition that can attract new customers and retain them.
Valuable Data Insights. Loyalty programs can provide MSMEs with valuable data insights into their customers' behavior, preferences, and purchasing habits. This information can be used to improve marketing strategies and tailor offerings to better meet the needs and desires of customers.
An Example of Loyalty Program in the Philippines—Globe Business Upstart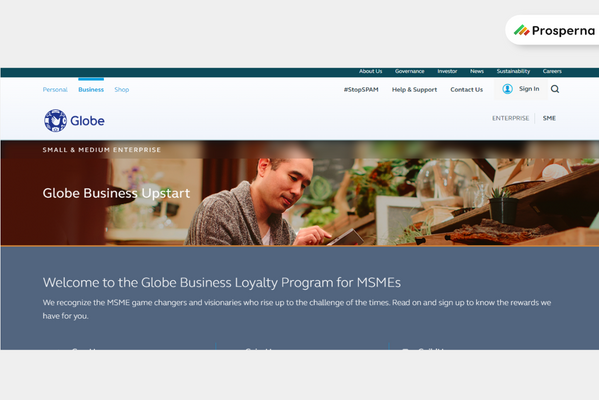 Globe Business is more than just a service provider—it's a partner that helps businesses go digital, expand their network, and achieve success.
To assist micro, small, and medium-sized businesses (MSMEs), Globe Business offers a range of digital tools and services that are specifically designed for MSMEs.
Its most recent program, Globe Business Upstart, is one of its best offerings.
The sole purpose of Globe Business Upstart is to provide MSMEs with superior digital solutions and vast network support so they can persevere through difficult times.
The program offers exclusive partnerships, specialized support for digital leadership, and business enablement to Globe's devoted MSME customers.
Globe Business Upstart caters to different businesses with varying levels of digital adoption—from those who are just becoming more digitally ready to those who already have a fully operational digital infrastructure managed by an IT Team.
To better serve their customers, Globe Business has divided them into four tiers based on their annual service fees. This includes monthly service fees and on-top charges.
The tier system allows Globe Business to offer customized services and rewards based on the customer's level of loyalty and investment in their services.
| | |
| --- | --- |
| Tier 1 | PHP1.2M and up annual service fees |
| Tier 2 | PHP600K-PHP1.19M annual service fees |
| Tier 3 | PHP180K-PHP599K annual service fees |
| Tier 4 | Below PHP180K annual revenue |
How Globe Business Loyalty Program Works
GearUp, GainsUp, and GuildUp are loyalty programs offered by Globe Business. Each program offers different benefits and rewards based on the customer's tier level.
GearUp prepares company leaders and employees to adapt, use, and champion a company's innovations and digital solutions with free access to IT Certifications, Employee Product Training, and MSME Masterclasses.
Tier 1 customers can avail of one IT certification course for one employee and two employee product training for eligible products and offerings. Tier 2 customers, on the other hand, are eligible to avail of one employee product training.
To qualify, the company must have an existing or ongoing application to these solutions through Globe Business. The number of attendees will vary depending on the chosen training.
GainsUp includes exclusive perks and privileges companies need to ease their digitalization journeys. It offers member gifts, welcome gifts, holiday gifts, and birthday gifts for Tier 1-4 members. It also includes a complimentary membership to thee Ayala Rewards Circle.
GuildUp expands members' business opportunities through C-Suite Networking Events, Referral Program, and access to new markets through co-branding campaigns, which boost MSMEs' brand awareness by sharing their success stories within Globe's vast network.
It allows all Globe Business clients to sign up for Business Consultations. Tier 1,
2, and 3 customers are eligible to attend all C-Suite events, with a maximum of two seats for C-level executives per event.
Examples of Successful Globe Business Loyalty Programs for MSMEs
Here are some of the benefits Globe Upstart Members have enjoyed:
Welcome Rewards worth P200 are available from partner customers of Globe Business like Lazada, Lalamove, and Bo's Coffee as GCash credits or vouchers.
Participation in prestigious C Suite Networking events like the Modern Tao Ke One-on-One Business Consultation, which brought together renowned Filipino entrepreneurs to coach small- and medium-sized business owners in their digital transformation.
Free entry to workshops on design thinking, cybersecurity, and digital marketing offered by the Globe Business Academy. The Design Thinking Masterclass was one of its more compelling offerings. It was a hands-on, interactive online workshop with a private Facebook group for participants where they could access modules, content, and interact with other business owners. It also included a unique mentoring opportunity with Aaron Palileo of CIA Bootleg Manila. 235 people signed up for the program's first leg, which featured 94 businesses from all around the Philippines.
Tips for Implementing a Successful Loyalty Program
Launching a loyalty program requires careful planning and execution to ensure its success.
Here are some tips for implementing a successful loyalty program:
Start by defining your objectives and goals for the loyalty program. What do you hope to achieve? Are you looking to increase customer retention, drive repeat purchases, or attract new customers? Having clear objectives will help you design a loyalty program that is effective and meets your business needs.
To design a loyalty program that resonates with your customers, you need to know their preferences, purchasing behavior, and motivations. Conduct market research or customer surveys to gather insights into what your customers value most.
Your loyalty program's success largely depends on the attractiveness of your rewards. Make sure your rewards are relevant, valuable, and achievable. Consider offering a mix of monetary and non-monetary rewards, such as exclusive discounts, free products, early access to new products, and personalized experiences.
Avoid making your loyalty program too complicated, as this can lead to confusion and frustration among customers. Keep the rewards and redemption process straightforward, easy to understand, and easy to access.
Make sure you promote your program across all channels, including social media, email, in-store signage, and packaging. Regularly communicate program updates and rewards to keep customers engaged and motivated.
Regularly measure the success of your loyalty program and use data insights to optimize its performance. Analyze the impact of your loyalty program on customer behavior, sales, and revenue, and make adjustments as needed to improve its effectiveness.
By following these tips, you can design and implement a successful customer loyalty program that enhances the customer experience, drives sales, and boosts your business's bottom line.
FAQs
What is membership vs loyalty programs?
Loyalty programs require customers to earn their rewards, while membership programs give customers immediate access to perks and rewards.
Final Thoughts
Loyalty programs are a valuable tool for MSMEs looking to retain customers, increase sales, and grow their businesses. Globe Business Upstart, the loyalty program of Globe for Business, offers an excellent example of how an effective loyalty program can benefit small businesses. By offering compelling rewards, easy redemption options, and a simple point-based system, Globe Business Upstart helps MSMEs increase customer loyalty and drive repeat purchases.
Prosperna, Your Partner to eCommerce Success
Prosperna is an all-in-one eCommerce platform for Philippine businesses and digital creators. We are on a mission to empower 1 million Filipinos with simple and affordable eCommerce solutions.
In fact, we are super passionate about helping Philippine businesses and digital creators we're giving you a free account forever!
Want to implement your own loyalty program? Create your free-forever Prosperna account now.